Molecular characteristics
HLA-F
Class I-like molecule
HLA-G
Class I-like molecule
HLA-H
Class I pseudogene
HLA-A
HLA-J
Class I pseudogene
HLA-E
Class I-like molecule
HLA-C
HLA-B
MICA
MHC class I-like molecule
MICB
MHC class I-like molecule
HLA-DRA
HLA-DRB9
DRB pseudogene, isolated fragment
HLA-DRB3
DR
β
3 chain determining DR52 and Dw24, Dw25, Dw26 specificities
HLA-DRB2
Pseudogene with DR
β
-like sequences
HLA-DRB1
DR
β
1 chain determining specificities DR1, DR2, DR3, DR4, DR5, etc.
HLA-DQA1
HLA-DQB1
HLA-DQB3
DQ
β
-chain-related sequence, not known to be expressed
HLA-DQA2
DQ
α
-chain-related sequence, not known to be expressed
HLA-DQB2
DQ
β
-chain-related sequence, not known to be expressed
HLA-DOB
TAP2
ABC (ATP-binding cassette) transporter (associated with antigen presentation)
LMP7
Proteosome-related sequence (role in loading class I molecules with peptides)
TAP1
ABC transporter (associated with antigen presentation)
LMP2
Proteosome-related sequence (role in loading class I molecules with peptides)
HLA-DMB
DM
β
chain (control peptide loading by class II molecules)
HLA-DMA
DM
α
chain (control peptide loading by class II molecules)
HLA-DPA1
HLA-DPB1
HLA-DPA2
DP
α
-chain-related pseudogene
HLA-DPB2
DP
β
-chain-related pseudogene
HLA Polymorphism
HLA genes are codominantly expressed, and most individuals are heterozygous at the classical (i.e., presenting peptides for inspection by T cells) HLA class I and class II loci. The nomenclature for the alleles of the HLA system is decided by an international nomenclature committee. Antigen names are composed of a letter designating the HLA protein encoded by a locus or loci and a number, for example, A2, B7, Cw4, DR17, and DQ3. Allele names are based on nucleotide sequence variation among alleles identified using DNA-based techniques (discussed below). The number of alleles at the HLA class I and class II loci and a listing of their serologically defined specificities and allele equivalents are available online at several Web sites (for instance, the Anthony Nolan Trust Web site at
​www.​anthonynolan.​org/​clinicians-and-researchers/​anthony-nolan-research-institute/​hla-informatics-group
and also at
​hla.​alleles.​org
or the ImMunoGeneTics (IMGT)/HLA Database Web site at
​www.​ebi.​ac.​uk/​imgt/​hla/​
).
Pattern of HLA Polymorphism
Most of the sequence diversity for the HLA class I loci is localized to the second and third exons and, for the class II loci, to the second exon of each gene. HLA diversity is generated through the selection of alleles with nonsynonymous substitutions encoding amino acid differences within the peptide-binding site. This contrasts with the bias against substitutions within the introns and other binding domains. Linear sequences identifying residues critical to the expression of allospecificities are found in the helices of the α1 and α2 domains as well as external portions of the β-pleated sheet. Other polymorphic amino acid residues that are important for peptide binding but not defined by alloantibodies are identified by DNA-based techniques [
5
–
7
].
The pattern of allelic sequence diversity for both the class I and class II loci is unusual; most alleles differ from their closest neighbor by multiple substitutions, with some alleles differing in the second and third exons by as much as 15 %. This pattern is suggestive of segmental exchange of nucleotide motifs between alleles of the same locus. There are also a few examples of interlocus gene conversion, and most are the result of HLA-B and HLA-C recombination. Thus, different HLA alleles of a locus are patchwork (i.e., mosaic) combinations of polymorphisms. The extensive allelic diversity at HLA loci is thought to have been generated by polymorphic sequence motifs generated by gene duplication and recombinational mechanisms such as gene conversion-like events, which have shuffled these polymorphic sequence motifs. Point mutations also contribute to this allelic diversity [
6
,
7
]. One consequence of this pattern of patchwork polymorphism is that the sharing of specific epitopes on the HLA molecules leads to antigenic cross-reactivity. Due to epitope sharing, HLA antigens may be arranged in cross-reactive groups or CREGs [
2
,
3
]. CREGs are important in that they allow for greater latitude in donor–recipient HLA matching and at the same time may be used to predict potential problems with graft outcome. A problematic consequence of the combinatorial nature of HLA alleles is that a given pattern of sequence motifs may be consistent with more than a single genotype. This problem of ambiguity in DNA-based typing is discussed below.
HLA Haplotypes
The term "haplotype" applies to any set of genetic polymorphisms at contiguous loci. These neighboring polymorphisms are co-transmitted on a single parental chromosome in the absence of recombination. A haplotype can be defined at any level of polymorphism. Alleles at different HLA loci are often described as being transmitted as a multi-locus haplotype (e.g., the A1-B8-DR3 haplotype), but the sequence variants associated with specific HLA allele names are in fact haplotypes of individual polymorphisms at a given locus. An individual inherits one haplotype from each parent. In any family having more than one sibling, there is a 1 in 4 chance that the two siblings will be HLA identical and a 1 in 2 chance that they will share one haplotype. Given the number of existing alleles, the number of possible haplotypes is astronomical. However, due to linkage disequilibrium (LD), the number of haplotypes found in a population is more restricted [
7
,
8
].
The organization of HLA-DQ and HLA-DP loci is conserved within humans and other primates, whereas the number of HLA-DR genes varies in different haplotypes. Within the HLA-DR region, the DRB1 gene encodes the DRβ1 chain, which determines the DR private specificities DR1, DR2, DR3,DR4, DR5, and so on. The DRB3, DRB4, and DRB5 genes encode the DRβ3, DRβ4, and DRβ5 chains, which determine the DR52, DR53, and DR51 specificities, respectively (Fig.
58.1
).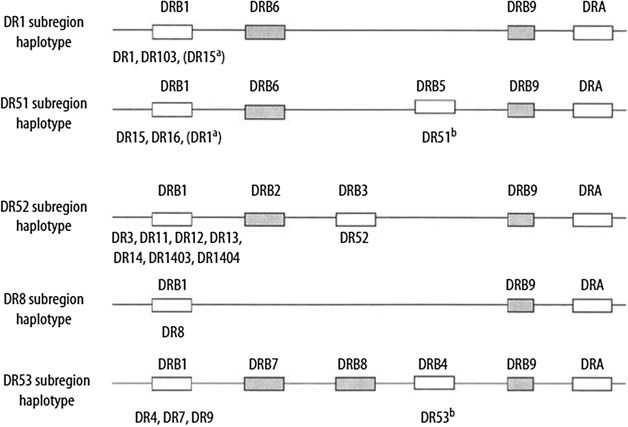 Figure 58.1
HLA-DR region and encoded allotypes. Pseudogenes are indicated by
shaded boxes
. Expressed genes are indicated by
open boxes
. The serologic specificity encoded by a gene is given underneath each expressed gene box. a Rarely observed haplotypes. b The DR51 and DR53 specificities may not be expressed on certain haplotypes (Adapted from Little AM, Parham P. Polymorphism and evolution of HLA class I and II genes and molecules.
Rev Immunogenet.
1999;1:105–123)
Genetic recombination or crossing over in the HLA region is a relatively rare event, occurring for the most part no more than 1 % per meiosis between HLA-A and HLA-B and between HLA-B and HLA-DR. Recombination also can occur between HLA-A and HLA-C and between HLA-B and HLA-C (0.6 % and 0.2 %, respectively). Such recombination can have important clinical implications for transplantation.
Linkage Disequilibrium or Gametic Association
LD is an important feature of the HLA system. Gametic associations are regularly found between certain alleles of HLA-A and HLA-B, HLA-C and HLA-B, HLA-B and HLA-DR, and HLA-DR and HLA-DQ. In some so-called extended haplotypes, significant LD extends over 3 Mb from HLA-A at the telomeric end of the HLA region to HLA-DP at the centromeric end, including HLA class III genes ([
8
] and references therein). It is this LD that allows the identification of bone marrow or stem cell donors in population registries who are matched with a given patient at multiple loci (see "Histocompatibility Assessment in Unrelated Donors").
HLA Gene Frequencies in Human Populations
Although a very large number of alleles (e.g., >1,600 for HLA-B) can be found in the global population, a much smaller number (e.g., 30–50 for HLA-DRB1) is present in most individual populations. Importantly, different populations tend to have different frequency distributions of alleles and exhibit different patterns of LD. This variability exists among both racial and ethnic groups.
Clinical Utility of HLA Typing