There should be at least three relatives with an HNPCC-associated cancer (CRC, cancer of the endometrium, small bowel, ureter, or renal pelvis)
   One should be a first-degree relative of the other two
   At least two successive generations should be affected
   At least one should be diagnosed before age 50 years
   Familial adenomatous polyposis should be excluded in the CRC case(s), if any
   Tumors should be verified by pathological examination
Revised Bethesda Guidelines
   CRC in a patient who is less than 50 years of age
   Presence of synchronous, metachronous colorectal, or other HNPCC-associated tumors,a regardless of age
   CRC with the MSI-H histologyb diagnosed in a patient who is less than 60 years of age
   CRC diagnosed in one or more first-degree relatives with an HNPCC-related tumor, with one of the cancers being diagnosed under age 50 years
   CRC diagnosed in two or more first- or second-degree relatives with HNPCC-related tumors, regardless of age
CRC arising in the setting of defective MMR has a tendency toward a number of pathologic features, including location in the proximal colon, mucinous or signet ring differentiation, poor differentiation, and prominent lymphocytic inflammation in and around the tumor. Examples of histologic features of MMR-deficient tumors are shown in Fig.
24.1
. Recognition of histologic patterns has been shown to be highly sensitive for tumors with defective MMR, with reported sensitivity in some studies greater than 90 %. The specificity of histology, however, is only 55–67 %, making additional testing a necessary component of tumor evaluation [
14
–
16
].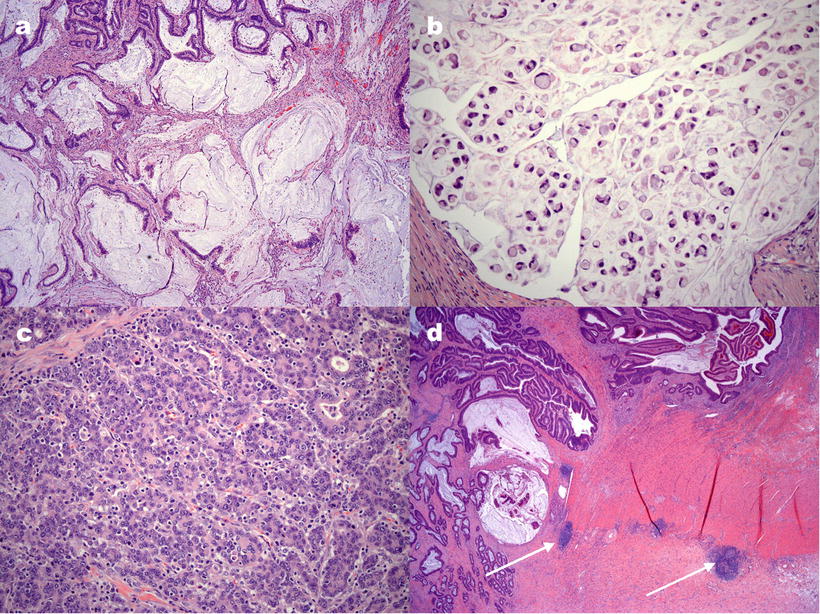 Figure 24.1
Examples of histological features of colorectal carcinomas with defective DNA mismatch repair. (
a
) Extracellular mucin pools in a mucinous adenocarcinoma. (
b
) Signet ring cell adenocarcinoma with tumor cells containing a single, large mucin vacuole. (
c
) Tumor-infiltrating lymphocytes are seen as small, round cells, often with a surrounding clear "halo," infiltrating among tumor cell glands or aggregates. (
d
) Crohn's-like lymphocytic response is illustrated by discrete lymphocytic aggregates (
arrows
) away from the tumor, resembling the transmural inflammation of Crohn's disease
Lynch syndrome is associated with several other cancers (listed among the Bethesda Guidelines). The association of some of these cancers with CRC has been noted by medical researchers over the years, and these have been given eponymous syndromes such as Turcot (glioblastoma) and Muir–Torre (keratoacanthoma and sebaceous tumors) syndromes. The importance of gynecologic cancers in the disease burden cannot be stressed enough, with uterine and ovarian cancer comprising half of the presenting cancers in women with Lynch syndrome [
17
]. The overall risk of CRC by age 70 in Lynch carriers has been reported as high as 82 %, although some studies have shown a lower risk of 30–74 %, with men at significantly higher risk than women [
18
–
20
]. The risk of uterine cancer in women with Lynch syndrome is 34–60 % [
18
,
20
,
21
]. For some less common tumors such as gastric, small bowel, and urinary tract cancers, the lifetime risk of cancer is approximately 5–15 % [
22
].
Molecular Basis of Disease
Clinical Utility of Testing
Available Assays
The majority of testing is directed toward identifying tumors with defective MMR, both as a means of screening for potential Lynch carriers and for its prognostic and therapeutic implications. Once potential carriers have been identified, additional testing can identify the presence of a germline mutation in an MMR protein to confirm a Lynch syndrome diagnosis and to allow counseling and targeted testing of family members for carrier status. However, since most MMR-deficient tumors arise sporadically, the number of patients who require germline mutation testing is relatively small, and the focus of this section is on screening assays. Protocols for germline testing have been published and involve both direct sequencing for small mutations and denaturing high-pressure liquid chromatography for large rearrangements [
73
]. Hundreds of Lynch syndrome mutations have been identified and are catalogued online by the International Society for Gastrointestinal Hereditary Tumours (InSiGHT;
​www.​insight-group.​org
) [
74
]. Different Lynch syndrome mutations have different cancer risks, with
MLH1
and
MSH2
mutations associated with approximately four-fold greater risk of cancer than
MSH6
mutation [
21
]. Thus, identification of the specific mutation can provide useful information for counseling carriers and their family members.
Immunohistochemistry
Microsatellite Instability PCR
PCR testing of DNA microsatellites represents an indirect functional assay for MMR proteins. After DNA is extracted from tumor tissue and from a non-tumor control tissue from the same patient, a panel of microsatellites is amplified by PCR using primers adjacent to but not including the repetitive sequence. The size of the PCR products is then analyzed by capillary electrophoresis, or less commonly by gel electrophoresis. Because defective MMR causes frameshift mutations in microsatellites, instability is shown by a change in the size of the PCR products from the microsatellite. Commonly used panels of microsatellites for MSI testing in the USA are the NCI panel (three dinucleotide [
D2S123
,
D5S346
, and
D17S250
] and two mononucleotide [Big Adenine Tract,
BAT
–
25
and
BAT-26
] microsatellites) and the panel supplied in a commercial kit available from Promega (Madison, WI) with five mononucleotide repeats (
BAT-25
,
BAT-26
,
NR-21
,
NR-24
, and
MONO-27
) [
84
]. Different microsatellites vary in their ability to identify tumors with defective MMR, with mononucleotide repeat loci generally superior to dinucleotide loci in both sensitivity and specificity [
85
]. This may be particularly true with MSH6 deficiency, which preferentially causes errors in mononucleotide repeats, as described earlier. The Promega panel includes two additional pentanucleotide repeats which are not evaluated to identify MSI but are used to ensure correct pairing of a patient's tumor and normal DNA. These repeats are highly polymorphic in the population, and different patterns seen between a patient's samples raise the possibility of specimen contamination or a labeling error.
As established by criteria from the National Cancer Institute, tumors exhibiting stability in all of the microsatellites tested are called microsatellite stable (MSS). Those with instability in ≥30–40 % of tested microsatellites are designated microsatellite instability-high (MSI-H). The third category, microsatellite instability-low (MSI-L), encompasses tumors that have at least one unstable microsatellite, but not enough to meet MSI-H criteria [
86
]. In common practice with the 5-microsatellite Promega or NCI panels, MSS, MSI-L, and MSI-H correspond to zero, one, or two or more unstable microsatellites, respectively. MSS tumors usually have intact MMR function, while MSI-H tumors correlate with MMR deficiency. MSI-L tumors have not been shown to be associated with defective MMR and are usually regarded as equivalent to MSS in the absence of solid evidence for Lynch syndrome. Instability is defined by a change in the length of a microsatellite in tumor DNA when compared to non-tumor ("normal") DNA from the same patient. When compared with the normal control, an unstable allele will appear as a novel allele or a shift in the length of the allele.
The types of patterns seen in MSI testing depend upon whether dinucleotide or mononucleotide repeats are being evaluated. Dinucleotide repeats are polymorphic in the population, and a patient will often have alleles of different sizes on the maternal and paternal chromosomes. Thus, the normal sample will show two peaks, each representing one allele. One or both of these may change in length in the tumor as a result of defective MMR. The presence of two peaks in the normal DNA may mask a shift if the novel allele is obscured by an overlapping normal allele. Mononucleotide repeats, on the other hand, are generally very homogeneous ("quasi-monomorphic"), with same-sized alleles inherited from each parent. Thus, the normal sample will typically show only a single peak for each microsatellite. Tumor instability will be demonstrated as a shift in length for that peak or the presence of a second peak that was not seen in the normal tissue. Examples of unstable mononucleotide microsatellite alleles are shown in Fig.
24.3
.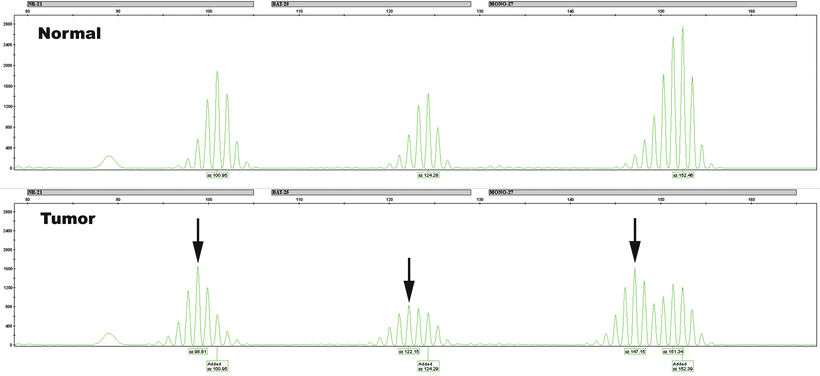 Figure 24.3
Three microsatellites with instability. Capillary electrophoresis data for three microsatellites, NR-21, BAT-26, and MONO-27, is shown for a patient's normal (
above
) and tumor (
below
) DNA.
Arrows
point to changes in the size of microsatellites in the tumor, indicative of stability. Note that the subtle 2-bp size change in NR-21 and BAT-26 may be difficult to appreciate unless a comparison with the normal sample is made
The effectiveness of MSI testing is closely related to the panel of microsatellites used in the assay. Poor performance of some markers may result in MSI-L designation, and when many microsatellites are tested, the percentage of MSI-L tumors increases [
87
]. The percentage of MSI-L tumors in older reports, before the use of only mononucleotide panels, is as high as 35 % [
88
]. In contrast, when mononucleotide repeats are used exclusively, MSI-L tumors become very uncommon [
89
]. The significance of MSI-L when testing with a mononucleotide panel is unclear, and these patients should be offered genetic counseling. Fortunately, the percentage of unstable microsatellites in MSI-H tumors is usually 80–100 % when mononucleotide repeats are used [
90
]. Note that the pentanucleotide repeats in the Promega panel may show instability themselves in MSI-H tumors, and this can cause confusion if used to match a patient's tumor and normal samples [
89
].
Recognition of some general patterns of instability in mononucleotide microsatellites can be helpful in MSI interpretation. First, mononucleotide markers nearly always shift to a smaller size when unstable. While larger sizes can be seen, their presence may indicate another genetic event such as an insertion, rather than instability. Second, the magnitude of a shift is usually no greater than approximately 10–12 bases, and large shifts often have some intermediate-sized alleles present as well. These intervening peaks are due to heterogeneous instability in the tumor. Shifts greater than approximately 12 bases may be the result of a deletion, and a deletion would not be expected to show the intermediate-sized alleles. A third pattern to be aware of is heterozygosity for a mononucleotide microsatellite. While most individuals have inherited alleles of the same size for a mononucleotide microsatellite, occasionally, patients have two different-sized alleles. This will be evident in both tumor and normal samples. Because heterozygosity is uncommon (only occurring in up to 5 % of cases), it is unlikely to be present in more than one or two microsatellites, and cases with more than this should be carefully evaluated for the possibility of specimen mislabeling or contamination of the normal DNA sample with tumor DNA. Finally, the minimum size of a shift is one base, the length of the repeating unit. Since identification of such a small shift is difficult, some clinical laboratories require a minimum of a two-base shift to score a microsatellite unstable. Fortunately, if a mononucleotide panel is being used, most MSI-H tumors will show 3–5 clearly unstable microsatellites.