Figure 12.1
FGFR-associated syndromic conditions
| | | | |
| --- | --- | --- | --- |
| | *136350 | 8p11.23-p11.22 | 18 exons, 17 coding |
| | *176943 | 10q26.13 | 18 exons, 17 coding |
| | *134934 | 4p16.3 | 18 exons, 17 coding |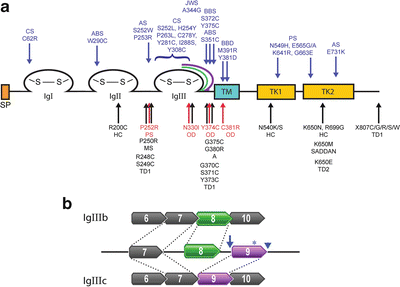 Figure 12.2
FGFR protein structure. (
a
) Common FGFR protein structure showing the signal peptide domain (SP,
orange
), the three immunoglobulin loops (IgI, IgII, and IgIII) with cysteine–cysteine disulfide bonds (S–S), the transmembrane domain (TM,
blue
), and the bifurcated tyrosine kinase domain (TK1 and TK2,
yellow
). The alternatively spliced carboxy-region of IgIII is illustrated as
green
and
purple lines
. Locations of selected mutations in
FGFR1
(
red
),
FGFR2
(
blue
), and
FGFR3
(
black
) are indicated by
arrows
, with the associated disease above or below the mutation.
A
achondrodysplasia,
ABS
Antley-Bixler syndrome,
AS
Apert syndrome,
BBD
bent bone dysplasia,
BSS
Beare-Stevenson syndrome,
CS
Crouzon syndrome,
HC
hypochondrodysplasia,
JWS
Jackson-Weiss syndrome,
MS
Muenke syndrome,
OD
osteoglophonic dysplasia,
PS
Pfeiffer syndrome,
TD1
and
TD2
thanatophoric dysplasia type 1 and 2, respectively. (
b
) Alternative splicing of exons 8 and 9 that code for the IgIII carboxy-terminal region. Isoform FGFR-IIIb (
top
) includes exon 8 (
green
). Isoform FGFR-IIIc (
bottom
) includes exon 9 (
purple
). Examples of
FGFR2
splicing mutations are shown: c.940-2A>G (
arrow
), c.1032G>A (A344A) (
asterisk
); and c.1084+3A>G (
arrowhead
)
Molecular Basis of Disease
Mutations in the
FGFR1
, –
2
, and –
3
genes account for approximately 15–20 % of all craniosynostosis and chondrodysplasias. FGFR-related skeletal anomalies are a result of gain-of-function variants that constitutively activate the receptor function [
16
–
18
]. Activated FGFRs receptors cause increased cellular proliferation and premature osteoblast differentiation [
19
–
21
]. The FGFR constitutive activation is by either a FGF ligand-dependent or -independent mechanism. Ligand-dependent mechanisms arise due to mutations that improve binding of FGF ligands and dimerization of the receptors prolonging signaling activity [
22
]. Alternatively, ligand-independent mechanisms include the following: (1) enhancement of receptor dimerization due to an immunoglobulin domain structural change such as a gain or loss of a cysteine residue within the loops; (2) augmentation of dimerization due to intramembrane domain changes in amino acid charge that increases hydrogen bonding; and (3) alterations in the kinase domain causing constitutively active phosphorylation [
23
–
25
].
Mutations causing FGFR-related craniosynostosis and/or chondrodysplasia tend to cluster in specific domains of the receptors (Fig.
12.2a
). These clusters illustrate the importance of the domains in receptor function. Analogous mutations found in each of the different FGFRs tend to mirror phenotypic effects between the receptors. However, distinctions between analogous mutations in the different receptors and their phenotypes reveal their independent roles during normal skeletogenesis.
Craniosynostosis and Chondrodysplasia
FGFR-Related Skeletal Syndromes