Respiratory Syncytial Virus and Metapneumovirus
Peter L. Collins
Ruth A. Karron
History
Human respiratory syncytial virus (HRSV) was first isolated in 1955 from a laboratory chimpanzee with illness resembling the common cold.
398
Shortly thereafter, the same virus was recovered from infants with respiratory illness, and serologic studies indicated that infection in infants and children was common.
86
,
87
HRSV is now recognized as the most important viral agent of pediatric lower respiratory tract illness (LRI) worldwide. In many areas it outranks other microbial pathogens as a cause of pneumonia and bronchiolitis in infants. In addition, HRSV can infect and cause disease in individuals of all ages and severe disease in the elderly and in profoundly immunosuppressed individuals.
146
,
163
,
233
Worldwide, acute respiratory infection (ARI) is the leading cause of mortality due to infectious disease, and HRSV remains one of the pathogens deemed most important for vaccine development. HRSV research is hampered by its poor growth
in vitro
and its physical instability. HRSV has a single serotype with two antigenic subgroups A and B.
Human metapneumovirus (HMPV) was first described in 2001 following its isolation from infants and children experiencing HRSV-like disease of unknown etiology.
572
There is serologic evidence of extensive pediatric infection dating back more than 50 years, and thus HMPV is newly discovered rather than newly emerged.
572
,
608
,
610
The virus had been overlooked because it grows slowly
in vitro
, has a delayed cytopathic effect, and usually requires added trypsin for activation of the fusion F protein. HMPV is recognized as an important agent of respiratory tract disease worldwide, especially in the pediatric and elderly populations, although its impact is less than that of HRSV.
608
HMPV also has a single serotype with two subgroups A and B.
515
Pathogenesis and Pathology
In typical monolayer cultures of immortalized cells, infection with HRSV or HMPV results in long surface filaments that bear viral antigen and probably give rise to filamentous virus particles
489
(
Fig. 38.2B
and E). The formation of HRSV filaments and filamentous virus depends on activation of RhoA and actin rearrangement: when activation is blocked, the production of infectious virus shifted to the nonfilamentous form.
71
,
206
,
371
HRSV-infected cells develop large electron-dense cytoplasmic inclusion bodies of up to several microns in diameter that include the N, P, M2-1, and L proteins and presumably contain active nucleocapsids
78
,
185
; HMPV forms similar inclusions.
136
Recently, the HRSV inclusion bodies were found to sequester a number of cellular proteins involved in intracellular signaling pathways, with the effect of inhibiting innate immunity and stress responses.
179a
HRSV infection has slight inhibitory effects on cellular DNA and RNA synthesis and little effect on gross protein synthesis.
335
As one factor in the lack of inhibition of protein synthesis, the HRSV N protein binds to PKR and prevents it from phosphorylating eIF-2a and inhibiting protein synthesis.
216
Apoptosis of HRSV-infected cells occurs slowly and is inhibited by the NS1, NS2, and SH proteins, as already noted. HRSV blocks the formation of stress granules, which may otherwise restrict HRSV replication.
179a
,
242
The formation of syncytia (
Fig. 38.2A
) is a major factor in cell death in typical nonpolarized monolayer cell cultures, but usually is not a prominent histopathologic finding
in vivo
(below).
HRSV and HMPV are highly infectious viruses. Humans are their only natural host, although HRSV and HMPV can readily spread to nonhuman primates and are pathogenic in some situations.
305
The major mode of spread by HRSV is by large droplets or through contaminated objects and depends on close contact with infected individuals or contact of contaminated hands to nasal or conjunctival mucosa (self-inoculation). It is generally thought that small-particle aerosols (which can remain airborne for extended periods and also can be inhaled deeply into the respiratory tract) are not an important mode of HRSV transmission,
222
,
224
although there are contrary data.
338
The incubation period from time of infection to onset of illness for HRSV is about 3 to 5 days
137
,
286
,
291
(
Fig. 38.5
). The incubation period for HMPV is not defined, but is thought to be similar.
HRSV replicates initially in the nasopharynx. Signs of LRI, when it occurs, usually appear 1 to 3 days following the onset of rhinorrhea (
Fig. 38.5
). Viral spread to the lower respiratory tract likely involves aspiration of secretions. Infants hospitalized
for HRSV disease shed infectious virus in nasal secretions with peak titers of 10
4
to 10
6
infectious units per ml.
138
,
139
,
225
,
615
Many infants continue to shed virus at hospital discharge and a few can continue to shed virus for weeks following clinical recovery. With the use of quantitative reverse transcription polymerase chain reaction (RT-PCR), the period of detection of HRSV shedding is prolonged, suggesting that virus is present but is neutralized by secretory antibodies made in response to the infection.
137
,
351
Limited data suggest that the titer of virus in the lower respiratory tract, sampled in bronchoalveolar lavage fluids of ventilated patients, is similar to that in the upper respiratory tract. Infectious virus has been difficult to recover from adults during symptomatic infection despite positive serologic or RT-PCR tests, probably due to the presence of neutralizing antibodies.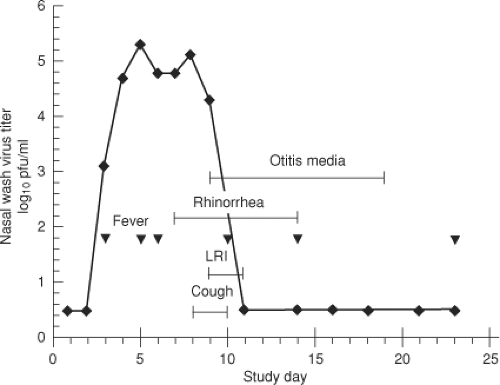 Figure 38.5. Time course of viral shedding and disease signs following experimental infection of a young seronegative vaccinee with 10
4
pfu of an investigational live partially attenuated human respiratory syncytial virus (HRSV) vaccine called
cpts
248/955. Fever was intermittent. (Adapted from Karron RA, Wright PF, Crowe JE, Jr, Clements ML, et al. Evaluation of two live, cold-passaged, temperature-sensitive respiratory syncytial virus (RSV) vaccines in chimpanzees, adults, infants and children.
J Infect Dis
1997;176:1428–1436.)

Figure 38.6.
Infection of an
in vitro
model of human airway epithelium (HAE) with human respiratory syncytial virus (HRSV) and influenza A virus, shown in cross-section
. The
left hand panel
is a fluorescence photomicrograph of cells 36 days following infection with HRSV expressing green fluorescent protein (GFP), and also stained with antibody specific to cilia (
red;
note that this antibody also stained the filter support underlying the cells). The three panels to the right show mock-infected, HRSV-infected, and influenza A virus–infected cultures visualized 37 (mock and HRSV) or 2 (influenza) days postinoculation.
631
In the three right-hand panels, the cells were stained with hematoxylin and eosin.
HRSV principally exhibits tropism for the airways and lung tissues. Studies in human adenoid or HAE epithelium models
in vitro
showed that HRSV preferentially infected ciliated cells. Infection was limited to the apical surface and did not spread to underlying cells, and virus was released from the apical surface
562
,
616
,
631
(
Fig. 38.6
). In experimental HAE infections lasting several weeks, infected cells were shed and replaced with little visible alteration of the microscopic appearance of the tissue, although ciliary beating usually was impaired.
616
,
631
Syncytia were not observed, probably because the F glycoprotein was expressed on the apical surface and did not contact adjacent cells. HRSV contrasted sharply with influenza A virus examined in parallel, which was rapidly destructive and quickly spread to underlying cells.
616
,
631
HRSV infection of epithelial cells induces a rapid inhibition of Na+ transport, resulting in apical fluid accumulation.
314
This might be a host mechanism to dilute and remove irritants, but also might contribute to excess fluid and virus spread. This effect was not unique to HRSV, and was observed with parainfluenza and influenza viruses as well as with bacterial pathogens.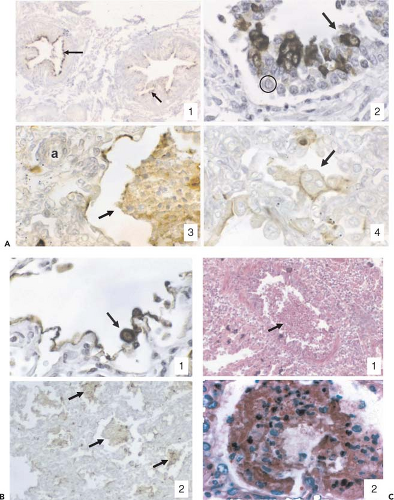 Figure 38.7.
Histopathology of human respiratory syncytial virus (HRSV) infection in children
.
A:
Bronchiolar localization of HRSV antigen (stained brown) detected by immunohistochemistry. (1) HRSV antigen localized in the luminal epithelium of two bronchioles (
arrows
indicate examples of staining). (2) Higher magnification of infected ciliated cells of the luminal surface of the bronchiole (an example is indicated with the
arrow
), also showing that the basal progenitor cells (an example is
circled
) are not infected. (3) Intraluminal debris (the
arrow
indicates a large debris plug) in a small airway, staining positively for HRSV antigen (an arteriole is marked with "a"). (4) A small syncytium (
arrow
).
B (left):
Alveolar localization of HRSV antigen (brown) detected by immunohistochemistry. (1) HRSV-infected alveolar cells (the
arrow
indicates an infected cell). (2) Alveolar lumens and small airways clogged with debris (examples are indicated with the
arrows
) that stains positively for HRSV antigen.
C (right):
Histopathologic features of bronchiolar inflammation, with periodic acid-Schiff (PAS) staining of carbohydrate macromolecules. (1) Bronchiole occluded with an intraluminal plug of debris and inflammatory cells (
arrow
). (2) Higher magnification image of intraluminal debris. (Reprinted by permission from Macmillan Publishers Ltd. From Johnson JE, Gonzales RA, Olson SJ, et al. The histopathology of fatal untreated human respiratory syncytial virus infection.
Mod Pathol
2007;20:108–119; copyright 2007.)
Histopathology of fatal HRSV infections indicates that infection is limited to the superficial cells of the respiratory tract, consistent with the findings in HAE cultures, although it is likely that nonciliated cells also are infected
4
,
187
,
273
,
596
(
Fig. 38.7
). There is necrosis and destruction of ciliated cells and occasional proliferation of the bronchiolar epithelium, but basal cells are spared. Ciliated epithelial cells rarely reappear before 2 weeks postinfection, and complete restoration requires 4 to 8 weeks,
220
similar to the duration of postinfection altered lung function and airway reactivity in adults.
237
There is an early influx of polymorphonuclear cells, and a peribronchiolar infiltrate of lymphocytes, plasma cells, and macrophages develops, with migration of the lymphocytes among the mucosal epithelial cells. Submucosal and adventitial tissues become edematous, and secretion of mucus is excessive, which combines with cell debris and inflammatory cells to obstruct the bronchioles and alveoli, causing either collapse or emphysema of distal portions of the airway. HRSV infects both type I and type II alveolar cells.
273
In those instances in which pneumonia occurs, the interalveolar walls thicken as a result of mononuclear cell infiltration, and the alveolar spaces may fill with fluid. There is usually a patchy appearance of these pathologic changes, even though disease may be widespread. Immunostaining identified virus-infected cells in the bronchial, bronchiolar, and alveolar epithelium.
273
,
419
Syncytia are sometimes observed, but are not prominent. However, syncytium formation and giant cell pneumonia are hallmarks of infection in individuals with extreme T-cell deficiency. HRSV antigen can be relatively abundant in lower respiratory tract infection, although the staining is usually focal, and in some cases of fatal HRSV bronchiolitis, antigen was present only in small amounts.
187
,
419
The histopathology of HMPV infection is not well known but has been reported to involve a characteristic enlarged, darkly staining pneumocyte or "smudge cell" that is not seen with other respiratory paramyxoviruses.
532
Studies in nonhuman primates indicate that HMPV has a similar tropism for the superficial cells of the respiratory epithelium.
311
Full access? Get Clinical Tree