Human T-Cell Leukemia Virus Types 1 and 2
Masahiro Fujii
Masao Matsuoka
Infectious Agent
HTLV is a delta-type retrovirus, and an HTLV virion contains two copies of single-stranded genomic RNA. Upon viral entry into a host cell, the viral RNA is reverse transcribed (the transfer RNA for proline being utilized as a primer), and the viral genome becomes integrated into the host cellular DNA as a provirus. This genome encodes the structural (Gag, Env), enzymatic (protease, reverse transcriptase, integrase), nonstructural regulatory (Tax, Rex), and accessory proteins (p12, p30, p13, HBZ).
Of these proteins, only HBZ is encoded by the minus strand of the HTLV-1 provirus.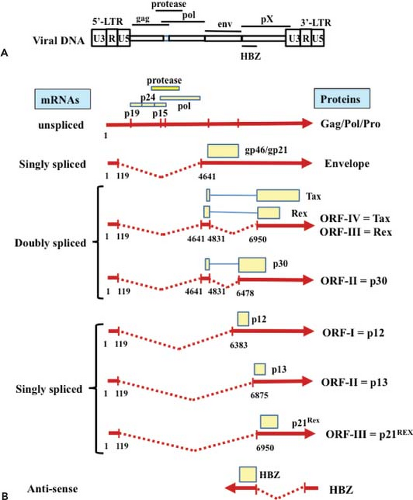 Figure 48.1.
HTLV-1 genome organization, transcripts, and products
.
A:
Schematic organization of HTLV-1 proviral DNA.
B:
Structure, splicing, and orientation of HTLV-1 transcripts and their corresponding products.
HTLV-1 Gene Regulation
Overall HTLV-1 Messenger RNA Regulation
In addition to genomic unspliced messenger RNA (mRNA), HTLV-1 expresses multiple other mRNAs with distinctive splicings
314
,
315
(
Figs. 48.1
and
48.2
). After infection of host cells, the initial dominant mRNA is the default doubly spliced
tax/rex
mRNA encoding the x-III and the x-IV open reading frame (ORF). Because the protein product Tax is a transcriptional activator of HTLV-1 transcription, Tax further amplifies the HTLV-1 transcripts, especially
tax/rex
mRNA, and their protein products. Once the other product, Rex, accumulates in a sufficient amount, it inhibits the nuclear export of
tax
/
rex
mRNA, instead increasing the export of singly spliced
env
mRNA and unspliced genomic RNA encoding
gag
/
pro-pol
(see
Fig. 48.2
), resulting in HTLV-1 release. Thus, Tax and Rex are essential for efficient HTLV-1 replication and production.
Tax-Dependent Transcriptional Activation
Posttranscriptional Regulation of Viral RNA by p30
p30 is encoded by the doubly spliced mRNA of x-II ORF and is a protein of 241 amino acids.
21
,
27
It is unusually rich in Ser (23%) and Arg (12%), and highly basic with theoretical isoelectric point of 11.71. p30 is localized in the nucleus and the nucleolus,
26
,
97
,
98
and it interacts with the ribosomal protein RPL18a.
98
p30 inhibits the nuclear export of doubly spliced tax/rex mRNA through retaining the mRNA in the nucleus.
262
p30 binds to the splice junction region (env exon) of tax/rex mRNA. p30 has four NLS and is retained in the nucleus.
98
In addition, a fraction of p30 is localized in the nucleolus, although this localization is not essential for its activity. Studies of p30-green fluorescent protein fusion proteins identified two nucleolar retention signals, each consisting of a short Arg-rich stretch. Although p30 has a peptide with homology to an NES, heterokaryon assays indicate that p30 is not a shuttling protein.
Interplay Between Rex and p30
Although both Rex and p30 interact with HTLV-1 RNA and decrease the amount of
tax/rex
mRNA exported from the
nucleus, they generally have opposite functions in virus production. Whereas Rex stimulates virus production through augmenting the expression of structural proteins (Gag, Pol, Env), p30 has no direct effect on virus production and in fact inhibits it through reducing the expression of Tax and Rex. Interestingly, the Rex and p30 proteins interact with each other, and their interaction is augmented by the presence of the viral mRNAs.
333
p30 has little effect on Rex activity; thus, Rex counteracts p30 activity and induces the expression of Tax/Rex proteins. Therefore, the ratio of these two proteins may be a factor controlling the transition between virus latency and virus production.
Interplay of p30 with
HBZ
HBZ
is another virally encoded gene (discussed later). Ectopic expression of
HBZ
RNA increases the expression of
tax
mRNA and Tax protein from HTLV-1–infected cells. Moreover, HBZ blocks the p30-mediated inhibition of Tax protein expression from
tax/rex
mRNA.
55
This is likely owing to an antisense mechanism, because p30 transcripts originate from a region overlapping with HBZ but in the opposite orientation.
Transcriptional and Posttranscriptional Regulation of Cellular Genes by p30
p30 can play roles in the HTLV-1 life cycle by regulating cellular genes.
235
,
366
,
424
,
425
Microarray analysis using total and cytoplasmic mRNA of peripheral blood mononuclear cells (PBMCs) indicated that p30 up-regulates 15 cellular genes and down-regulates 65 at the transcriptional level. In addition, nuclear export assays indicated that p30 up-regulates 33 mRNAs and down-regulates 90 at a posttranscriptional level.
366
Human T cells immortalized by a p30-defective HTLV-1 mutant were more sensitive to camptothecin (an anticancer drug)-induced apoptosis than those immortalized by wild-type virus, suggesting that p30 may influence sensitivity to apoptosis. In addition, p30 interacts with CBP/p300 and Tax.
424
,
425
Through this interaction, p30 inhibits Tax as well as CREB-mediated transcriptional activation of the HTLV-1 LTR.
Phenotypes of Rex and p30 Knockout HTLV-1
Knockout studies indicate that Rex is essential for persistent HTLV-1 infection in rabbits but not required for immortalization of human T cells
in vitro.
417
The defect in infection can be explained by the mRNA export regulatory function of Rex described earlier: Infection cannot be established if virus production is insufficient. On the other hand, studies of a p30-defective HTLV-1 (a stop codon at amino acid position 3 of p30 with an HBZ mutation of Ser-153 to Tyr) suggested that p30 is dispensable for both infectious virus production and immortalization of primary human T cells
in vitro
and persistent infection in rabbits.
332
Nevertheless, it is essential for efficient viral propagation in macaques.
381
Twelve weeks after infection of macaques, all of the p30-defective HTLV-1 had reverted to wild-type virus, indicating that p30 was crucial for maintaining HTLV-1 persistent infection. Interestingly, whereas this p30-knockout HTLV-1 produced the viral antigen equivalently to wild-type virus in a B-cell line, it does poorly in human dendritic cells (DCs),
381
suggesting that HTLV-1 infection of DCs is involved in persistent HTLV-1 infection in macaques and that p30 is necessary for this function. HTLV-1–infected DCs can transfer HTLV-1 to CD4+ T cells, and this transfer may play a crucial role in the maintenance of persistent HTLV-1 infection.
Latent HTLV-1 Infection
In Vivo
Whereas HTLV-1–transformed T-cell lines
in vitro
express abundant amounts of HTLV-1 mRNA and proteins, fresh PBMCs of HTLV-1–infected individuals generally express only a polymerase chain reaction (PCR)-detectable level of viral mRNA and an undetectable level of viral proteins, indicating that HTLV-1 expression is suppressed in these cells. However, once such HTLV-1–infected PBMCs are cultured
in vitro
, gene expression is initiated within a few hours.
Reactivation of HTLV-1 Transcription
It should be noted that infected individuals have high titers of antibodies against HTLV-1 and high anti–HTLV-1 cytotoxic T-lymphocyte (CTL) activity. Thus, HTLV-1 replication must occur either transiently but repeatedly or constitutively in specific cells other than peripheral blood lymphocytes, which are latently infected. Indeed, there are several circumstances in which HTLV-1 is reactivated to produce viruses. First, several stress agents induce expression of HTLV-1. For instance, arsenic trioxide, an oxidative stress response inducer, enhanced virus production.
11
In addition, deprivation of interleukin 2 (IL-2) from IL-2–dependent HTLV-1-immortalized T cells induced expression of the HTLV-1 gag protein.
391
This result suggests that the levels of IL-2 may regulate HTLV-1 gene expression
in vivo
.
Premium Wordpress Themes by UFO Themes
WordPress theme by UFO themes