Fig. 13.1
Explanation of the sensitization and elicitation phases of metal allergy. At first exposure, metal ions are eluted from metal devises. Eluted metal ions interact with proteins and are captured by antigen-presenting cells (
APC
). Captured complexes of metal ions and proteins are digested into antigen peptides and then are presented by major histocompatibility complexes (
MHC
) to naïve T cells. For T cell activation, innate immune stimulation is required simultaneously with antigen presentation, for example, stimulation by lipopolysaccharide (
LPS
). Antigen-presented T cells become pathogenic T cells (memory T cells) and migrate into regional lymph nodes (
LN
). Upon secondary exposure, metal ions with protein were captured by APC or metal ions are coordinated to immune synapse directly. Memory T cells are activated and migrated into the inflammatory site
The key event in the initiation of allergic contact dermatitis is the sensitization of hapten-specific naïve CD4
+
and CD8
+
T cells, which then become activated, proliferate, and differentiate into effector T cells. Since metal ions are also considered haptens, the same mechanism likely underlies metal allergy. This sensitizing reaction occurs in the regional lymph node via lymphatic flow [
26
–
28
]. Antigen presentation in the lymph node by migratory dendritic cells is absolutely essential for the generation of responses to peripheral antigens [
27
–
30
]. Therefore, antigen-presenting cells (e.g., dendritic cells) presented antigen, and naïve T cells are activated. Activated T cells which work as pathogenic T cells induce inflammation. Upon secondary exposure, pathogenic T cells expand, which induces to development of allergy.
13.3

Pathology in Patients with Metal Allergy

Most studies of systemic allergic contact dermatitis caused by metals have focused on nickel-induced allergy; however, a number of other metals have been implicated including cobalt, chromium, mercury, palladium, and gold.
13.4

Development of Animal Models of Metal Allergy

Although there previously existed no adequate animal models of metal allergy, there are several mouse models of contact hypersensitivity using chemical haptens. Allergic contact dermatitis is one of the most common skin diseases, affecting 15–20 % of the general population worldwide [

62

], and murine contact hypersensitivity is one of the most frequently used animal models of allergic contact dermatitis. During the last decade, new subsets of immune cells, such as regulatory T cells (Tregs) and CD4

+

T helper 17 (Th17) cells, have been identified from studies in murine contact hypersensitivity models. Based on these results, it has been determined that similar responses also exist in humans [

63

].

Most of the chemicals that induce contact hypersensitivity are small compounds called haptens, which typically have a molecular mass of <500. Haptens require interactions with proteins to elicit adaptive immune responses [

64

,

65

]. In addition, because haptens, including metal ions, are composed of molecules small enough to penetrate the dermis across the tight junctions, cutaneous dendritic cells may encounter haptens directly [

63

].

Full activation of dendritic cells is essential for the establishment of sensitization by haptens; however, the molecular mechanisms underlying dendritic cell activation by haptens remain unknown. Martin et al. have intensively investigated the involvement of the innate immunity system in hapten-induced dendritic cell activation [

66

]. Innate immunity is activated through pattern recognition receptors, such as membrane-associated toll-like receptors (TLRs) and cytosolic nucleotide-binding oligomerization domain (NOD)-like receptors. Among TLRs, TLR2 and TLR4 have a critical role in dendritic cell maturation in murine contact hypersensitivity reactions.

Nickel is one of the most frequent causes of contact dermatitis in humans, although it rarely occurs in mice. It has been reported that coadministration of adjuvant, such as complete Freund's adjuvant or lipopolysaccharide, efficiently induced nickel allergy in mice suggesting an important role of TLR signaling in efficient sensitization with nickel. Schmidt et al. reported that nickel ions induced an inflammatory response by directly activating human TLR4. Furthermore, this activation required distinct sequence motifs that are present in human, but not mouse, TLR4. Thus, only TLR4-deficient mice expressing transgenic human TLR4 developed contact hypersensitivity to nickel, whereas animals expressing mouse TLR4 failed to generate contact hypersensitivity [

67

]. Therefore, TLR4 is important for induction of nickel allergy in both mice and humans.

Because induction of nickel allergy requires two components, the metal ion and TLR ligands, it is not surprising that symptoms of metal allergy most often present in the skin or oral cavity where resident flora exist. Thus, we attempted to establish an animal model for palladium allergy, which is known to be caused by dental restorations. Mice were sensitized with a mixed solution of palladium and lipopolysaccharides from one of the resident flora,

Escherichia coli

. After ten days, these mice were elicited with palladium solution injected into ear auricles under anesthesia. Ear thickness was measured before the elicitation and at 24, 48, and 72 h after elicitation, and ears were found to be swollen and infiltrated by CD3

+

T cells similar to pathogenesis of human metal allergy (Fig.

13.3

) [

68

]. Metal allergy was also induced on the footpad in mouse model. For these studies, mice were sensitized twice followed by three separate applications for elicitation of nickel allergy [

69

] as well as palladium allergy [

70

]. We observed that footpad swelling continued up to 10 days and then returned to basal levels 14 days after the last elicitation. Furthermore, the epidermis was thickened and large numbers of CD3

+

T cell infiltrates were present in the inflamed skin epidermis as early as 7 days after elicitation. Thickening of epidermis and infiltration of T cells in palladium allergy were similar to that seen with nickel allergy [

69

,

70

]. Together these findings show that we have established mouse models that accurately represent the pathology of human metal allergy.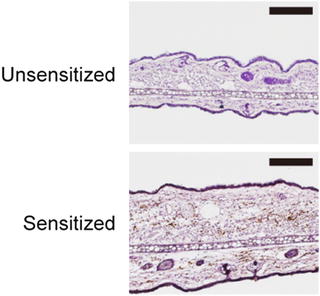 Fig. 13.3
Pathogenic T cells are present in a mouse model of metal allergy. Immunohistochemical analysis of the ear auricles at 24 h after elicitation with palladium in palladium plus LPS-sensitized wild type mice. As controls, unsensitized and palladium challenged mice were assessed. Ear sections were stained by anti-CD3ε mAb and visualized by DAB (
brown
). The sections were counterstained with hematoxylin (
blue
). The scale bars indicate 100 μm
13.5

Analysis of Pathogenic T Cells During Metal Allergy

Although metal allergy has long been known to be T cell dependent and metal ions are known to function as haptens, the involvement of pathogenic T cells in the development of metal allergy has not yet been explored using animal models. To identify the pathogenic T cells responsible for the onset of metal allergy, we utilized an adoptive transfer approach. In brief, we selectively isolated regional lymph node cells from mice in which allergic inflammation was elicited by palladium administration and then transferred these cells into naïve nude mice until more than 90 % of recipient mice exhibited allergic inflammation (Fig.

13.4

). Analysis of these cells indicated that pathogenic T cells were responsible for the development of metal allergy.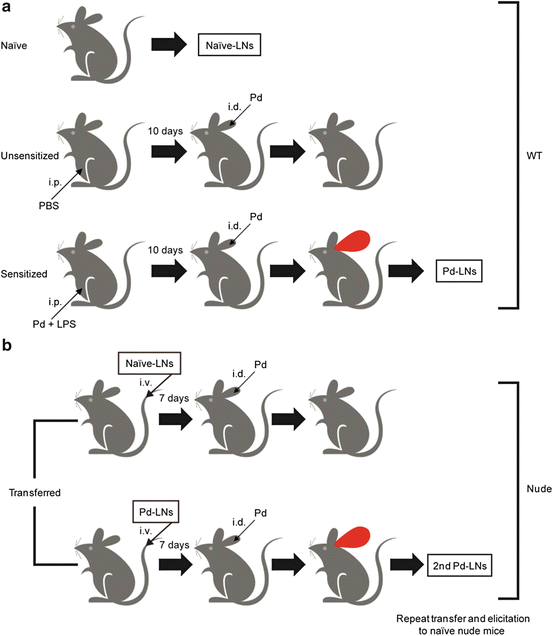 Fig. 13.4
Schematic view of metal allergy induction. (
a
) Metal allergy was elicited in WT mice by sensitization with intraperitoneal injection (
i.p.
) of palladium plus lipopolysaccharides (
LPS
) and subsequent elicitation with palladium. (
b
) Regional lymph node cells were isolated from ear-swollen mice (Pd-LNs) or naïve mice (naïve-LNs) and adoptively transferred to naïve nude mice. The transferred nude mice were elicited and ear-swollen mice were selected, and then Pd-LNs were isolated from this secondary transfer and further transferred to naïve nude mice
When pathogenic T cells were enriched using sequential adoptive transfer, the allergic inflammation rate also increased. Although the period of ear swelling was not prolonged, the intensity was increased by sequential rounds of adoptive transfer [
68
]. Because we found that pathogenic T cells infiltrated into inflammatory lesions of nude mice that had received T cells derived from mice with metal allergic disease, we further investigated whether CD4
+
or CD8
+
T cells were preferentially involved in Pd allergy. To this end, we depleted CD4
+
or CD8
+
T cells from 8th transferred nude mice by administration of anti-CD4 or anti-CD8 mAbs in vivo. Although ear swelling was observed in mice depleted of CD4
+
T cells as well as mice administered rat IgG, ear swelling was significantly inhibited in mice depleted of CD8
+
T cells alone or of both CD8
+
and CD4
+
T cells [
68
]. To confirm the role of CD8
+
T cells in metal allergy, we induced metal allergy in MHC class I-deficient mice and MHC class II-deficient mice that lack CD8
+
T cells and CD4
+
T cells, respectively. We did not observe significant ear swelling in MHC class I-deficient mice, whereas MHC class II-deficient mice exhibited an inflammatory response to metal administration. These results indicate that, similar to that seen with other strong experimental haptens, MHC class I-restricted CD8
+
T cells are required for the onset of palladium allergy [
71
].
Full access? Get Clinical Tree