Material
Tensile strength (MPa)
0.2 % Yield strength (MPa)
Elongation (%)
Elastic modulus (GPa)
Reference
316L
595
275
60
193
Nb
195
105
25
103
Nb-1Zr
241
138
20
68.9
Ti
240–331
170–241
30
102.7
Ti-6Al-4V
900–993
830–924
14
113.8
The potential for development of further higher-strength alloys is however also well demonstrated in Table
11.1
simply by comparing the superior tensile properties of Nb-1Zr against pure Nb, in this instance the zirconium providing a precipitation strengthening and solid solution strengthening effect. Aside from pure Nb and Nb-1Zr, there are very few commercial niobium materials available; product forms, material specifications and availability of all niobium materials have primarily been influenced by the nuclear and aerospace industries where the corrosion resistance and high temperature performance of the material have been advantageous. A higher-strength Nb-10Hf-1Ti-0.5Zr (commercially known as Alloy C103) was also developed, specifically for the Apollo space program [
4
], but high costs and commercial restrictions on availability have seen limited access and application development for this material. Despite these challenges, an increasing awareness of the biocompatibility of niobium has seen several positive advances in recent years. This chapter reviews some of the fundamental studies that have increasingly demonstrated the biocompatibility aspects of niobium surfaces. In addition, some of the main developments aimed at improving specific features of mechanical performance are also described.
11.2

Biocompatibility of Niobium

It is widely recognized that the stability of the oxide layer on any metal surface is a good indicator of biocompatibility; in this regard, niobium very readily forms a stable and protective oxide layer. In this context, stability does not simply refer to the absence of corrosion, but also relates to the electrochemical properties of the surface and the nature of current flow between an implant surface and its environment. Early work by Zitter and Plenk [

5

] studied the relative merits of a number of metallic implant materials, including niobium, by measuring surface current densities under a range of in vitro test conditions. Niobium consistently demonstrated lower current densities than stainless steel, cobalt-chromium and gold, and the authors cite this behaviour as being fundamental to the biocompatibility of the material; the niobium had a performance comparable to pure titanium. This comparability between titanium and niobium has also been demonstrated in vivo by Johansson and Albrektsson [

6

] for an orthopaedic application. Screw-shaped components of both materials were implanted into the femur and tibia of rabbits. At 3-month follow-up, the removal torque for the niobium components was superior to the titanium components, indicating a good integration of the device within the surrounding bone tissue. While surface roughness was also acknowledged to be influencing this outcome, the histological studies did support the finding with similar levels of bone-to-metal contact observed for both materials. Matsuno et al. [

7

] have further demonstrated the biocompatibility of niobium in orthopaedic hard tissue environments, as well as in soft subcutaneous tissue. Small wire components, made from niobium, titanium and other refractory metals, were implanted into both the femur and abdominal subcutaneous tissue of Wistar rats. At 4 weeks, newly formed bone was demonstrated on histological sections – the level of osteogenesis on niobium was similar to the titanium. Elemental mapping techniques were also utilized, demonstrating that niobium had not diffused into the surrounding bone tissue. The outcomes of the soft tissue implants were also positive with the components being encapsulated within a thin layer of fibrous connective tissue at 4 weeks, with no inflammatory responses observed.

The electrochemical basis for the performance of niobium has also been demonstrated by Metikoš-Huković et al. [

8

] with niobium surfaces showing a high resistance to oxide film breakdown in physiological solutions, exhibiting passive behaviour up to 10 V, compared to Ti-6Al-4V which showed film breakdown at 4 V. This is illustrated in Fig.

11.1

. Interestingly, this study also showed that the beneficial effects of niobium can be seen even when it is present only as an alloying addition within a material; Ti-6Al-6Nb performed superior to pure titanium and Ti-6Al-4V, and this has been attributed to a reduction in the amount of electronic defects in the oxide due to the presence of niobium. Consistent with these electrochemical findings, Rogers et al. [

9

] have also shown in vitro advantages of Ti-6Al-7Nb over Ti-6Al-4V. Clinically relevant orthopaedic wear debris was created from both metals, added to human monocyte cell cultures and tested for inflammatory mediators after 48 h. A higher inflammatory response was detected for the Ti-6Al-4V compared to the Ti-6Al-7Nb, and it is proposed that this could contribute to lower bone resorption for devices made from the niobium-containing material. The superior performance of Ti-6Al-7Nb is attributed to the better corrosion resistance of this material.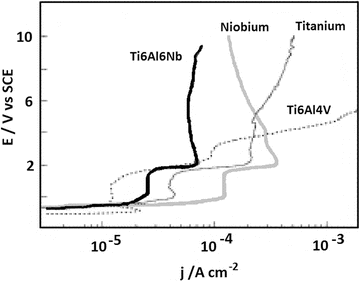 Fig. 11.1
Polarization diagrams for Ti-6Al-4V, Ti-6Al-6Nb, niobium and titanium rotating disc electrodes recorded in HBSS (pH 6.9,
T
 = 37 °C) in the potential range −1.4 and 10 V (Reprinted with permission from Ref. [
8
]. Copyright 2003 by Elsevier)
In addition to the early in vivo and electrochemical work, the exceptional biocompatibility of pure niobium has also been demonstrated in vitro, by Eisenbarth et al. [
10
], using cell lines applicable to both orthopaedic and vascular applications. Niobium was compared to a number of metals, including pure titanium, using murine skull osteoblast-like cells and bovine aortic endothelial cells. Proliferation, mitochondrial activity, cell volume and morphology of both cell lines were assessed after 7 days in contact with the metal surfaces. Niobium performed better than titanium in terms of proliferation and mitochondrial activity, while both metals were similar in relation to cell volume and morphology changes.
11.3

Niobium-Based Coatings and Surface Modifications