Steven A. Rubin
Christian J. Sauder
Kathryn M. Carbone
Pathology and Pathogenesis
Infection in Experimental Animals
Humans are the only natural host of MuV, although experimental infection has been induced in laboratory animals, including monkeys,
230
,
327
,
334
hamsters,
192
,
295
,
419
mice,
205
,
295
and rats.
315
,
331
Experimental infection of animals has mostly been used to study the pathogenesis of MuV neurotropism and neurovirulence. Intracerebral inoculation of MuV into the suckling hamster results in a massive inflammatory response, including meningitis, encephalitis, and ventriculitis. Intraperitoneal inoculation of virulent strains into suckling hamsters also leads to CNS infection.
420
Associated neuropathology includes hydrocephalus, Chiari type I cerebellar malformation, and neuronal necrosis.
204
,
295
,
366
,
369
,
421
Many of these are reported features of CNS infection in humans, suggesting the applicability of the hamster model for studying the pathogenesis of MuV infection in man. Similar findings have also been reported in monkeys.
70
,
241
,
326
,
334
,
436
Very little, if any, work has been accomplished in mice because MuV infection in this species tends to be abortive, thereby limiting the value of this model system.
155
,
317
,
383
Early studies also indicated mumps infection to be abortive in rats, unless adapted by serial passage in brain.
315
Subsequent studies, however, determined that intracerebral inoculation of the virus into newborn rats resulted in inflammation of the ventricular system (choroiditis, ependymitis) and hydrocephalus, but not meningitis or encephalitis.
331
Interestingly, the severity of hydrocephalus in rats was found to correlate well with the virus strain-specific neurovirulence potential for humans, suggesting the relevance of such a model of disease in examining the pathogenesis and molecular basis of MuV neurovirulence.
332
The severity of virus-induced neuropathology in marmosets, but not other monkey species, was also found to correlate with virus neurovirulence potential for humans.
328

Figure 35.2.
Phase contrast image showing the progression of typical cytopathic effects of a mumps virus clinical isolate after incubation on Vero cells for 1 (A)
, 4
(B)
, and 7
(C)
days. The classic cytopathic effect of cell-to-cell fusion and syncytia formation (
arrows
) appear within a few days of culture, followed by cell lysis. By day 7 nearly the entire cell monolayer is consumed by syncytia and lysis. Acetone fixation, cresyl violet stain.
Infection in Humans
Transmissibility after nasal or buccal mucosal inoculation of virus
187
suggests that natural infection is initiated by droplet spread. The incubation period is 16 to 18 days,
167
,
259
during which the virus multiplies in the upper respiratory mucosa before spreading to draining lymph nodes. Based on studies involving experimental infection of hamsters, virus disseminates via a transient plasma viremia,
420
potentially infecting multiple tissues and
organ systems.
172
The most common sites of virus dissemination are glandular tissues (parotid glands, testes, breasts, and pancreas), and the CNS. If viruria is used as an indication of kidney infection, then kidney involvement is common in mumps, although clinical nephritis is rarely diagnosed.
392
,
394
In rare cases, MuV can be transmitted transplacentally.
Virus is shed in saliva as early as 6 days before the onset of parotitis.
159
Termination of viral shedding correlates with the local appearance of virus-specific secretory IgA and IgM, as early as a few days after disease onset.
67
,
304
Fewer than 15% of patients continue to shed virus beyond day 4 of symptom onset.
310
Thus, patients with mumps are capable of spreading virus by the respiratory route over a 10-day interval.
Plasma viremia disappears coincident with the development of MuV–specific antibody, which can be detected in serum as early as 11 days after infection of humans.
159
Animal models suggest that circulating infected lymphocytes provide a means for the spread of virus in the face of mounting humoral immunity.
420
Despite the apparent high frequency of viremia during mumps, MuV has only rarely been detected in blood.
183
,
201
,
294
Parotid Gland
Initial clinical symptoms usually relate to infection of the parotid gland, but viral involvement of this gland is neither a primary nor obligate step in the infection.
202
Virus infects the ductal epithelium, resulting in desquamation of involved cells, periductal interstitial edema, and a local inflammatory reaction primarily involving lymphocytes. Swelling, inflammation, and tissue damage in the parotid gland can produce elevation of serum and urine amylase levels.
346
Gonads
Orchitis, usually unilateral, occurs in approximately 20% of postpubertal men who develop mumps.
16
,
124
,
224
Orchitis rarely occurs in children, suggesting that certain hormonal factors, such as receptors for luteinizing hormone and follicle-stimulating hormone expressed during adolescence, might promote testicular tropism of the virus.
376
Virus has been isolated from testicular biopsies of the affected gland within the first 4 days of symptoms, and from semen,
29
,
179
strongly suggesting that symptomatic gonadal involvement reflects local virus replication. The
seminiferous tubules may be the primary site of viral replication, with local lymphocytic infiltration and edema of interstitial tissues.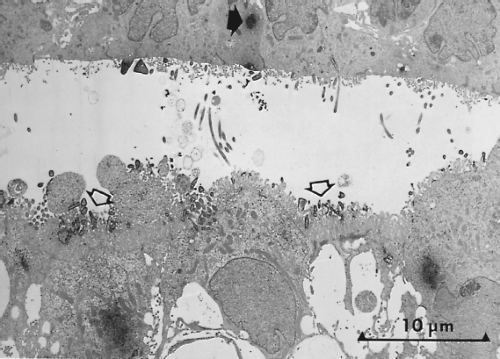 Figure 35.3.
Post-embedding electron-microscopic immunocytochemical staining of a region of the lateral ventricle of a hamster 5 days after intraperitoneal infection with the Kilham strain of MuV
. Anti-N monoclonal antibody was used as the primary reagent. The reaction product defines nucleocapsids located below the cytoplasmic membranes at sites of virion budding along both the ependymal and choroidal (
unfilled arrows
) surfaces. Intracytoplasmic nucleocapsid inclusions are also demarcated by the reaction product in both choroid plexus and individual ependymal (
filled arrow
) cells.
Kidneys
Based on the frequency of viruria, virus frequently disseminates to the kidneys, where epithelial cells of the distal tubules, calyces, and ureters appear to be primary sites of virus replication.
413
Viruria can be detected in most patients, sometimes for as long as 14 days after the onset of clinical symptoms.
392
,
393
Mild abnormalities of renal function have been described, but they are usually of little clinical importance.
392
Although virus dissemination to, and replication in, the parotid gland and kidney can occur simultaneously, replication in renal tissue is more prolonged and continues well beyond the appearance of neutralizing antibody in serum.
Pancreas
Pancreatic involvement, diagnosed in 1% to 27% of cases,
38
,
47
,
64
,
232
,
296
,
345
,
356
,
376
,
416
is usually expressed as mild epigastric pain, but severe hemorrhagic pancreatitis
114
and transient exocrine function abnormalities
92
have been reported. MuV infects human pancreatic beta cells
in vitro
,
403
and virus infection of the pancreas has been demonstrated in hamsters inoculated intraperitoneally.
420
Viral infections have been considered a possible precipitating event leading to the onset of about one third of all cases of juvenile-onset or type I insulin-dependent diabetes mellitus (IDDM); however, whether MuV causes IDDM is unclear.
83
,
127
,
136
,
344
No association has been found between mumps and type II diabetes.
240
Heart and Joint Tissues
Myocardial invasion occurs frequently in mumps, as indicated by electrocardiographic abnormalities.
14
Although it is seldom symptomatic, interstitial lymphocytic myocarditis and mild pericarditis may occur following mumps replication in cells of the myocardium and pericardium.
43
MuV myocarditis can lead to the rare but serious sequelae of endocardial fibroelastosis.
279
Mild to moderately severe mono- or polyarticular and, often, migratory arthritis has rarely been associated with mumps.
139
MuV has not been isolated from joint fluids or synovial tissues, and no evidence exists for significant immune complex deposition.
Fetus and Newborn
MuV can be transmitted transplacentally as demonstrated in nonhuman primates
357
and by the isolation of the virus from the human fetus following spontaneous first-trimester abortion during maternal mumps.
221
,
433
The virus can produce a fetal wastage in humans, with or without subsequent spread of virus to involve fetal tissues directly.
433
MuV has also been isolated from fetal tissues following planned therapeutic abortion of seronegative women 1 week after vaccination with live, attenuated MuV, although it is unclear if the virus detected was vaccine virus, or wild-type virus coincidentally contracted at or shortly before the time of vaccination.
430
A proliferative necrotizing villitis with decidual cells containing intracytoplasmic inclusions has been described in the products of spontaneous and induced abortions.
129
Late-gestation intrauterine infection was reported in an infant born to a mother who developed mumps more than 4 weeks before delivery, diagnosed by reverse transcription polymerase chain reaction (RT-PCR) testing of the infant's cord blood cells.
363
This infant developed severe pulmonary symptoms, including hypertension and hemorrhage.
MuV is excreted in breast milk,
203
but few cases of perinatal mumps have been described
195
,
222
and it is not clear if breast milk was responsible for these cases. There appears to be a somewhat different mode of pathogenesis of mumps in newborns. In the first year or two of life, infants may have only pulmonary involvement without evidence of parotitis.
195
,
363
Split immunologic recognition in the infants can follow maternal parotitis, resulting in MuV-specific cell-mediated immune responses without a concomitant antibody response.
1
,
357
,
378
Molecular Basis of Virulence
While comprehensive studies on the molecular basis of MuV virulence have yet to be performed, it is clear that the genetic basis of MuV neurotropism and neurovirulence does not lie within any one gene
7
,
329
,
339
,
348
,
428
and no simple pattern of genomic mutations capable of discriminating virulent from attenuated MuV strains has been identified.
8
,
177
,
339
Full access? Get Clinical Tree