Theodore C. Pierson
Michael S. Diamond
Flaviviruses acquired their name from the jaundice associated with the liver dysfunction caused by yellow fever virus (YFV) infections. YFV played an important historical role in defining the nature of viruses in general. Seminal studies by Walter Reed and colleagues
780
demonstrated that the etiology of yellow fever was a filterable agent that could be transmitted through the bite of a mosquito, confirming the postulates of Carlos Finlay. YFV was the first flavivirus isolated (in 1927) and the first to be propagated
in vitro.
790
,
820
These advances led remarkably rapidly to the development of an effective YFV vaccine that remains in use today.
569
Experiments with the louping ill virus (LIV) in 1931 established that ticks also were capable of transmitting viruses associated with human disease.
119
The discovery that antisera raised against some, but not all, viruses that caused similar diseases (e.g., encephalitis) cross-reacted with heterologous viruses provided a method to investigate the relatedness of flaviviruses.
126
,
127
,
128
,
876
This was refined further with the development of a standardized hemagglutination inhibition test that allowed classification of 10 different flaviviruses and distinguished them from alphaviruses.
127
These two groups of viruses were referred to thereafter as group A and B arboviruses, respectively. The first full-length flavivirus genome (YFV) were sequenced in 1985 by Charles Rice and colleagues.
680
Subsequent advances in the molecular genetics of flaviviruses have increased our understanding of the relationships between viruses that was originally revealed by serology (described below). Seventy-three viruses of the
Flavivirus
genus (classified as 53 distinct species) have since been defined (
www.ICTVonline.org/index.asp
).
Flavivirus Diversity, Evolution, and Distribution
Global Distribution
Flaviviruses are found on six different continents where they are responsible for endemic and epidemic disease each year (
Fig. 26.2
). The geographic distribution of flaviviruses has proven quite dynamic, enabling emergence in new geographic areas and increased disease incidence.
514
For example, since its introduction into the Western Hemisphere in 1999, it took only 4 years for the WNV to spread across the United States, where it is now an endemic pathogen. The contribution of human activity toward the spread of flaviviruses is significant.
271
Prior to the development of rapid intercontinental transportation, the movement of flaviviruses between the Old World and New World was uncommon. YFV (and potentially the
Aedes aegypti
mosquito) were introduced into the Americas during the slave trade 300–400 years ago. Importation of YFV by travelers into nonendemic areas, and DENV and WNV into the New World, has been described.
110
Flavivirus Composition and Antigenic Structure
Structure
Flaviviruses are small spherical particles composed of three structural proteins, an ∼11 kb positive-sense genomic RNA, and a lipid envelope. The envelope (E) protein is a ∼53 kD structural protein that functions in multiple steps of the virus life cycle including assembly, budding, attachment to target cells, and viral membrane fusion (reviewed by
591
). The E protein is also the major target of neutralizing antibodies (reviewed by
647
,
688
). The structure of the ectodomain of the E protein has been determined at the atomic level for several flaviviruses.
557
,
559
,
591
,
623
,
647
,
679
,
918
Flavivirus E protein is an elongated, type II viral fusion protein composed of three distinct domains connected by short flexible hinges (
Fig. 26.3AB
). Domain I (E-DI) is an eight-stranded β-barrel located in the center of the E protein molecule. This central domain contains two of the six disulfide bonds present in the E protein structure, as well as a site for the addition of an asparagine-linked (N-linked) carbohydrate. Domain II (E-DII) is an elongated structure that mediates dimerization of E proteins on the mature virion. A highly conserved glycine-rich loop composed of 13 amino acids located at the tip of E-DII is thought to insert into the membranes of target cells.
10
,
98
,
558
In the context of the dimer, the E-DII fusion loop (E-DII-FL) sits in a hydrophobic pocket formed at the interface of E-DI and domain III (E-DIII). The introduction of mutations into the fusion loop blocks fusion between virions and the membranes of synthetic liposomes.
162
For some flaviviruses, E-DII contains a second N-linked glycosylation site. E-DIII adopts an immunoglobulin-like fold at the carboxy-terminus (C-terminus) of the E protein ectodomain and is stabilized by a single disulfide bridge. E-DIII is the portion of the E protein that projects farthest from the surface of the mature virion and is speculated to contain binding sites for cellular factors involved in virus attachment and entry.
71
,
153
,
455
,
520
,
679
Many of the most potent neutralizing antibodies characterized to date recognize epitopes on E-DIII (discussed below). The E protein is tethered to the viral membrane by a helical stem (the stem anchor) and two transmembrane domains.
11
,
591
,
915
The precursor to membrane protein (prM) is a ∼20 kD protein that facilitates E protein folding and trafficking.
501
In addition, interactions with the E protein prevent the adventitious fusion of the virus during egress.
321
Virion maturation is regulated by the proteolytic cleavage of prM, which results in the formation of a "pr" protein that is ultimately released from the virion and an ∼8 kD membrane-associated M peptide. The structure of the "pr" peptide has been determined at the atomic level and is composed of seven β strands held together by three disulfide bonds (
Fig. 26.4A
).
466
prM interacts with the E protein near at the tip of E-DII adjacent to the fusion loop.
916
,
917
prM is anchored into the viral membrane via two transmembrane domains.
591
,
915
Recent studies suggest that antibodies specific for prM are commonly produced
in vivo.
61
,
191
Flaviviruses assemble on virus-induced membranes derived from the endoplasmic reticulum (ER).
353
,
502
,
513
,
861
Virus particles bud into the lumen of these membrane structures as immature virions on which E and prM proteins form heterotrimeric spikes that project from the surface of the virion. Within each spike, the prM protein is located at the tip of the trimer. Immature virions incorporate 60 trimers arranged with icosahedral symmetry (
Fig. 26.4B
).
907
,
916
,
917
Transit of the immature virion through the mildly acidic compartments of the trans-Golgi network (TGN) triggers an extensive rearrangement of E proteins on the immature virion; the lower pH induces a structural transition such that E proteins lie flat as antiparallel dimers on the surface of the virion, analogous to the structure of the mature virion discussed below.
907
Under acidic conditions, prM remains associated with the fusion loop on this structure and protrudes from the surface of an otherwise smooth virus particle. This pH-dependent conformational change increases the susceptibility of prM for a furin-like serine protease.
777
Cleavage of prM is the hallmark of the virion maturation process, and is a required step in the virus life cycle.
223
Release of the virion into the neutral conditions of the extracellular milieu results in the dissociation of the pr peptide.
466
,
907
Mature virions are relatively smooth virus particles that incorporate 180 copies of the E protein arranged with an unusual herringbone pseudo-T = 3 icosahedral symmetry
425
,
590
,
591
(
Fig. 26.5A
).
Each virion is composed of 30 sets of three antiparallel dimers. In this configuration, E proteins exist in one of three chemically distinct dimer environments defined by their proximity to the two-, three-, or fivefold symmetry axis (
Fig. 26.5B
).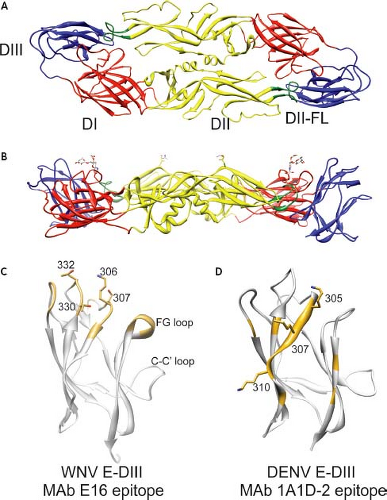 Figure 26.3.
Structure of the flavivirus E protein.
The envelope (E) proteins of flaviviruses are elongated class II viral fusion proteins composed of three structurally distinct domains.
A:
Ribbon diagram of the Dengue virus (DENV) E protein dimer as seen from the top; individual domains of each E protein monomer are indicated (domain I, E-DI,
red;
domain II, E-DII,
yellow;
and domain III, E-DIII,
blue
). The fusion loop at the tip of E-DII is shown in
green.
B:
DENV E protein as viewed from the side. The stem anchor connecting the E protein to the viral membrane is not shown. The two N-linked carbohydrate modifications at positions Asn67 and Asn154 are shown.
C:
Structure of the West Nile virus (WNV) E-DIII highlighting amino acids that form the epitope recognized by the type-specific neutralizing mAb E16. Residues identified in structural studies as antibody contacts are shown in
brown
; the side chains of residues demonstrated to be critical for antibody binding are shown and labeled.
D:
Structure of the DENV E-DIII highlighting the epitope recognized by the group-reactive mAb 1A1D-2. Residues identified in structural studies as antibody contacts are shown in
brown
; the side chains of residues demonstrated to be critical for antibody binding are shown and labeled. We thank Mr. Phong Lee (National Institute of Allergy and Infectious Diseases [NIAID], National Institutes of Health [NIH]) for preparation of the figure.

Figure 26.4.
The immature flavivirus virion.
The structure of prM and the immature flavivirus virion.
A:
Ribbon representation of the Dengue virus (DENV) pr peptide complexed with the DENV E protein. The pr peptide is shown in
cyan.
Domains I, II, and III of the E protein are shown in
red, yellow
, and
blue
, respectively.
B:
Surface-shaded representation of the immature DENV virion at neutral pH.
C:
Cryo-electron microscopy visualization of extracellular DENV reveals the heterogeneity of virions released from mosquito cell cultures. Immature (I) and mature (M) virions are indicated. Partially mature virions (P) characterized by the appearance of smooth and spiky features on the same virion comprise a significant fraction of the virions released from cells.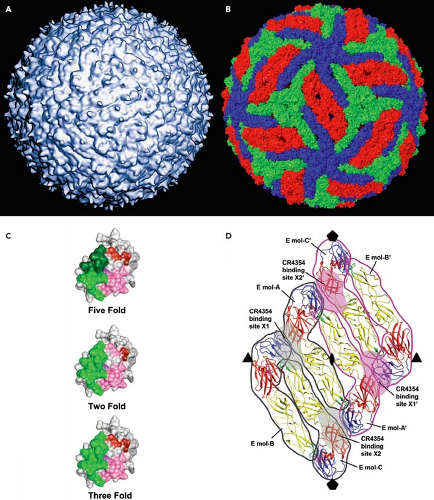 Figure 26.5.
The arrangement of E proteins on the mature flavivirus increases the complexity of the antigenic surface of the virus particle. A:
Structure of the mature DENV virion.
B:
Structure of the mature virion highlighting the association of E proteins proximal to the two-, three-, and fivefold symmetry axis of the virion, shown in
red, green
, and
blue
, respectively.
C:
Epitope accessibility varies as a function of the location of a particular E protein on the surface of the pseudo-icosahedral mature virion. Residues important for the binding of mAb E16 are highlighted in
green
for E proteins of each symmetry environment. The steric conflicts that prevent binding of E16 to E proteins proximal to the fivefold symmetry axis are shown in
dark green.
Accessibility of amino acids involved in 1A1D-2 binding are shown in
pink
; steric conflicts that prevent binding to E proteins on the mature virion are shown in
red.
D:
The complex epitope of mAb 4354 composed of multiple E proteins is shown. Individual domains of each E protein monomer are indicated (domain I, E-DI,
red
; domain II, E-DII,
yellow
; and domain III, E-DIII,
blue
).
The Antigenic Surface
Flaviviruses were first classified according to serologic reactivity.
127
,
188
These early studies generally agreed with approaches that group viruses as a function of genetic relatedness (discussed above,
Fig. 26.1
).
522
Flavivirus-reactive antibodies are classified as a function of their capacity to discriminate between the antigens of viruses within and between related serologic groups of viruses.
829
For example, monoclonal antibodies that react with DENV may be type-specific (a single DENV serotype), subcomplex-specific (more than one DENV serotype), complex reactive (all DENV viruses), or flavivirus-group reactive (multiple flaviviruses).
322
Type-specific mAbs provided a rapid and specific method for distinguishing between antigenically related viruses.
324
,
572
Furthermore, recent studies indicate that antibodies differentially recognize different genotypes within a given serotype.
99
,
751
,
852
E Protein Epitopes Recognized by Neutralizing Antibodies
The majority of neutralizing antibodies bind epitopes on the E protein (reviewed in
688
). Early studies distinguished epitopes on the E protein based on the biochemical and functional properties of mAbs including a capacity to bind and compete for viral antigens, neutralize virus, and inhibit hemagglutination of red blood cells.
251
,
319
,
322
,
394
,
395
,
411
,
642
,
690
An early model of the antigenic structure of the E protein was proposed by Heinz and colleagues that featured three nonoverlapping antigenic domains (A, B, and C); more refined clusters of epitopes within each domain were based on functional differences.
286
,
318
These studies also identified a small number of antibodies that bound the E protein outside of these domains. This advance not only provided a framework to classify antibodies based on their epitope, but also provided context to consider relationships between epitope location and the functional properties of mAbs.
689
Antigenic domain A epitopes were recognized by cross- and group-reactive antibodies, domain B epitopes were typically type specific, and domain C epitopes were recognized by subtype-specific mAbs.
286
,
521
These epitopes were subsequently shown to correspond to E-DII, E-DIII, and E-DI, respectively.
679
All three domains of the E protein are recognized by neutralizing antibodies, albeit with widely varying potency. Epitopes of some of the most well-characterized antibodies to date are described below, although it should be anticipated that this list will expand as greater insight to the complexity of the antigenic surface of the virion is obtained:
E-DIII-LR
Many of the most potent neutralizing antibodies characterized to date bind epitopes on E-DIII. Potently neutralizing antibodies that bind an epitope on the domain III lateral ridge (E-DIII-LR) of several flaviviruses have been identified.
52
,
150
,
170
,
279
,
627
,
647
,
689
,
708
,
751
mAb E16 is a type-specific WNV-reactive mAb that neutralizes at picomolar concentrations
in vitro
and protects mice from lethal challenge when administered 5 days after infection.
581
,
582
,
627
,
648
The structure of E16 bound to E-DIII has been determined and revealed a binding footprint composed of four discontinuous loops centered on amino acids of the BC loop and amino-terminal region (positions 306, 307, 330, and 332)
624
(see
Fig. 26.3C
). Type-specific neutralizing antibodies against DENV-2 have been mapped to an epitope composed of multiple regions of the upper lateral surface of E-DIII, including the FG loop.
279
,
360
,
380
,
794
,
795
The binding of many of these antibodies to DIII is also sensitive to amino acid substitutions on the BC loop, C-C′ loop, the amino-terminal region (residue 301), or the A-strand (e.g., residue 304); the latter structure is also recognized by antibodies that neutralize DENV with subcomplex specificity, as discussed below. For example, the highly characterized mAb 3H5 recognizes an epitope composed of residues on both the FG loops and the A strand.
795
Mapping experiments with type-specific DENV-1,
751
DENV-3,
99
,
852
JEV,
891
and TBEV
786
antibodies have identified similar epitopes.
E-DIII A-Strand
Antibodies with a pattern of complex and subcomplex reactivity have been mapped to the A-strand of E-DIII.
497
,
671
,
795
,
824
mAb 1A1D-2 potently neutralizes DENV-1, DENV-2, and DENV-3, but fails to bind DENV-4 viruses. The structure of mAb 1A1D-2 bound to E-DIII was solved and revealed that this antibody binds an epitope on the A strand and is sensitive to mutation of DENV residues 305, 307, and 310 (see
Fig. 26.3D
).
497
In addition, these studies identified residues in the G strand that play a role in antibody binding, consistent with mapping studies of other complex- and group-reactive antibodies.
280
,
489
,
751
,
824
E-DII-FL
Antibodies that bind the fusion loop of E-DII are highly cross-reactive.
168
,
171
,
629
,
787
Although mutation of conserved fusion loop residues reduces antibody binding, other adjacent structures also may contribute to the fine specificity of antibody binding and the functional properties of these antibodies.
266
,
629
The structure of the WNV fusion loop-reactive antibody mAb E53 bound to soluble E proteins has been determined.
149
Residues shown to be important antibody contacts include those of the fusion loop (residues 104–107, and 109–110) as well as residues of the BC-loop of E-DII.
629
The fusion loop epitope is also poorly accessible on the mature virion, as discussed in detail below.
629
,
787
E-DI
Antibodies that bind E-DI have also been characterized. mAb 5H2 is a type-specific antibody that neutralizes DENV-4. Neutralization escape studies mapped 5H2 binding to an epitope that includes residue 174 of E-DI.
445
DI-reactive antibodies that bind WNV (E121; residues 175, 191, 193, and 194), DENV2 (mAb DV2–48, residue 177), and TBEV (IC3 and i2, residues D181 and K171, respectively) also have been characterized.
338
,
521
,
629
,
794
The recently described WNV mAb CR4354 that binds a complex epitope that includes the linker between E-DI and E-DII will be described in detail below.
384
Antibodies That Bind the prM Protein
Antibodies that react with the prM protein have been described.
61
,
121
,
191
,
229
,
844
Generally, these antibodies are characterized by low neutralizing activity
in vitro.
Recent studies suggest that anti-prM antibodies are elicited frequently
in vivo
,
and may contribute to the pathogenesis of DENV infection as discussed below.
191
,
685
Human monoclonal antibodies to WNV prM protein have been isolated and mapped to residues V19, T20, T24, and L33.
121
Complexities of Antibody Recognition of the Virion
The complex and dynamic arrangement of the E proteins on the surface of flaviviruses complicates an understanding of how antibodies interact with flaviviruses. E proteins exist on the mature virus particle in different chemical environments (
Fig. 26.5B
; defined in relation to the two-, three-. and fivefold symmetry axes of the pseudo-icosahedral particle), which impacts antibody recognition. Amino acids involved in antibody recognition may be differentially accessible for antibody binding depending on their location on the virus particle.
624
,
629
,
787
As mentioned above, the WNV mAb E16 binds a cluster of residues on the upper lateral surface of E-DIII.
624
However, this epitope is not uniformly accessible for antibody binding on all E proteins on the mature virus; steric constraints imposed by the tight packing of E-DIII on E proteins at the fivefold axis of symmetry prevent antibody binding to these molecules (
Fig. 26.5C
).
383
,
624
Therefore, although the mature virion incorporates 180 copies of the E protein, a maximum of 120 antibodies physically can bind the virus particle. This is not an unusual feature of this antibody as none of the antibodies studied to date using structural methods appear capable of binding all E proteins on the intact mature virus particle. In fact, the molecular basis for recognition by many antibodies cannot be explained using static models of virion structure.
Epitopes can be Composed of More than One Protein on the Surface of the Virion
Virions contain 180 individual E proteins. To date, most of the well-characterized antibodies are capable of binding monomeric E proteins, indicating their epitopes are composed of residues contained within a single E protein molecule. However, complex epitopes composed of contact residues from adjacent E proteins have been described.
168
,
384
,
521
mAb CR4354 is a human antibody that binds the hinge between E-DI and E-DII. Mapping studies using recombinant forms of the E protein failed to identify the CR4354 epitope because this antibody was unable to bind soluble forms of the E protein. A loss-of-function substitution at position K136 was defined by neutralization escape studies.
850
Cryoelectron microscopic reconstructions of CR4354 Fab fragments bound to the mature virion revealed a complex epitope composed of residues on neighboring E proteins (
Fig. 26.5D
).
384
Incomplete Virion Maturation Impacts Antibody-Mediated Neutralization
Cleavage of prM is a required step in the flavivirus life cycle; mutation of the RRXR/S motif in prM recognized by furin-like proteases renders TBEV noninfectious.
223
However, biochemical analysis of preparations of flaviviruses released from cells indicated that a substantial amount of prM may remain uncleaved. Recent studies demonstrate that more than 90% of DENV virions could be precipitated with anti-prM antibodies.
368
Electron microscopy studies identified virus particles with structural features of both mature and immature virions (hereafter referred to as "partially mature virions") (
Fig. 26.4C
).
653
Several lines of evidence suggest that partially mature virions are infectious. Virions produced in the presence of ammonium chloride display a reduced sensitivity to inactivation when exposed to acid, presumably because pH-mediated changes in the conformation of E protein are reversible when complexed with prM.
285
In addition, the carbohydrate on prM can mediate attachment of the lineage II 956 strain of WNV (which lacks an N-linked carbohydrate on the E protein) onto cells expressing the c-type lectin CD209L.
183
Although these studies demonstrate that virions containing prM may be infectious, the stoichiometric requirements of prM cleavage have not yet been determined.
The presence of partially mature secreted virions impacts antibody recognition in at least two ways. Increasing the efficiency of virion maturation resulted in a marked reduction in the sensitivity of WNV to neutralization by antibodies that bind several structurally distinct epitopes, including the DI-LR and DII-FL epitopes recognized by mAbs E121 and E53, respectively.
607
Conversely, decreasing the extent of virion maturation enhanced neutralization by these mAbs. An analysis of the sensitivity of polyclonal antibody elicited by vaccination with two distinct candidate WNV vaccines revealed maturation state-dependent changes in neutralization potency in roughly half the volunteers.
607
The structural basis for this pattern of recognition has been investigated.
149
mAb E53 does not efficiently bind the E protein on mature virions due to poor accessibility of the fusion loop epitope on the mature virus particle. In addition to modulating the potency of neutralizing antibodies, uncleaved prM on infectious virus particles may interact directly with antibodies, resulting in enhanced infection of Fcγ-receptor bearing cells
in vitro
and
in vivo
as discussed below.
61
,
191
,
347
,
685
,
912
Impact of Structural Dynamics of the Virus Particle
Flaviviruses present a complex and dynamic antigenic surface to the immune system that is not fully captured by the static models of virion structure. It has long been appreciated that proteins are in constant motion and sample an ensemble of conformations at equilibrium.
84
Proteins incorporated into virus particles also are structurally dynamic.
361
,
888
Virus "breathing" has been demonstrated for several unrelated classes of viruses,
88
,
459
and may affect antibody recognition.
467
,
905
As an example, the accessibility of the A-strand epitope on the mature virion is limited by steric constraints arising from the arrangement of E proteins on the virus particle. The binding of Fab fragments of the subcomplex-reactive A-strand–specific mAb 1A1D-2 to mature DENV virions was shown to be temperature dependent; significant Fab binding was observed only after incubation at 37°C.
497
Cryoelectron microscopic reconstruction of mature DENV bound by the 1A1D-2 FAb revealed significant changes in the arrangement and orientation of E proteins on the surface of the virus particle. These results suggested that the binding of 1A1D-2 stabilized the E proteins in a state distinct from the herringbone arrangement found on mature virions. More recent studies suggest the impact of viral dynamics on antibody-mediated neutralization is widespread among antibodies of differing specificity. Analysis of the neutralizing activity of a panel of mAbs specific for structurally distinct epitopes revealed a time- and temperature-dependent aspect of neutralization of WNV and DENV attributed to changes in epitope accessibility arising from the dynamic
motion of E proteins on the virion.
210
Given sufficient time, even epitopes that are poorly accessible in all three symmetry axes of the mature virion may support some level of neutralization. The scope of the structural conformations sampled by flaviviruses at equilibrium is not yet understood. Changes in the configuration of E proteins on dynamic virions have the potential to affect several aspects of antibody binding (functional affinity, bivalency, antibody binding orientation), and thus, complicates our understanding of the antigenic surface of the flavivirus virion.
Antibodies to NS1 Can Protect
In vivo
NS1, a protein that is absent from the virion, is secreted at high levels into the extracellular environment during flavivirus infection, predominantly as a hexamer,
238
with significant accumulation (up to 50 μg/ml) in the sera of DENV-infected patients.
6
,
28
,
470
,
906
In addition, soluble NS1 can bind back to the plasma membrane of cells through an interaction with specific sulfated glycosaminoglycans.
29
Furthermore, NS1 is expressed directly on the surface of infected cells, possibly via glycosyl phosphatidyl inositol (GPI) linkage,
354
lipid raft association,
621
or through an as-yet undefined mechanism. Several groups also have generated nonneutralizing, yet protective mAbs against NS1.
155
,
156
,
194
,
230
,
323
,
665
,
720
,
721
,
723
,
724
,
725
Therefore, protection against flavivirus infections
in vivo
does not always correlate with neutralizing activity
in vitro.
93
,
690
,
722
Beyond direct virus neutralization, antibody binding to virions or virus-infected cells can trigger protective Fc-dependent antiviral activities through complement activation or Fc-γ receptor–mediated immune complex clearance mechanisms. Fc-γ receptors can activate or inhibit immune responses depending on their cytoplasmic domain and association with specific signaling molecules.
617
A requirement for Fc effector function has been established for protective anti-NS1 mAbs. NS1 is expressed on the cell surface or secreted into the extracellular space and antagonizes complement control of flavivirus infection by binding the negative regulator factor H or by promoting C4 degradation.
24
,
154
Passive transfer of mAbs against NS1 can protect mice against lethal infection by WNV and YFV,
155
,
722
and this requires an intact Fc moiety.
725
Mechanistic studies using immunodeficient mice demonstrate that protective anti-NS1 mAbs recognize cell surface–associated NS1 and trigger Fc-γ receptor–dependent phagocytosis and clearance of WNV-infected cells.
156
Clinical and Pathologic Syndromes of the Flaviviruses
Japanese Encephalitis Virus
St. Louis Encephalitis Virus
History, Global Distribution, and Epidemic Cycle
St. Louis encephalitis virus (SLEV) is a mosquito-borne member of the JEV serocomplex capable of causing severe neurologic disease in humans. SLEV was first discovered in 1933 following a large epidemic of encephalitis in St. Louis, Missouri (1,095 cases and 225 deaths).
185
,
508
,
675
More than 10,000 cases of severe illness and 1,000 deaths have since been attributed to SLEV infection, reflecting annual endemic transmission (∼50 cases/year) punctuated by epidemic periods that occur every 5 to 15 years.
563
At least 41 epidemics of SLEV have occurred in the United States since 1933,
185
the largest of these in 1975.
167
During this epidemic, SLEV cases were reported in 29 states and the District of Columbia; the greatest number of illnesses occurred in Ohio, Mississippi, Indiana, and Illinois. Roughly 1,500 confirmed cases were reported, resulting in 171 fatalities. The most recent large outbreak of SLEV occurred in central Florida during 1990, resulting in 222 laboratory-confirmed cases and 14 deaths.
543
SLEV is found in much of the New World; distribution ranges from Canada to Argentina, and across North America.
675
SLEV is maintained in nature in enzootic cycles between
Culex
mosquitoes and passeriform and columbiform birds. Of interest, the transmission cycle of this virus varies by region due to differences in the biology of the primary vector mosquitoes.
675
In the eastern and central United States, the principal vectors of SLEV are
Culex pipiens
and
Culex quinquefasciatus
mosquitoes.
Culex tarsalis
is the primary vector for SLEV in Western states, whereas
Culex nigripalpus
transmits SLEV in Florida. The avian hosts of SLEV in these transmission cycles include house finches, house sparrows, and mourning doves. The mechanism of virus transmission and amplification in South and Central America is less clear. SLEV has been isolated from 11 different mosquito genera, many of which feed primarily on mammals.
Both WNV and SLEV are antigenically related members of the JEV serogroup that share a similar transmission cycle between
Culex
mosquitoes and birds. How the introduction of WNV in North America has impacted the epidemiology of SLEV is of significant interest. Analysis of the number of neuroinvasive cases attributed to SLEV reported to the CDC between 1999 and 2007 revealed a threefold reduction by comparison with data in the pre-WNV era.
674
Interpretation of this finding is complicated by changes in the intensity of surveillance and local testing for arboviral diseases in the years after the introduction of WNV. Because major epidemics of SLEV have occurred infrequently in the past, the modest number of clinical cases may simply reflect a nadir in the natural cycle of this virus. Alternatively, the existence of cross-reactive antibodies in WNV-immune avian reservoirs may disrupt the transmission cycle of SLEV via competition for avian hosts. Although the infection of house finches with WNV has been shown to confer protection from subsequent infection by SLEV, the reciprocal is not true. Prior exposure of finches to SLEV prevents mortality following WNV infection but not the low-level of viremia that is sufficient for transmission of WNV.
232
Similar findings were reported in a golden hamster model of infection.
817
The disappearance of SLEV from regions of California following introduction of WNV is consistent with the notion that competition may allow for the local displacement of the virus from historically endemic areas.
676
Additional study and surveillance are required to clarify the dynamics and interactions between these two related pathogens in North America.
SLEV Diversity
Phylogenic studies grouped SLEV isolates into seven genetic lineages (I–VII), many of which were divided further into clades of related genotypes.
421
,
538
These groups correspond roughly to the geographic distribution of each lineage of SLEV.
830
For example, lineage I include viruses isolated in the western United States, whereas lineage V contains South American strains and an isolate from Trinidad. However, the relationship between phylogenic relatedness and geographic region is imperfect. SLEV strains vary considerably with respect to virulence in avian and mammalian hosts; these differences correlate roughly with geographic distribution.
90
,
571
In addition to regional persistence, sequence analysis reveals that SLEV may be transported between regions.
421
Clinical and Pathologic Features of SLEV Infection
As is the case for both WNV and JEV, the majority of SLEV infections of humans are clinically asymptomatic. The ratio of apparent to inapparent infections has been reported to range from 1:16 to 1:425.
563
Increasing age is a significant factor influencing susceptibility to severe illness. Symptomatic illness is noted after an incubation period of 5 to 15 days and is characterized by mild malaise, fever, headache, nausea, myalgia, sore throat, and cough.
103
Severe neurologic manifestations including encephalitis and aseptic meningitis may occur and can be fatal. Case fatality rates for SLEV range from 5% to 20%, with fatalities increasing in the elderly.
675
Although most SLEV cases resolve spontaneously and without sequelae, many patients (30% to 50%) experience an extended convalescence lasting up to 3 years. This phase is characterized by headache, depression, memory loss, and weakness.
103
,
675
Tick-Borne Encephalitis Viruses
Pathogenesis and Immunity
Mechanisms of Dissemination
Blood-Borne Viruses
For both viscerotropic (e.g., DENV and YFV) and encephalitic (e.g., WNV, JEV, and TBEV) flaviviruses, the skin is the likely initial infection site after insect inoculation, with resident dendritic cells
117
,
529
or epidermal keratinocytes
478
believed to be the primary target cells. The dose of virus inoculated by the mosquito under conditions of natural infection is not known precisely, but likely ranges from 10
3
to 10
5
plaque-forming units (PFU),
731
,
791
depending on the flavivirus and insect vector. Active WNV replication can be detected at the subcutaneous site of infection within one day of infection,
107
and virus spread to the lymph node occurs in animals infected by mosquitoes or with mosquito salivary extracts.
731
,
792
Proteins in mosquito saliva alter cytokine levels and other components of innate immunity, leading to local immunosuppression or dysregulation,
729
and enhanced spread and replication.
Flaviviruses disseminate to local lymph nodes either associated with migratory infected dendritic cells
663
or as free virus that transudates directly into lymphatic fluid.
369
Macrophages on the floor of the subcapsular sinus and in the medulla of lymph nodes capture viral particles efficiently, serving as possible targets of virus amplification infection and initiators of innate and adaptive immune responses.
369
Virus produced in the draining lymph nodes likely spreads to intravascular venous compartments via efferent lymphatic drainage. Virus in the bloodstream can directly infect blood cells or visceral tissues, which can result in further dissemination and secondary viremia.
The infectivity of flaviviruses in plasma, the fluid component of blood, appears remarkably short, with a half-life in mice ranging from 2 to 10 minutes for DENV and WNV, respectively.
242
The loss of infectivity is due in part, to complement (C3 and C4 components) opsonization via mannose-binding lectin recognition of N-linked glycans on the surface of virions.
242
The short half-life of infectious flavivirus in plasma may also reflect sequestration and removal by different visceral organs.
355
Alternatively, flaviviruses may transit rapidly into the cellular compartment of blood. One study of patients with DENV infections of different disease severity showed DENV antigen (prM and NS3) predominantly in cells of monocyte (CD14+, CD32+) lineage, with up to 80% to 90% of cells of expressing viral antigen.
216
This finding of DENV in blood monocytes is consistent with prior literature
526
but contrasts with newer studies in rhesus macaques, suggesting that platelets become positive for dengue antigen during the course of infection.
632
Finally, another explanation for the rapid drop of plasma infectivity is that flaviviruses adhere readily to erythrocytes in whole blood.
683
Neurotropic Viruses
Flavivirus neuropathogenesis requires neuroinvasiveness, the capacity to enter the CNS, and neurovirulence, the ability to propagate efficiently within cells of the CNS. In classical studies, phenotypic distinctions were made among different arthropod-borne viruses on the basis of replication efficiency and pathogenic potential in peripheral versus CNS tissues.
5
A main principle was the relationship between peripheral virus burden and the propensity to cause neuroinvasion. Viruses with a low capacity to replicate in the periphery generally had less neuroinvasive potential, regardless of their intrinsic neurovirulence. Aerosol-acquired and, perhaps, mucosal infections are possible exceptions, as these may use alternate routes of CNS entry.
Data from several studies indicate that the time of onset, magnitude, and duration of viremia, as well as the integrity of the host immune system influences the risk of entry into the CNS. Therefore, the neuropathogenic potential of most flaviviruses is a balance between the replication efficiency and the effectiveness of early host defenses in clearing viremia. Neuroinvasiveness is affected by both viral and host factors. Based on genetic analysis of virulent and attenuated strains of JEV, TBEV, YFV, and WNV, viral determinants of neuroinvasiveness map primarily to the E protein.
54
,
56
,
130
,
541
,
615
,
616
The mechanisms associated with these genetic determinants have not been determined, but are believed to relate to increased viral infectivity of key target cells through enhanced binding and penetration.
Animal models of infection of encephalitic flaviviruses have begun to define factors that govern virus entry into the brain and spinal cord. Crossing of the blood–brain barrier (BBB) likely occurs through a hematogenous route, as increased viral burden in the serum correlates with earlier and enhanced viral entry into the brain.
204
Accordingly, changes in endothelial cell permeability may facilitate CNS entry; these may be triggered by vasoactive cytokines
509
,
868
or activation of matrix metalloproteinases that degrade the BBB extracellular matrix.
845
,
864
Additional possible mechanisms may contribute to CNS infection of flaviviruses, including the following: (a)
direct infection or passive transport through the endothelium,
212
,
488
,
846
and (b) infection of olfactory neurons and rostral spread from the olfactory bulb.
107
Access through the olfactory bulb is believed to occur either after infection by the aerosol or intranasal route
602
,
618
,
669
or in the context of hematogenous dissemination of virus.
542
The olfactory bulb is vulnerable to direct infection because of the exposure of its nerve terminals within the olfactory mucosa; (c) a "Trojan horse" mechanism in which virus is transported by infected immune cells that traffic to the CNS
865
; (d) access to the CNS after breakdown of BBB integrity
139
,
412
; and (e) direct axonal retrograde transport from infected peripheral neurons.
351
,
584
,
705
,
860
Although much has been learned from infection studies in mice and hamsters, the precise mechanisms of CNS entry of encephalitic flaviviruses in humans and other animals requires additional study.
Mechanisms of Immune Control: Innate Immunity
Cellular Innate Immunity
Macrophages
Although only limited studies have directly addressed the function of cellular innate immunity in flavivirus infection, emerging data suggest that macrophages play key roles in orchestrating control of infection. Macrophages can limit infection though direct viral clearance, enhanced antigen presentation to B and T cells, and production of proinflammatory or antiviral cytokines and chemokines.
426
,
527
The protective role of macrophages is highlighted by studies in mice, which demonstrated exacerbated WNV, TBEV, DENV, or YFV disease after selective macrophage depletion.
63
,
234
,
390
,
663
,
924
Macrophages may control flaviviruses through the production of nitric oxide (NO) and other reactive oxygen intermediates after stimulation of inducible nitric oxide synthetase (NOS-2).
422
,
484
,
712
,
713
Activation of macrophages in response to flavivirus infection also promotes release of type I interferon (IFN), tumor necrosis factor (TNF)-α, interleukin (IL)-1β, IL-8, and other cytokines, some of which have antiviral activity and reduce viral replication, at least in culture.
757
Despite their protective role in innate defense, macrophages also are targets of infection by some flaviviruses
416
,
441
,
684
and have the potential to contribute to pathogenesis through antibody-dependent enhancement of infection mediated by Fc-γ and complement receptors.
123
,
261
,
641
The macrophage cell surface receptor CLEC5a independently has been reported to interact with DENV directly, resulting in DAP12 phosphorylation and the release of proinflammatory cytokines.
144
Therefore, in some circumstances macrophages can contribute to flavivirus-induced disease, although the contribution to clearance versus pathogenesis may vary depending on the specific virus, the presence of preexisting nonneutralizing antibodies, and the specific proinflammatory molecules that are produced.
Neutrophils
Although polymorphonuclear leukocytes (neutrophils) are among the first circulating leukocytes to respond to infection or inflammatory stimuli, their function in flavivirus infection remains uncertain. Some studies suggest a protective function; however, others indicate that neutrophils can contribute to flavivirus pathogenesis. A protective role was reported in the context of WNV infection as macrophages produced neutrophil chemoattractive chemokines (CXCL1 and CXCL2), neutrophils rapidly migrated to the site of infection, and mice depleted of neutrophils 1 or 2 days after virus infection developed higher viremia and experienced earlier death.
30
Paradoxically, if neutrophils were depleted prior to infection, viremia was reduced and survival was enhanced.
30
Analogously, depletion of neutrophils resulted in prolonged survival and decreased mortality in Murray Valley encephalitis virus-infected mice, and neutrophil infiltration and disease correlated with NOS-2 expression within the CNS.
14
Finally, transcriptional gene signatures from whole blood showed a greater abundance of neutrophil transcripts in patients who progressed to DSS, a finding supported by higher plasma levels of proteins associated with neutrophil degranulation.
334
Although further studies are warranted, neutrophils may prevent or promote flavivirus disease, depending on the specific virus and immunologic context.
Dendritic Cells
Human peripheral blood contains two types of dendritic cells (DCs), plasmacytoid DCs (pDCs) and myeloid DCs (mDCs), which can be distinguished based on function and distinctive surface markers. pDCs lack phagocytic capacity and are less efficient in capturing and presenting antigens to T cells, but they produce extraordinarily high levels of type I IFN in the presence of viruses or bacteria,
759
and are thus considered to play a crucial role in antiviral immunity.
802
,
803
Low levels of DENV replication were observed in pDCs, but proinflammatory cytokines were produced rapidly and could accumulate to high levels. This cytokine response was not dependent on viral replication, but dependent on endosomal toll-like receptor 7 (TLR7), and could be induced by purified DENV RNA.
797
,
862
In prospective clinical studies, the absolute number of circulating pDCs remained stable early in moderately ill children with dengue fever or other nondengue, febrile illnesses. However, there was an early decrease in circulating pDCs in children who subsequently developed DHF, as a blunted blood pDC response was associated with an altered innate immune response, higher viremia levels, and severe disease.
646
Of interest, the host origin of the flavivirus influences the response that is generated by pDCs, as WNV grown in mammalian cells was a potent inducer of IFN-α secretion in pDCs, whereas pDCs failed to produce IFN-α when exposed to WNV grown in mosquito cells.
762
Premium Wordpress Themes by UFO Themes
WordPress theme by UFO themes