Paul S. Masters
Stanley Perlman
History
Coronaviruses are enveloped RNA viruses that are broadly distributed among humans, other mammals, and birds, causing acute and persistent infections. Members of this family were isolated as early as the 1930s as the causative agents of infectious bronchitis in chickens,
25
transmissible gastroenteritis in pigs,
142
and severe hepatitis and neurologic diseases in mice.
75
,
186
It was not until the 1960s, however, that these viruses,
27
,
32
as well as certain human respiratory viruses,
8
,
391
were recognized to share characteristics that merited their being grouped together. Their most notable common feature, revealed by electron microscopy, was a fringe of widely spaced, club-shaped spikes that projected from the virion surface; these spikes were morphologically distinct from the surface projections of ortho- and paramyxoviruses. The halo of spikes was described as giving the viral particle the appearance of the solar corona, which prompted the name that was adopted for this new virus group.
7
Over the next 40 years, coronaviruses were studied mainly because they cause economically significant respiratory and gastrointestinal diseases in domestic animals and because they provide unique models for viral pathogenesis. In humans, two coronaviruses were known to be responsible for a substantial fraction of common colds, particularly those that circulate in winter months. This situation changed dramatically with the emergence in 2002 of a devastating new human disease, severe acute respiratory syndrome (SARS), which was caused by a previously unknown coronavirus.
143
,
288
,
440
Research stimulated by the SARS outbreak has led to great strides in our understanding of coronaviruses; by 2005, two additional, widespread human respiratory coronaviruses had been discovered.
573
,
615
Moreover, the search for animal virus reservoirs has nearly tripled the total number of identified coronaviruses,
255
,
394
,
616
although most of the recently discovered species are known only as genomic sequences and have yet to be isolated or propagated experimentally.
Virion Structure
Virus and Nucleocapsid
Virions of coronaviruses are roughly spherical and exhibit a moderate degree of pleomorphism. In the earlier literature, viral particles were reported to have average diameters of 80 to 120 nm but were far from uniform, with extreme sizes from 50 to 200 nm.
389
The spikes of coronaviruses, typically described as club-like or petal-shaped, emerge from the virion surface as stalks with bulb-like distal termini. Some of the variation in particle size and shape was likely attributable to stresses exerted by virion purification or distortions introduced by negative staining of samples for electron microscopy. More recent studies, employing cryo-electron microscopy and cryo-electron tomography,
21
,
30
,
413
,
415
have produced images (e.g.,
Fig. 28.2A
) in which virion size and shape are far more regular, although still
pleomorphic. These studies, which examined a number of alpha- and betacoronaviruses, converge on mean particle diameters of 118 to 136 nm, including the contributions of the spikes, which project some 16 to 21 nm from the virion envelope.
Table 28.1 Classification of Coronaviruses




Speciesa


GenBank accessionb


Previous names for viruses included in newly defined species



Genus Alphacoronavirus



Alphacoronavirus 1


EU186072


Feline coronavirus type I (FeCoV I)





AY994055


Feline coronavirus type II (FeCoV II), Feline infectious peritonitis virus (FIPV)





GQ477367


Canine coronavirus (CCoV)





AJ271965


Transmissible gastroenteritis virus (TGEV)



Human coronavirus 229E (HCoV-229E)


AF304460



Human coronavirus NL63 (HCoV-NL63)


AY567487





Porcine epidemic diarrhea virus (PEDV)


AF353511





Rhinolophus bat coronavirus HKU2 (Rh-BatCoV HKU2)


EF203067





Scotophilus bat coronavirus 512 (Sc-BatCoV 512)


DQ648858





Miniopterus bat coronavirus 1 (Mi-BatCoV 1)


EU420138





Miniopterus bat coronavirus HKU8 (Mi-BatCoV HKU8)


EU420139





Genus Betacoronavirus



Betacoronavirus 1c


U00735


Bovine coronavirus (BCoV)





EF446615


Equine coronavirus (EqCoV)





AY903460


Human coronavirus OC43 (HCoV-OC43)





DQ011855


Porcine hemagglutinating encephalomyelitis virus (PHEV)



Murine coronavirusd


AY700211


Mouse hepatitis virus (MHV)





FJ938068


Rat coronavirus (RCoV)



Human coronavirus HKU1 (HCoV-HKU1)


AY597011





Severe acute respiratory syndrome–related coronavirus (SARSr-CoV)


AY278741


Human severe acute respiratory syndrome coronavirus (SARS-CoV)





DQ022305


Severe acute respiratory syndrome–related Rhinolophus bat coronavirus HKU3 (SARSr-Rh-BatCoV HKU3)





DQ071615


Severe acute respiratory syndrome–related Rhinolophus bat coronavirus Rp3 (SARSr-Rh-BatCoV Rp3)



Tylonycteris bat coronavirus HKU4 (Ty-BatCoV HKU4)


EF065505





Pipistrellus bat coronavirus HKU5 (Pi-BatCoV HKU5)


EF065509





Rousettus bat coronavirus HKU9 (Ro-BatCoV HKU9)


EF065513





Genus Gammacoronavirus



Avian coronaviruse


AJ311317


Infectious bronchitis virus (IBV)





EU022526


Turkey coronavirus (TuCoV)



Beluga whale coronavirus SW1


EU111742





a Listed viruses are those for which complete genome sequences are available. Novel viruses that have not yet been formally classified include Bulbul coronavirus HKU11,617 Thrush coronavirus HKU12,617 Munia coronavirus HKU13,617 Asian leopard cat coronavirus,139 and Mink coronavirus.592



b Representative GenBank accession numbers are given for viruses in each species; in many cases, multiple genomic sequences for a given virus are available.



c Other viruses included in the species Betacoronavirus 1 are Human enteric coronavirus (HECoV) and Canine respiratory coronavirus (CRCoV), for which only partial genomic sequences are available.



d Other viruses included in the species Murine coronavirus are Puffinosis virus (PCoV) and Sialodacryoadenitis virus (SDAV), for which only partial genomic sequences are available.



e Other viruses included in the species Avian coronavirus are Pheasant coronavirus (PhCoV), Goose coronavirus (GCoV), Pigeon coronavirus (PCoV), and Duck coronavirus (DCoV), for which only partial genomic sequences are available.255
Enclosed within the virion envelope is the nucleocapsid—a ribonucleoprotein that contains the viral genome. The structure of this component is relatively obscure in images of whole virions; however, its makeup has been partially displayed by electron micrographs of spontaneously disrupted virions or of virions solubilized with nonionic detergents.
59
,
109
,
183
,
269
,
366
Such studies revealed another distinguishing characteristic of coronaviruses: They have helically symmetric nucleocapsids.
Helical symmetry is common for negative-strand RNA virus nucleocapsids, although it is highly unusual for positive-strand RNA animal viruses, almost all of which have icosahedral capsids. The best-resolved images of the coronavirus nucleocapsid, which were obtained with HCoV-229E, showed filamentous structures 9 to 13 nm in diameter, with 3- to 4-nm-wide central canals
59
; these filaments were thinner and less sharply segmented than paramyxovirus nucleocapsids. However, widely ranging and sometimes discrepant parameters have been reported for the nucleocapsids of other coronaviruses,
378
varying with both the viral species and the method of preparation.
109
,
183
,
269
,
366
,
476
Thus, further work is needed to clearly define the diameter, symmetry, length, and protein: RNA stoichiometry of this virion component in isolation. More recent coronavirus ultrastructural studies suggest that when packaged within the virion envelope, the helical nucleocapsid is quite flexible, forming coils and other structures that fold back on themselves.
21
,
413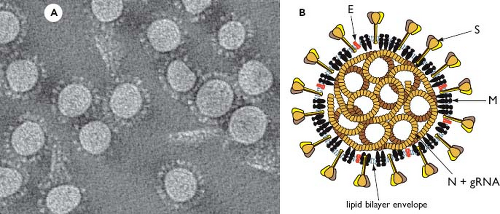 Figure 28.2.
Coronavirus structure. A:
Cryo-electron tomographic image of purified virions of mouse hepatitis virus (MHV), reconstructed as described in reference
415
. (Courtesy of Benjamin Neuman, David Bhella, and Stanley Sawicki.)
B:
Schematic showing the major structural proteins of the coronavirus virion: S, spike protein; M, membrane protein; E, envelope protein; and N, nucleocapsid protein.
Virion Structural Proteins
Genome Structure and Organization
Basic and Accessory Genes
Coronavirus Replication
Virion Attachment to Host Cells
Expression of the Replicase-Transcriptase Complex
Full access? Get Clinical Tree