QUESTION 24.2
B. Chronic actinic keratopathy
C. Chronic herpes simplex keratitis
D. Fuchs endothelial dystrophy
3. Which of the following types of corneal dystrophies is most frequently observed in corneal specimens submitted to the pathologist in the United States?
A. Fuchs endothelial dystrophy
E. Meesman juvenile epithelial dystrophy
4. A conjunctival biopsy is performed in a 50-year-old female with a history of chronic interstitial lung disease. The biopsy reveals nonnecrotizing granulomas, but stains and PCR analysis for microorganisms are negative. Which of the following is the most probable cause?
5. Which of the following is the most common type of lymphoma affecting the conjunctiva and orbit?
B. Diffuse large B-cell lymphoma
E. Marginal zone B-cell lymphoma
6. A 50-year-old woman undergoes excision of a yellowish nodule of the upper eyelid. The specimen is submitted for histologic evaluation with a clinical diagnosis of chalazion. This picture shows the microscopic appearance of the lesion. Which of the following is the correct diagnosis?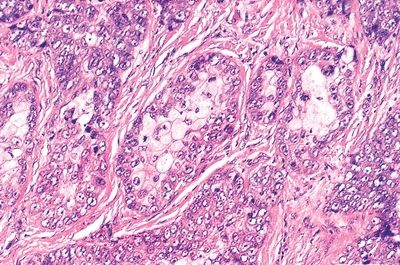 QUESTION 24.6
C. Inverted follicular keratosis
E. Sebaceous cell carcinoma
7. The microscopic appearance of an intraocular tumor is shown in this picture. Which of the following features is most significant in the prognosis of this neoplasm?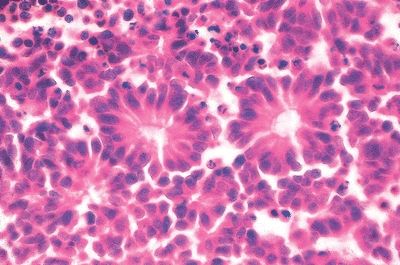 QUESTION 24.7
B. Extent of optic nerve invasion
C. Immunohistochemical features
E. Presence of calcification
Full access? Get Clinical Tree