Apolipoproteins
All lipoproteins have one or more apolipoprotein molecules embedded in their shell (see Fig. 42.1). Apolipoproteins, which constitute the protein component of lipoproteins, have three functions:
Classes of Lipoproteins
There are six major classes of plasma lipoproteins. Distinctions among classes are based on size, density, apolipoprotein content, transport function, and primary core lipids (cholesterol or TG). From a pharmacologic perspective, the features of greatest interest are lipid content, apolipoprotein content, and transport function.
Of the six major classes of lipoproteins, three are especially important in coronary atherosclerosis. These classes are named (1) very-low-density lipoproteins (VLDLs), (2) low-density lipoproteins (LDLs), and (3) high-density lipoproteins (HDLs). Properties of these classes are shown in Table 42.1.
TABLE 42.1
Properties of the Plasma Lipoproteins That Affect Atherosclerosis




Lipoprotein Class


Major Core Lipids


Transport Function


Influence on Atherosclerosis




VLDL


Triglycerides


Delivery of triglycerides to nonhepatic tissues



Probably contribute

to atherosclerosis



LDL


Cholesterol


Delivery of cholesterol to nonhepatic tissues



Definitely contribute

to atherosclerosis



HDL


Cholesterol


Transport of cholesterol from nonhepatic tissues back to the liver



Protect

against atherosclerosis
Very-Low-Density Lipoproteins
VLDLs contain mainly triglycerides (and some cholesterol), and they account for nearly all of the TGs in blood. The main physiologic role of VLDLs is to deliver triglycerides from the liver to adipose tissue and muscle, which can use the TGs as fuel. Each VLDL particle contains one molecule of apolipoprotein B-100, which allows VLDLs to bind with cell-surface receptors and thereby transfer their lipid content to cells.
The role of VLDLs in atherosclerosis is unclear. Although several studies suggest a link between elevated levels of VLDLs and development of atherosclerosis, this link has not been firmly established. However, we do know that elevation of TG levels (above 500 mg/dL) increases the risk for pancreatitis.
Low-Density Lipoproteins
LDLs contain cholesterol as their primary core lipid, and they account for the majority (60%–70%) of all cholesterol in blood. The physiologic role of LDLs is delivery of cholesterol to nonhepatic tissues. LDLs can be viewed as byproducts of VLDL metabolism, in that the lipids and apolipoproteins that compose LDLs are remnants of VLDL degradation.
Cells that require cholesterol meet their needs through endocytosis (engulfment) of LDLs from the blood. The process begins with binding of LDL particles to LDL receptors on the cell surface. When cellular demand for cholesterol increases, cells synthesize more LDL receptors and thereby increase their capacity for LDL uptake. Accordingly, cells that are unable to make more LDL receptors cannot increase cholesterol absorption. Increasing the number of LDL receptors on cells is an important mechanism by which certain drugs increase LDL uptake and thereby reduce LDL levels in blood.
Of all lipoproteins, LDLs make the greatest contribution to coronary atherosclerosis. The probability of developing ASCVD is directly related to the level of LDLs in blood. Conversely, by reducing LDL levels, we decrease the risk for ASCVD. Accordingly, when cholesterol-lowering drugs are used, the main goal is to reduce elevated LDL levels. Multiple studies have shown that, by reducing LDL levels, we can arrest or perhaps even reverse atherosclerosis and can thereby reduce mortality from ASCVD. In fact, for each 1% reduction in the LDL level, there is about a 1% reduction in the risk for a major cardiovascular (CV) event.
High-Density Lipoproteins
Like LDLs, HDLs contain cholesterol as their primary core lipid, and they account for 20% to 30% of all cholesterol in the blood. In contrast to LDLs, whose function is delivery of cholesterol to peripheral tissues, HDLs carry cholesterol from peripheral tissues back to the liver. That is, HDLs promote cholesterol removal.
The influence of HDLs on ASCVD is dramatically different from that of LDLs. Whereas elevation of LDLs increases the risk for ASCVD, elevation of HDLs reduces the risk for ASCVD. That is, high HDL levels actively protect against ASCVD.
Low-Density Lipoprotein Versus High-Density Lipoprotein Cholesterol
The previous discussion shows that not all cholesterol in plasma has the same effect on ASCVD. As stated, a rise in cholesterol associated with LDLs increases the risk for ASCVD. In contrast, a rise in cholesterol associated with HDLs lowers the risk. Consequently, when speaking of plasma cholesterol levels, we need to distinguish between cholesterol that is associated with HDLs and cholesterol that is associated with LDLs. To make this distinction, we use the terms HDL cholesterol and LDL cholesterol. Because LDL cholesterol promotes atherosclerosis, it has been dubbed bad cholesterol. Conversely, because HDL seems to protect against atherosclerosis, it is often called good cholesterol or healthy cholesterol.
Role of Low-Density Lipoprotein Cholesterol in Atherosclerosis
LDLs initiate and fuel development of atherosclerosis. The process begins with transport of LDLs from the arterial lumen into endothelial cells that line the lumens of blood vessels. From there, they move into the space that underlies the arterial epithelium. When in the subendothelial space, components of LDLs undergo oxidation. This step is critical in that oxidized LDLs do the following:
• Attract monocytes from the circulation into the subendothelial space, after which the monocytes are converted to macrophages (which are critical to atherogenesis)
• Inhibit macrophage mobility, thereby keeping macrophages at the site of atherogenesis
• Undergo uptake by macrophages (macrophages do not take up LDLs that have not been oxidized)
• Are cytotoxic and hence can damage the vascular endothelium directly
As macrophages engulf more and more cholesterol, they become large and develop large vacuoles. When macrophages assume this form, they are referred to as foam cells. Foam cell accumulation beneath the arterial epithelium produces a fatty streak, which makes the surface of the arterial wall lumpy, causing blood flow to become turbulent. Continued accumulation of foam cells can eventually cause rupture of the endothelium, thereby exposing the underlying tissue to the blood. This results in platelet adhesion and formation of microthrombi. As the process continues, smooth muscle cells migrate to the site, synthesis of collagen increases, and there can be repeated rupturing and healing of the endothelium. The end result is a mature atherosclerotic lesion, characterized by a large lipid core and a tough fibrous cap. In less mature lesions, the fibrous cap is not strong, and hence the lesions are unstable and more likely to rupture. As a result, arterial pressure and shear forces (from turbulent blood flow) can cause the cap to rupture. Accumulation of platelets at the site of rupture can rapidly cause thrombosis and can thereby cause infarction. Infarction is less likely at sites of mature atherosclerotic lesions. The atherosclerotic process is depicted in Fig. 42.2.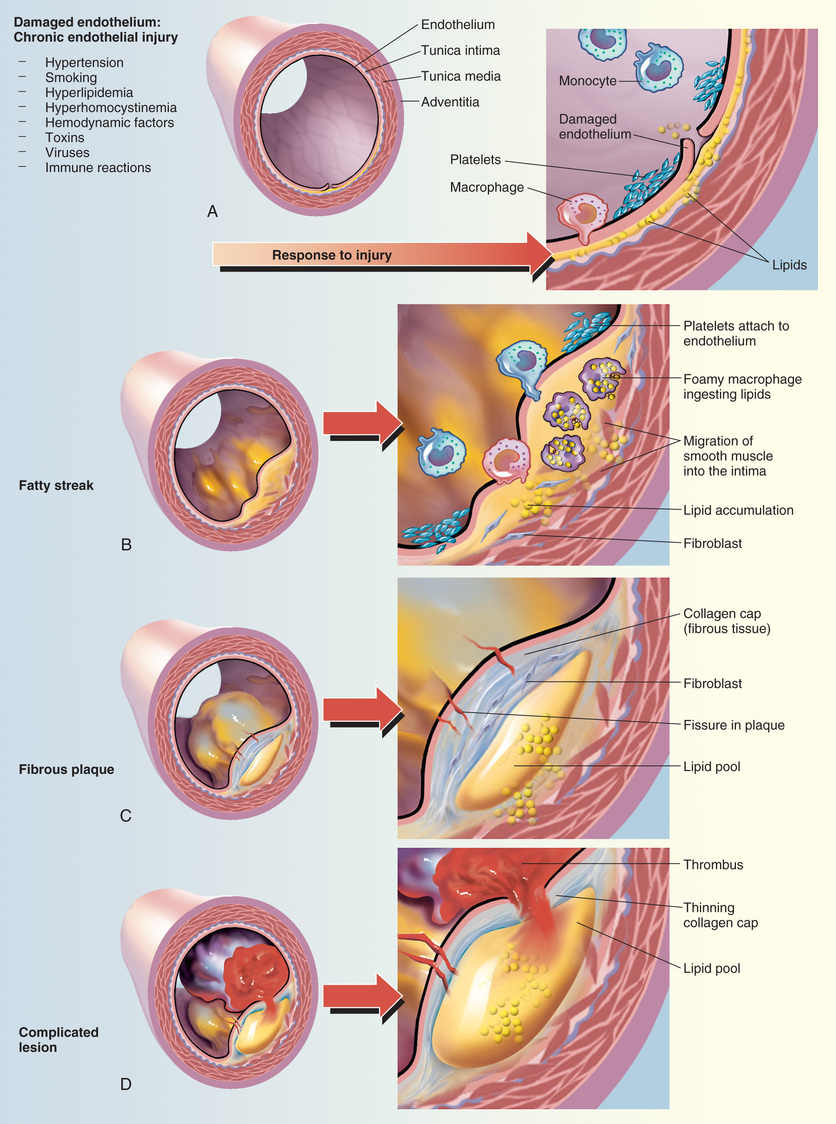 It is important to appreciate that atherogenesis involves more than just deposition of lipids. In fact, atherogenesis is now considered primarily a chronic inflammatory process. When LDLs penetrate the arterial wall, they cause mild injury. The injury, in turn, triggers an inflammatory response that includes infiltration of macrophages, T lymphocytes, and other potentially noxious chemicals (e.g., C-reactive protein [CRP]). In the late stage of the disease process, inflammation can weaken atherosclerotic plaque, leading to plaque rupture and subsequent thrombosis.
2013 American College of Cardiology/American Heart Association Guideline on the Treatment of Blood Cholesterol to Reduce Atherosclerotic Cardiovascular Risk
It is well established that high levels of cholesterol (primarily LDL cholesterol) cause substantial morbidity and mortality and that aggressive treatment can save lives. Accordingly, periodic cholesterol screening and risk assessment are recommended. If the assessment indicates ASCVD risk, lifestyle changes—especially diet and exercise—should be implemented. If ASCVD risk is high, LDL-lowering drugs should be added to the regimen.
In 1988, the National Cholesterol Education Program (NCEP) began issuing guidelines on cholesterol detection and management. The most recent update was issued in 2001 and amended in 2004, and new guidelines were developed in 2013 in partnership with the American College of Cardiology (ACC) and the American Heart Association (AHA). A summary of the 2013 guidelines—2013 ACC/AHA Guideline on the Treatment of Blood Cholesterol to Reduce Atherosclerotic Cardiovascular Risk in Adults: A Report of the American College of Cardiology/American Heart Association Task Force on Practice Guidelines—was published in the Journal of the American College of Cardiology and is available at circ.ahajournals.org/content/early/2013/11/11/01.cir.0000437738.63853.7a.
Like earlier NCEP guidelines, the 2013 ACC/AHA cholesterol guideline focuses on the role of high cholesterol in ASCVD and stresses the importance of treatment. However, the new guideline focuses specifically on identifying patients who are most likely to benefit from cholesterol-lowering therapy instead of targeting specific cholesterol goals.