QUESTION 54.3
A. Benign serous tumor (cystadenoma)
B. Borderline serous tumor
C. Low-grade serous carcinoma
E. Mucinous cystadenocarcinoma
4. The ovarian neoplasm shown in this picture was diagnosed as a high-grade serous carcinoma. Which of the following is the primary feature used to differentiate this neoplasm from low-grade serous carcinoma?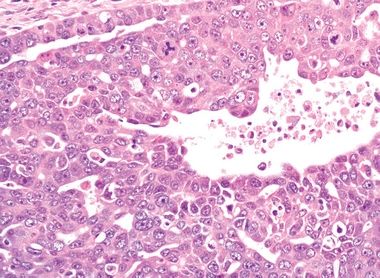 QUESTION 54.4
5. Ovarian mucinous tumors are composed of an epithelium that microscopically and ultrastructurally resembles:
A. Endocervical epithelium
B. Endometrial epithelium
C. Ovarian surface epithelium
D. Transitional epithelium
6. A 40-year-old woman undergoes excision of a large multilocular ovarian cyst containing thick mucinous fluid. Microscopically, the wall consists of nonciliated columnar cells arranged mostly in a single layer and papillary projections, with some foci of increased cytologic atypia and stratification, as shown in this picture. Stromal invasion is absent. These features are most consistent with: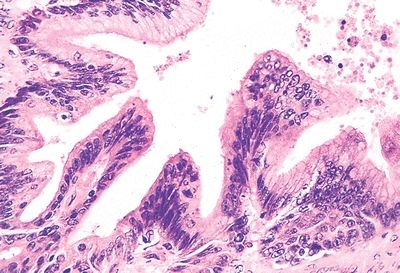 QUESTION 54.6
A. Borderline mucinous tumor
B. Mucinous cystadenocarcinoma
D. Serous cystadenocarcinoma
7. Of the following features, which one is shared by endocervical-type mucinous borderline tumor (EMBT) and intestinal-type mucinous borderline tumor (IMBT)?
A. Association with endometriosis
B. Presence of KRAS mutations
D. Same frequency of bilateral location
E. Stromal inflammatory reaction with mucin granulomas
8. A nodule found in the wall of an ovarian mucinous tumor reveals the histologic features shown in this picture. Which type of mural nodule is it?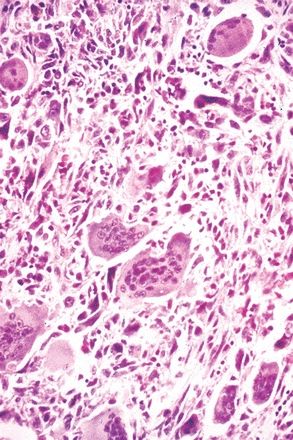 QUESTION 54.8
A. Anaplastic carcinoma nodule
9. This photomicrograph shows an ovarian lesion. Which of the following is the most likely diagnosis?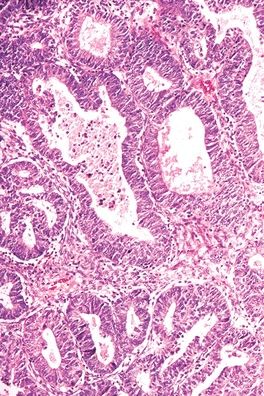 QUESTION 54.9
B. Endometrioid carcinoma
10. The ovarian tumor whose typical morphology is shown in this picture is most frequently associated with ovarian/pelvic endometriosis and increased risk of thrombosis. Which one is it?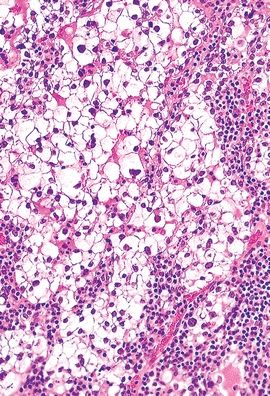 QUESTION 54.10
Full access? Get Clinical Tree