Nutrition in Liver Disorders and the Role of Alcohol1
Juliane I. Beier
Sarah Landes
Mohammad Mohammad
Craig J. Mcclain
1
Abbreviations: ADH
, alcohol dehydrogenase;
AH
, alcoholic hepatitis;
ALD
, alcoholic liver disease;
ALDH
, aldehyde dehydrogenase;
BAC
, blood alcohol concentration;
BCAA
, branched-chain amino acid;
CNS
, central nervous system;
DPI
, diphenyliodonium;
FAEE
, fatty acid ethyl ester;
GSH
, glutathione;
HE
, hepatic encephalopathy;
HIF
, hypoxia-inducible factor;
iNOS
, inducible nitric oxide synthase;
LES
, late evening snack;
LPS
, lipopolysaccharide;
NAD
+, oxidized nicotinamide adenine dinucleotide;
NADH
, reduced nicotinamide adenine dinucleotide;
NADP
+, oxidized nicotinamide adenine dinucleotide phosphate;
NAFLD
, nonalcoholic fatty liver disease;
NASH
, nonalcoholic steatohepatitis;
PEM
, protein-energy malnutrition;
RNS
, reactive nitrogen species;
ROS
, reactive oxygen species;
RQ
, respiratory quotient;
SAM
,
S
-adenosylmethionine;
SEC
, sinusoidal endothelial cell;
TLR-4
, Toll-like receptor-4;
TNF
, tumor necrosis factor;
TRIF
, TIR-domain-containing adapter-inducing interferon-β;
VA
, Veterans Affairs;
WKS
, Wernicke-Korsakoff syndrome.
OVERVIEW OF THE LIVER AND ALCOHOL METABOLISM
The liver is the largest organ in the body, and it has a unique dual blood supply, perfused by both the portal vein (directly exposed to absorbed nutrients) and the hepatic artery. The liver is composed of multiple cell types with differing functions. Hepatocytes make up more than 80% of total liver mass and play a critical role in the metabolism of amino acids and ammonia, lipids, carbohydrates, vitamins, minerals, hormones, and detoxification of a variety of drugs and xenobiotics. Hepatic stellate cells comprise the major storehouse for vitamin A in the body, and they play a critical role in collagen formation during liver injury and fibrosis. Sinusoidal endothelial cells (SECs) make up approximately half of the nonparenchymal cells of the liver and play an important role in controlling the exchange of materials (including nutrients) between the bloodstream and the liver parenchyma. The SECs express scavenger receptors and act as antigen-presenting cells, to name only a few of the important immune functions of these cells. Hepatic Kupffer cells comprise the largest reservoir of fixed macrophages in the body. They play a protective role against gut-derived toxins that have escaped into the portal circulation, and they are a major producer of cytokines, which can markedly influence nutritional status. Bile duct epithelial cells play a major role in transport (e.g., water, bile), express a variety of transporters, and have important immune functions. All these cell types interact in a coordinated fashion to protect against gutderived toxins and autoimmune reactions (tolerance), and they modulate hormonal and nutritional status.
The liver is also the main organ for ethanol metabolism. Ethanol is primarily metabolized (˜80%) by alcohol dehydrogenase (ADH), oxidizing ethanol to acetaldehyde. However, cytochrome P-450 systems (mainly CYP2E1) and catalase also contribute to the production of acetaldehyde in ethanol metabolism. Whereas ADH transfers electrons from ethanol to the reducing equivalent oxidized nicotinamide adenine dinucleotide phosphate (NADP
+
), the cytochrome P-450 system transfers the electrons to molecular oxygen (O
2
), and catalase reduces hydrogen peroxide (H
2
O
2
) to water (
Fig. 82.1
). Ethanol metabolism is considered zero order at physiologically relevant doses, meaning that the oxidation of ethanol is saturated at blood alcohol concentrations (BACs) that cause significant central nervous system (CNS) effects (>0.03%). Whereas the oxidation of ethanol to acetaldehyde is mediated by three distinct enzyme systems, only one enzyme, aldehyde dehydrogenase (ALDH), oxidizes acetaldehyde to acetate (see
Fig. 82.1
). Analogous to ADH, ALDH uses oxidized nicotinamide adenine dinucleotide (NAD
+
) as the electron acceptor for this reaction; however, ALDH is located in the mitochondria of the cell (see
Fig. 82.1
).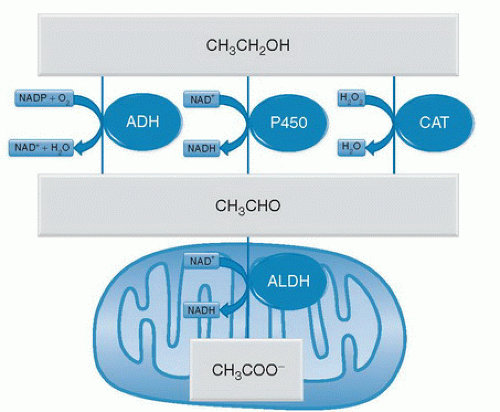 Fig. 82.1.
Oxidative metabolism of alcohol by the liver. Alcohol (CH
3
CH
2
OH) is oxidized to acetaldehyde (CH
3
CHO) by three enzyme systems: the microsomal ethanol oxidizing system (MEOS), alcohol dehydrogenase (ADH), and catalase (CAT). Acetaldehyde, in turn, is metabolized to acetate (CH
3
COO-) by aldehyde dehydrogenase (ALDH) in the mitochondria. The metabolic and biochemical effects of alcohol metabolism may contribute to ADH.
NAD,
nicotinamide adenine dinucleotide;
NADH,
reduced nicotinamide adenine dinucleotide;
NADP,
nicotinamide adenine dinucleotide phosphate.
This chapter reviews major direct mechanisms of alcohol-induced liver injury, the gut-liver axis, general malnutrition in alcoholic liver disease (ALD), deficiencies of specific nutrients, and nutrition support in ALD. It also highlights how many principles of altered nutrition and nutrition support in ALD apply to other advanced liver diseases (e.g., hepatitis C, nonalcoholic steatohepatitis [NASH]).
DIRECT MECHANISMS OF LIVER INJURY
Ethanol is rapidly removed by the liver as a protective mechanism to prevent CNS depression and injury. However, the toxic metabolic and biochemical processes of ethanol metabolism, including induction of CYP2E1, production of toxic metabolites (e.g., acetaldehyde), and changes of biochemical processes may contribute to the development and progression of ALD.
GUT-LIVER AXIS
Endotoxin or lipopolysaccharide (LPS) is derived from the cell wall of Gram-negative bacteria. Increased endotoxin levels are observed in patients with ALD and in rodent models of ALD. Increased endotoxin levels are also noted in animal models (high-fat or high-fructose feeding) of nonalcoholic fatty liver disease (NAFLD), and endotoxin/gut-derived toxins have been postulated to play an etiologic role in this disease process. Thus, much of what is described related to the gut-liver axis in ALD likely also applies to NAFLD, NASH, and other forms of liver disease. Elevated endotoxin levels in ALD may originate from gram-negative bacterial overgrowth in the intestine, increased intestinal permeability, or impaired hepatic clearance of endotoxin (
49
). Endotoxin then stimulates the production of tumor necrosis factor (TNF) and other proinflammatory cytokines through Toll-like receptor (TLR-4) signaling, which plays a critical role in the development and progression of ALD (
Fig. 82.2
). Other bacteria-derived toxins, such as peptidoglycan and flagellin, may also affect TLR signaling and
proinflammatory cytokine production (
49
). Indeed, injected peptidoglycan increases liver injury or inflammation in alcohol-fed mice compared with control-fed mice, and ethanol feeding increases peptidoglycan levels (
49
,
50
).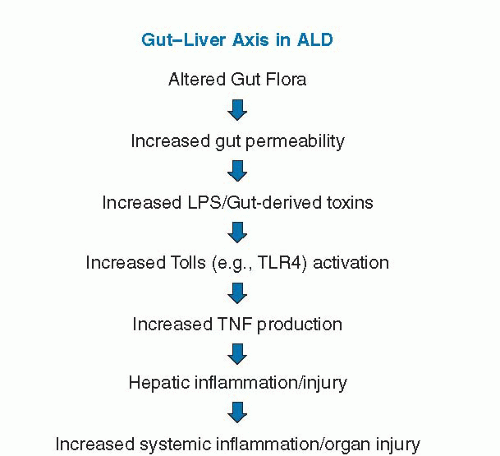 Fig. 82.2.
Alterations in gut flora and permeability can lead to activation of hepatic Tolls, subsequent hepatic inflammation or injury, and ultimately systemic inflammation and organ injury.
ALD,
alcoholic liver disease;
LPS,
lipopolysaccharide;
TLR,
Toll-like receptor;
TNF,
tumor necrosis factor.
It is generally accepted that the gut flora and gut-derived toxins play a critical role in the development of liver disease and its complications (
49
,
51
,
52
,
53
,
54
,
55
,
56
,
57
). Indeed, in the 1960s, investigators showed that germ-free rodents or rodents treated with antibiotics to "sterilize the gut" were resistant to nutritional and toxin-induced liver injury. Early studies by Broitman et al (
53
) showed that rats fed a choline-deficient diet developed cirrhosis, which could be prevented by oral neomycin. However, when endotoxin was added to the water supply, neomycin no longer prevented the development of liver injury and fibrosis (
53
). Subsequently, antibiotics, prebiotics, and probiotics have all been used to prevent experimental alcohol-induced liver injury (
58
,
59
,
60
,
61
). Increased plasma or hepatic concentrations of proinflammatory cytokines (e.g., TNF-α) were noted in rodent models of ALD, and mice given anti-TNF antibodies or mice lacking TNF-R1 were protected against the development of experimental ALD (
62
,
63
). Moreover, long-term alcohol feeding sensitizes to the hepatotoxicity induced by gut-derived endotoxin and TNF, and specific components of the TLR-4 pathway responsible for alcohol-related liver injury are under active investigation (
64
,
65
). TLR-4 activation by endotoxin results in recruitment of the adaptor molecules MyD88 and Toll/interleukin-1 receptor (TIR) domain-containing adapter inducing interferon-β (TRIF), which each activate separate downstream signaling cascades. Data suggest that the MyD88-independent pathway (TRIF) is more important in the development of experimental ALD, whereas NASH appears to signal through the MyD88-dependent pathway (
65
). Endotoxin not only plays a role in the fatty liver and liver injury of experimental ALD but also appears to play a role in hepatic fibrosis. Elegant studies from Brenner's group, using in vitro assays as well as in vivo mixed chimerism studies, showed that endotoxin primes the stellate cell for transforming growth factor-β (TGF-β) stimulated collagen production (
66
). Thus, LPS also plays a role in fibrosis induction and progression.