1
Abbreviations: α-CEHC
, 2,5,7,8-tetramethyl-2-(2_-carboxyethyl)-6-hydroxychroman; α
-TTP
, α-tocopherol transfer protein; γ
-CEHC
, 2,7,8-trimethyl-2-(2_carboxyethyl)-6-hydroxychroman;
ABC
, ATP-binding cassette; apo, apolipoprotein;
AVED
, ataxia with vitamin E deficiency;
CRALBP
, cellular retinaldehyde-binding protein;
DRI
, dietary reference intake;
EAR
, estimated average requirement;
HDL
, high-density lipoprotein;
HOPE
, Heart Outcomes Prevention Evaluation;
IOM
, Institute of Medicine;
IU
, international unit;
LDL
, low-density lipoprotein;
MDR
, multidrug resistance gene or p-glycoprotein;
NGT
, 2,7,8-trimethyl-2-(4,8,12-trimethyldecyl)-5-nitro-6-chromanol;
NPC1L1
, Niemann-Pick C1 -like 1;
PLTP
, phospholipid transfer protein;
PUFA
, polyunsaturated fatty acid;
RDA
, recommended dietary allowance;
ROO
, peroxyl radical;
TPN
, total parenteral nutrition;
UL
, tolerable upper intake level;
VLDL
, very-low-density lipoprotein.
TERMINOLOGY
The Institute of Medicine (IOM), Food and Nutrition Board, defined that only α-tocopherol meets human vitamin E requirements (
5
). Molecules with α-tocopherol antioxidant activity include four tocopherols and four
tocotrienols (
Fig. 19.1
), however. These molecules have similar chromanol structures: trimethyl (α-), dimethyl (β- or γ-), and monomethyl (δ-); tocopherols have a phytyl side chain, whereas tocotrienols have an unsaturated side chain. α-Tocopherol synthesized by condensation of trimethyl hydroquinone with racemic isophytol (
13
) contains eight stereoisomers (arising from the three chiral centers: 2′, 4′, and 8′, specifically:
RRR, RSR, RSS, RRS, SRR, SSR, SRS
, and
SSS
) and is designated
all-rac
-α-tocopherol (incorrectly called
dl
-α-tocopherol) (see
Fig. 19.1
). The naturally occurring
RRR
-α-tocopherol (formerly called
d
-α-tocopherol) is only one of the eight stereoisomers present in
all-rac
-α-tocopherol. The IOM (
5
) defined that human vitamin E requirements are met only by 2
R
-α-tocopherols, that is, half of the stereoisomers in
all-rac
-α-tocopherol. Previously, γ-tocopherol and other vitamin E forms were included as sources of vitamin E; these forms no longer are included because of a lack of evidence showing they have health benefits in humans (
5
).
The IOM definition of vitamin E has led to confusion about vitamin E units. The definition of the unit used on supplement labels derives from units set by the US Pharmacopoeia (
14
). These supplements often contain esters of α-tocopherol, such as α-tocopheryl acetate, succinate, or nicotinate. Previously, the vitamin E international unit (IU) was defined as 1 IU = 1 mg
all-rac-
α-tocopheryl acetate or 0.67 mg
RRR
-α-tocopherol, or 0.74 mg
RRR
-α-tocopheryl acetate. The IOM (see
Table 6.1
in reference 5), however, defined the vitamin E requirement in milligrams of 2
R
-α-tocopherol and provided conversion factors, such that 1 mg
all-rac
-α-tocopherol is equal to 0.5 mg
RRR
-α-tocopherol.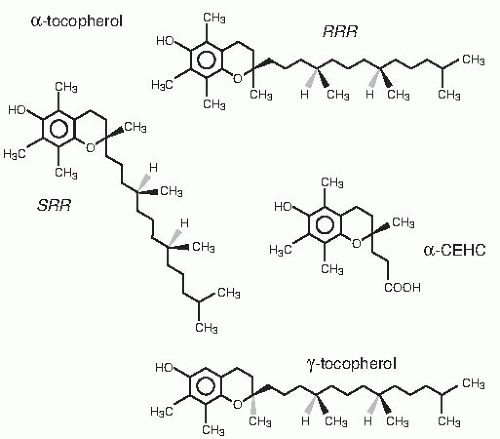 Fig. 19.1.
Structures of α- and γ-tocopherols and α-2,5,7,8-tetramethyl-2-(2′-carboxyethyl)-6-hydroxychroman (α-CEHC). Eight naturally occurring forms of vitamin E are recognized. Shown is
RRR
-α-tocopherol with naturally occurring stereochemistry; the three chiral centers can give rise to eight different stereoisomers in synthetic vitamin E (
all-rac
-α-tocopherol). These are
RRR
-,
RRS
-,
RSR
-,
RSS
-,
SRR
-,
SSR
-,
SRS
-, and
SSS
-. Shown is
SRR
-α-tocopherol; its dramatic structural difference is readily apparent and explains why only 2
R
-α-tocopherols meet the human vitamin E requirement. Also shown is
RRR
-γ-tocopherol and the α-tocopherol metabolite, CEHC. Note that it has opposite stereochemistry from the parent compound.
Vitamin E as defined by IOM (
5
):


Thus, a 400-IU pill of
d
-α-tocopherol contains 268 mg 2
R
-α-tocopherol (400 IU × 0.67 mg/IU), whereas a 400 IU pill of
dl
-α-tocopherol contains 180 mg 2
R
-α- tocopherol (400 IU × 0.91 mg/IU ÷ 2).
DIETARY SOURCES
The richest food sources of vitamin E are almonds, sunflower seeds, and edible vegetable oils (
40
), which contain varying proportions of the eight homologs: α-, β -, γ-, and δ-tocopherols or tocotrienols.
RRR
-α-tocopherol is especially high in wheat germ oil, safflower oil, and sunflower oil, whereas soybean and corn oils contain predominantly γ-tocopherol, as well as some tocotrienols. Foods that have been fortified with
all-rac
-α-tocopheryl acetate include some breakfast cereals, tomato juice, orange juice, and milk.
DIETARY REFERENCE INTAKES
PHYSIOLOGIC FACTORS INFLUENCING UTILIZATION
Digestion and Intestinal Absorption
The efficiency of vitamin E absorption is low (<50%) and depends on processes necessary for fat digestion and uptake into enterocytes (
41
). The bioavailability of vitamin E increases with increasing fat content of foods eaten with vitamin E supplements or food fortificants (
48
,
49
,
50
).
The trafficking of vitamin E through the absorptive cells is not well understood; no intestinal tocopherol transfer proteins have been described (
41
). Discrimination among forms of vitamin E does not occur during their absorption and secretion in chylomicrons. The intestinal cells package chylomicrons containing triglycerides, free and esterified cholesterol, phospholipids, and apolipoproteins (especially apolipoprotein [apo] B48). In addition, fat-soluble vitamins, carotenoids, and other fat-soluble dietary components are incorporated into chylomicrons (
41
). Anwar et al (
51
) demonstrated that the primary pathway for vitamin E absorption is through chylomicrons, but in the absence of a functional microsomal triglyceride transfer protein necessary for chylomicron formation, high-density lipoproteins (HDLs) participate in vitamin E absorption. The critical role of bile acids for vitamin E absorption also suggests that the key steps in vitamin E absorption are, first, entry into the enterocyte, followed by packaging into chylomicrons (
41
).
Vitamin E absorption appears to be mediated similarly to cholesterol absorption. Niemann-Pick C1-like 1 (NPC1L1), a sterol transport protein, is critical for cholesterol uptake into the enterocyte (
52
,
53
). Similarly, vitamin E absorption is facilitated by NPC1L1 (
54
), a finding leading to the suggestion that people who have a defect in the NPC1L1 gene may have defective vitamin E absorption (
55
). The prevalence of NPC1L1 defects relative to defects in vitamin E absorption in humans has not been extensively elucidated.
Hepatic α-Tocopherol Transfer Protein
α-TTP (30-35 kDa) has been isolated from humans and a variety of animals. The human protein has 94% homology to the rat protein, as well as some homology both to the cellular retinaldehyde-binding protein (CRALBP) in the retina and to sec14, a PLTP (
58
). The gene has been localized to the 8q13.1-13.3 region of human chromosome 8 (
58
,
59
). The crystal structure has also been described (
60
,
61
). Various human mutations have also been described (
62
).