Fig. 1.1
Human pachytene spermatocyte demonstrating synapsis of homologous chromosome pairs and sites of meiotic recombination (chiasmata). The protein complex (synaptonemal complex) that forms the physical connection between homologous chromosomes is labeled in
red
, chromosome centromeres in
blue
, and sites of recombination in
yellow
. Note, all bivalents possess multiple chiasmata, with the exception of chromosomes 21 and 22 (
arrowed
) and the sex body which only possess a single chiasma; thus, these particular bivalents have an increased risk of chromosome nondisjunction if recombination does not take place (achiasmate bivalents)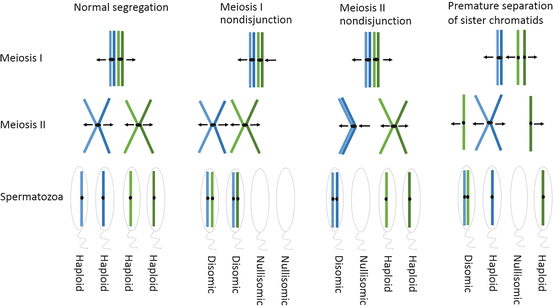 Fig. 1.2
Examples of nondisjunction mechanisms. The image on the
left
illustrates the normal segregation of homologous chromosomes in meiosis I and sister chromatids in meiosis II and the resulting spermatozoa. Following which, nondisjunction events occurring in meiosis I or meiosis II are shown, in which homologues (meiosis I) or sister chromatids (meiosis II) travel to the same pole. Note, in meiosis I the nondisjunction event may be due to a "true" nondisjunction event or the result of an achiasmate bivalent. The segregation pattern shown on the
right
illustrates how nondisjunction can arise as the result of premature separation of the sister chromatids (depicted in meiosis I, this can also arise in meiosis II). The outcome of these various segregation patterns will result in spermatozoa that will be either haploid (correct copy number), disomic (gain of a chromosome), or nullisomic (loss of a chromosome) for the chromosome(s) involved
1.6

Assessment of the Levels of Chromosome Aneuploidy Within Sperm

Given that the vast majority of chromosome aneuploidies perish in utero, often prior to a clinical pregnancy being established, an accurate assessment of the frequency can only be obtained by studying its frequency in the gametes (Templado et al.

2013

). Since the advent of fluorescence in situ hybridization (FISH), chromosome aneuploidy has been relatively straightforward to assess within sperm (Fig.

1.3

). FISH has been routinely utilized for decades in a wide range of clinical application; however, the majority of data on sperm aneuploidy is derived from research rather than clinical studies. To date, there are over 50 published studies examining the levels of sperm aneuploidy predominantly in normozoospermic and infertile men. These studies have revealed several important findings: (1) all men have a proportion of aneuploid sperm within their ejaculate, and (2) virtually all studies report significantly higher levels of aneuploidy in infertile men compared to individuals with normal semen parameters (Hann et al.

2011

; Harton and Tempest

2012

; Shi and Martin

2000

; Tempest

2011

; Tempest and Griffin

2004

; Templado et al.

2011

). From the published FISH studies, the lower estimates of sperm aneuploidy frequencies in males with normal semen parameters have been estimated to be around 3–5 % (Pang et al.

1999

; Templado et al.

2011

; Chatziparasidou et al.

2014

). This aneuploidy estimate is based on extrapolated data given that only 2–5 chromosomes can be reliably scored in a single sperm cell due to the limited number of fluorochromes available. In addition, most studies have selected chromosomes that are clinically significant, namely, those chromosomes that are viable in an aneuploid state (chromosomes 13, 18, 21, X, and Y). For the most part, studies report similar levels of disomy with an average of approximately 0.1 % for each chromosome (Shi and Martin

2000

; Tempest and Griffin

2004

; Templado et al.

2011

). These estimates are extrapolated from the data on investigated chromosomes; it is important to note that there are a number of chromosomes for which there is little or no aneuploidy FISH data available (Shi and Martin

2000

; Tempest and Griffin

2004

; Templado et al.

2011

). However, the vast majority of studies have observed that specific chromosomes are more prone to chromosome nondisjunction with much higher frequencies of disomy found within sperm. Aneuploidy for chromosomes 21 and 22 and the sex chromosomes is frequently reported to be approximately threefold higher than the other chromosomes (Shi and Martin

2000

; Tempest and Griffin

2004

; Templado et al.

2011

). In males, there is an average of 50 sites of recombination (chiasmata) in each pachytene spermatocyte; the chiasmata are distributed across chromosomes, and in the normal situation there is at least one chiasma located on the long and short arm of the chromosome (Hassold et al.

2000

). Longer chromosomes such as chromosome 1 have a greater number of chiasmata (~5), whereas the smallest chromosomes 21 and 22 and the sex chromosomes usually only possess a single chiasma (Martin

2008

; Sun et al.

2005

,

2008

). As discussed previously, meiotic recombination appears to play an important role in ensuring chromosomes disjoin correctly during meiosis. Therefore, the presence of multiple chiasmata along the length of a chromosome may function in part, as an insurance policy to prevent nondisjunction. Thus, smaller chromosomes possessing a single chiasma (e.g., chromosomes 21, 22, X, and Y) are more prone to be achiasmate (lacking a chiasma) (Sun et al.

2008

), losing the insurance policy of additional chiasmata to reduce the risk of nondisjunction. Studies have demonstrated that some individuals have a higher proportion of achiasmate bivalents and that this translates to a significantly higher level of sperm aneuploidy (Ferguson et al.

2007

; Sun et al.

2008

).

Fig. 1.3
Fluorescence in situ hybridization (FISH) for chromosomes 18, 21, X, and Y in sperm nuclei. The sperm nuclei are counterstained with DAPI (pseudo-colored
gray
) with chromosomes 18, 21, X, and Y probed in
aqua
,
green
,
gold
, and
red
fluorochromes, respectively. Panels (
a
–
d
) provide examples of normal and abnormal sperm FISH results for the investigated chromosomes: Panel (
a
) normal haploid Y-bearing sperm, Panel (
b
) XY disomy, Panel (
c
) YY disomy, and Panel (
d
) XY disomy and disomy 21
The vast majority of sperm FISH studies have analyzed and compared the frequencies of sperm aneuploidy between infertile men and either normozoospermic men, or men with proven fertility. All but a handful of these studies have identified a significant increase in sperm aneuploidy levels for at least one investigated chromosome in men with reduced semen parameters compared to normozoospermic men (Shi and Martin
2000
; Tempest et al.
2004
; Templado et al.
2011
; Chatziparasidou et al.
2014
). Collectively these studies provide strong evidence that infertile men have a significantly higher proportion of aneuploid sperm (approximately threefold), with severe oligoasthenoteratozoospermic and nonobstructive azoospermic individuals often having the highest levels (Shi and Martin
2000
; Tempest et al.
2004
; Templado et al.
2011
; Chatziparasidou et al.
2014
). From the published data, it is also clear that there are notable differences in the frequencies reported between studies; thus, baseline levels are difficult to establish. Differences between studies are likely due to technical differences including FISH probes utilized, number of cells scored, differences in scoring criteria, and subjective differences between scorers. In addition, the differences could be due to interindividual differences in sperm aneuploidy frequencies. It would seem plausible that some individuals may be more prone to chromosome nondisjunction and anaphase lag and/or have a less efficient meiotic checkpoint than others that may lead to increased levels of sperm aneuploidy. Furthermore, exogenous factors may have the ability to increase or decrease sperm aneuploidy levels. To date, several studies have examined whether sperm aneuploidy levels are consistent over time and if interindividual differences in sperm aneuploidy exist. The general consensus of these studies reveals that sperm aneuploidy levels remain remarkably consistent over time within individuals; nevertheless, there are stable variants who consistently produce higher levels of sperm aneuploidy (Rubes et al.
2005
; Tempest et al.
2009
). Preliminary data suggests that exogenous factors (e.g., diet, chemotherapy, or environment) may affect sperm aneuploidy levels resulting in a transient increase or potentially a decrease in aneuploidy levels (Harkonen
2005
; McAuliffe et al.
2012
,
2014
; Tempest et al.
2005
,
2009
; Young et al.
2013
). Despite the findings of significantly higher levels of chromosome aneuploidy within the sperm or certain subsets of men, sperm aneuploidy is rarely examined clinically, with the test only available at a handful of reference laboratories worldwide (Carrell
2008
; Ramasamy et al.
2014
). The lack of robust clinical studies provides us with a relatively poor understanding of the role of sperm aneuploidy in embryogenesis. Given that certain individuals produce higher levels of sperm aneuploidy, perhaps the most important question to address is whether these increased levels translate to an increased risk of paternally derived aneuploid embryos and offspring. This question is particularly difficult to address and is confounded by the significant maternal contribution to chromosome aneuploidy and that the parental origin of trisomies is rarely identified. Thus, if high sperm aneuploidy levels are identified, it is not yet clear how, or if, this should be utilized to counsel patients (Harton and Tempest
2012
; Carrell
2008
; Hann et al.
2011
; Tempest
2011
; Templado et al.
2011
). To date, a handful of studies have tried to address whether sperm aneuploidy levels translate to embryo aneuploidies. Several studies have retrospectively identified increased levels of sperm aneuploidy in the fathers of paternally derived aneuploid offspring (Arnedo et al.
2006
; Blanco et al.
1998
; Martinez-Pasarell et al.
1999
; Soares et al.
2001
; Moosani et al.
1999
). These studies suggest that in almost all cases these individuals had significantly higher levels of sperm aneuploidy for multiple chromosomes compared to fertile men with no history of aneuploid offspring (Harton and Tempest
2012
). Other studies have provided preliminary evidence to suggest that higher levels of sperm aneuploidy are associated with recurrent ICSI failure (Nicopoullos et al.
2008
; Petit et al.
2005
), increased chromosome abnormalities in preimplantation embryos (Gianaroli et al.
2005
), and lower pregnancy rates and live births (Nagvenkar et al.
2005
). Furthermore, the approximate threefold increase in sperm aneuploidy observed in infertile men is mirrored by a threefold increase in de novo chromosome aberrations observed in children born after ICSI (Aboulghar et al.
2001
; Bonduelle et al.
2002
; Devroey and Van Steirteghem
2004
; Van Steirteghem et al.
2002
). Clearly, none of these studies provide direct evidence that sperm aneuploidy directly translates to embryo aneuploidy. However, albeit in a very small number of studies, there is compelling evidence to suggest that sperm aneuploidy may play a greater role in transmitting aneuploidy to embryos than previously perceived (Harton and Tempest
2012
; Tempest
2011
).
1.7

How Do Chromosome Aberrations Affect Meiosis?
1.8

Conclusions

Chromosome aneuploidy, complete or partial in nature, can perturb embryogenesis and development. Somewhat surprisingly, the role of paternally derived chromosome aneuploidy in embryogenesis and development remains questionable in the clinic. A survey administered to fertility clinics in the UK perceived there is to be an increased risk of transmitting paternal genetic abnormalities following ICSI, but despite the concern most did not offer sperm aneuploidy screening (Griffin et al.

2003

). Published studies suggest sperm aneuploidy has the potential to be a clinically useful screening tool to identify individuals with an increased risk of transmitting chromosome aneuploidy to future offspring. However, the clinical implementation of widespread routine sperm aneuploidy screening has been hampered by a number of factors that include (1) large maternal contribution to aneuploidy, (2) various technical challenges (e.g., wide variations between studies, requirement to score large numbers of cells (>5,000), limited number of chromosomes tested (3–5 chromosomes) per cell, and the inability to test the individual sperm that will be used for ICSI), (3) identification of individuals who may benefit from sperm aneuploidy scoring, and (4) what is a clinically significant level of sperm aneuploidy and how should patients with higher levels of aneuploidy be counseled. These important considerations have largely precluded the widespread clinical application of sperm aneuploidy screening, suggesting that at the moment the drawbacks outnumber the potential benefits. However, it is important to note that published studies have demonstrated chromosome aberrations (numerical or structural) can initiate and complete meiosis. Furthermore, the levels of aneuploidy observed in the sperm of infertile men or men with karyotype aberrations are mirrored and translate to increased levels of aneuploidy in preimplantation embryos and offspring, with several potential outcomes including fetal demise and congenital and cognitive impairments. Nevertheless, these findings are fundamentally based on a handful of small studies, and the true clinical ramifications of such findings will be difficult to determine until larger studies in a clinical setting are initiated. It seems unlikely that such studies will be initiated until some of the technical issues are resolved allowing rapid, cost-effective assessment of sperm aneuploidy levels. Automated capture and analysis software is currently available for FISH scoring and has been successfully applied to measure sperm aneuploidy and more commonly clinically for oncological FISH assays. However, automated approaches to assess sperm aneuploidy are not available in most clinics and have failed to significantly reduce the cost of the test (Carrell and Emery

2008

; Tempest et al.

2010

), primarily due to the initial outlay for capture system, software, and the relatively high cost of commercial FISH probes. Additionally, due to the lack of distinguishable fluorochromes, scoring all 24 chromosomes simultaneously in a single cell does not provide a genome-wide appreciation of the levels of aneuploidy within a single cell. The development and application of rapid multicolor FISH assays in combination with FISH reprobing and automation may allow all 24 chromosomes to be assessed in a single cell (Ioannou et al.

2011

,

2012

). Furthermore, it is also important to note that FISH as it is currently performed for aneuploidy assessments provides an extremely low resolution, typically only assessing a single chromosome region. Furthermore, FISH does not readily provide the possibility to screen for de novo structural aberrations or small genomic variants that may significantly contribute to spontaneous abortions. Technologically, it is possible to assess genome-wide levels of nondisjunction, unbalanced rearrangements, and smaller genomic variants in a single sperm cell using higher-resolution methodologies (e.g., sequencing, chromosome microarrays, and SNP arrays). Currently this remains prohibitively expensive as a routine clinical test given the large number of sperm cells that would need to be screened due to the relatively low proportion of aneuploidy in sperm. Currently, estimates of the proportion of sperm with de novo structural aberrations and smaller genomic perturbations are unknown, but it is reasonable to suggest that these may be similar or lower than aneuploidy levels. Thus, globally the proportion of sperm that may be perturbed may be clinically significant but still relatively low and hence not cost-effective to evaluate unless specific patient cohorts who may benefit can be identified.