QUESTION 22.2
B. Exposure to cigarette smoking
C. Inherited mutations of the epidermal growth factor receptor gene
3. The following photomicrographs (A through E) demonstrate various squamous intraepithelial lesions detected by biopsy of the laryngeal mucosa. Arrange the pictures in the following order: hyperplasia, mild dysplasia, moderate dysplasia, severe dysplasia, and carcinoma in situ.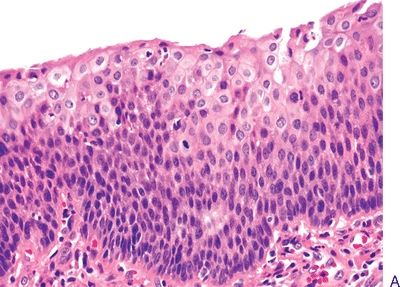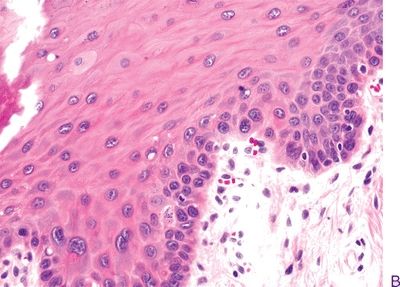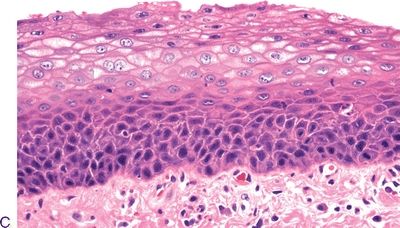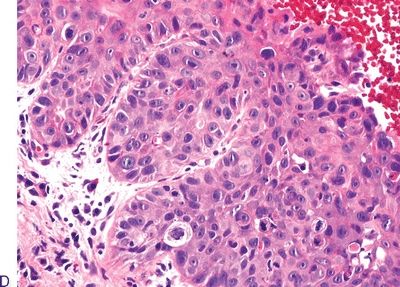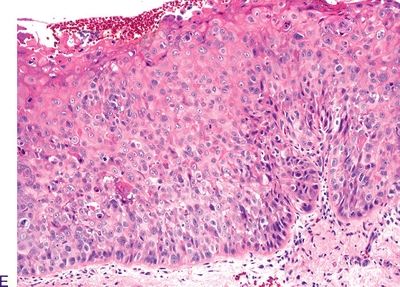 QUESTION 22.3
4. This gross photograph depicts a laryngeal carcinoma that is described as: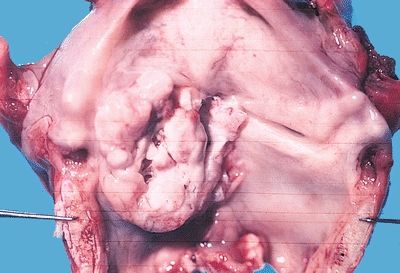 QUESTION 22.4
5. Which of the following histologic parameters is of prognostic significance in laryngeal SCC and should be documented in the pathology report?
A. Angiolymphatic invasion
D. Perineural infiltration
Questions 6–8. The following three photomicrographs show three different variants of laryngeal SCC. Match each description with the corresponding variant.
A. Papillary squamous cell carcinoma
B. Spindle cell carcinoma
6. An exophytic tumor typically involving the vocal cords, characterized by a verrucous-like surface with abundant keratosis and parakeratosis. There is little atypia. It is deeply infiltrating and locally destructive but does not metastasize. Excellent prognosis.
7. A usually glottic tumor that exhibits a mesenchymal, sarcomatoid appearance and brisk mitotic activity. It shows immunoreactivity for keratin in up to 75%.
8. A tumor resembling laryngeal papilloma and composed of filiform fronds covered by stratified squamous epithelium showing full-thickness dysplasia. Prognosis is better than conventional SCC.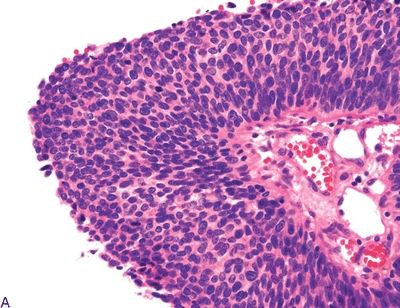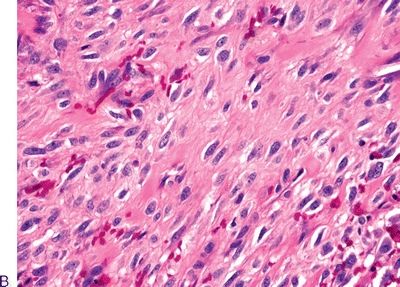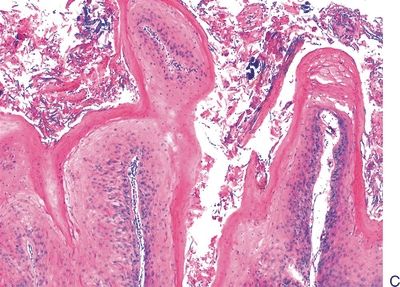 Full access? Get Clinical Tree