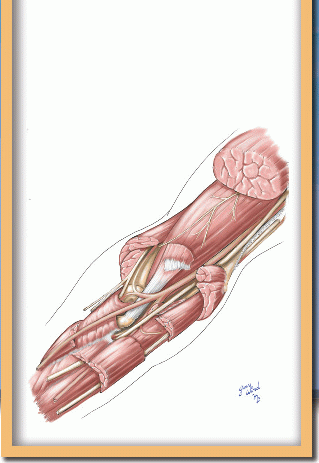 Forearm Vessels
Surgical Anatomy of the Forearm
The major nerves and arteries of the forearm run parallel with the two major muscle groups and lie between their layers as they converge toward the wrist. The axial rotation that uniquely characterizes the forearm is associated with a spiral disposition of the flexor/pronator muscle group and extensor/supinator muscle group from medial to volar and from lateral to dorsal, respectively. Safe surgical approaches to the arteries require a good three-dimensional appreciation of the relationships between vessels, nerves, and muscles, particularly in the area of the cubital fossa.
Exposure of Arteries in the Forearm
The superficial location of the radial and brachial arteries makes them ideal sites for arterial catheterization and for establishment of hemodialysis access. The radial artery is a common site of catheterization for indwelling arterial lines and for insertion of catheters during interventional radiologic procedures.
1
,
2
,
3
Radial artery occlusion occurs in 5% to 25% of patients undergoing these procedures,
4
,
5
but radial artery thrombosis does not usually lead to hand gangrene. Radial artery catheterization has a reported incidence of permanent hand ischemia of 0.09%;1 in most cases, digital gangrene is thought to occur as a result of embolization from the site of initial arterial thrombosis.
6