QUESTION 52.3
A. Condyloma, no evidence of SIL
D. Reactive epithelial changes, nonspecific
E. Vaginal papillomatosis
4. The nuclear changes in the cervical epithelium shown in this picture are due to: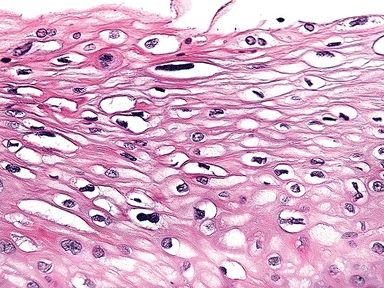 QUESTION 52.4
5. A cervical biopsy reveals the changes shown in this picture. Which of the following is the diagnosis?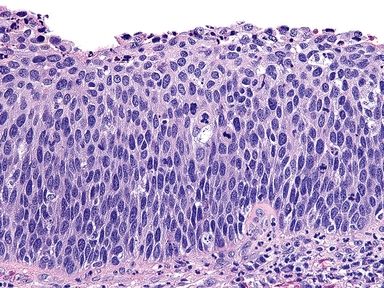 QUESTION 52.5
E. Transitional metaplasia
6. According to the recommendations of the Lower Anogenital Squamous Terminology (LAST) Project, the molecular marker most useful in the diagnostic evaluation of cervical squamous dysplasia is:
A. Immunohistochemistry for cyclin E
B. Immunohistochemistry for Ki-67
C. Immunohistochemistry for p16
D. Immunohistochemistry for ProEx C
E. In situ hybridization for HPV 16 and 18
7. According to the LAST Project recommendations, p16 immunohistochemistry (IHC) should be performed in all of the following situations, EXCEPT:
A. In the differential diagnosis between HSIL and a dysplasia-mimicking lesion (i.e., immature squamous metaplasia, atrophy, reactive changes, tangential cuts)
B. When the lesion shows features of CIN2
C. When there is lack of consensus among pathologists in the diagnosis of HSIL
D. When a precancer lesion is not found in a biopsy from a patient with prior cytologic diagnosis of HSIL, ASC-H, AGC-NOS, or ASC-US/HPV16+
E. When morphology is unequivocally negative or diagnostic of LSIL (CIN1) or HSIL (CIN3)
8. Which of the following may mimic superficially invasive squamous cell carcinoma of the cervix?
A. Decidualization of the cervical stroma in pregnant women
B. Displacement of benign or dysplastic squamous epithelium into lymphatic–vascular channels
D. HSIL with extension to underlying endocervical glands
9. This photomicrograph shows a morphologic subtype of cervical SCC. Which one is it?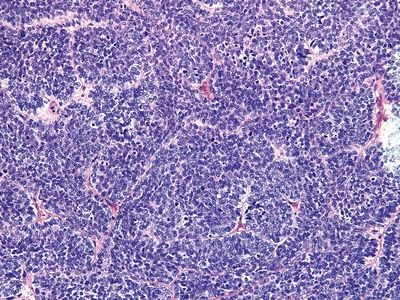 QUESTION 52.9
D. Lymphoepithelioma-like
10. This photomicrograph shows a metaplastic change that may mimic in situ adenocarcinoma. Which of the following is it?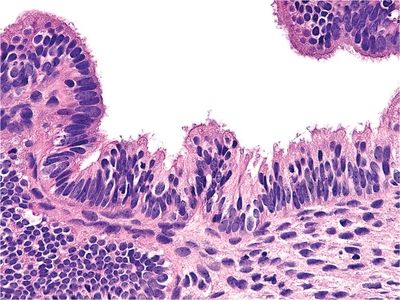 QUESTION 52.10
A. Atypical oxyphilic metaplasia
D. Misplaced Skene glands
E. Tuboendometrioid metaplasia
11. This photomicrograph shows a glandular hyperplastic lesion of the endocervix, known to be associated with oral contraceptive use. Which of the following is it?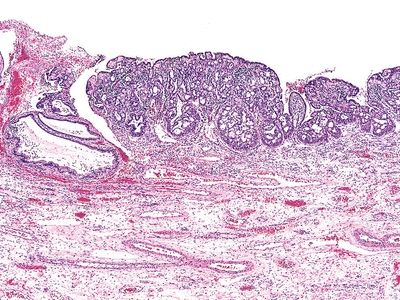 QUESTION 52.11
A. Adenoid basal hyperplasia
B. Diffuse laminar endocervical glandular hyperplasia
C. Lobular endocervical glandular hyperplasia
E. Microglandular hyperplasia
12. The endocervical reactive change demonstrated in this picture is due to: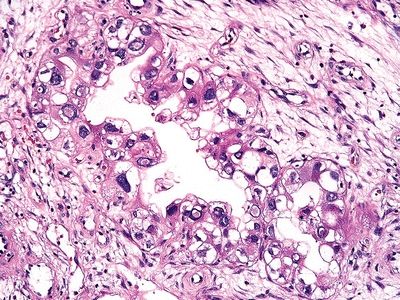 QUESTION 52.12
D. Papillary endocervicitis
13. This photomicrograph shows a lesion detected in a cervical biopsy from a 40-year-old woman. Which of the following is true about this lesion?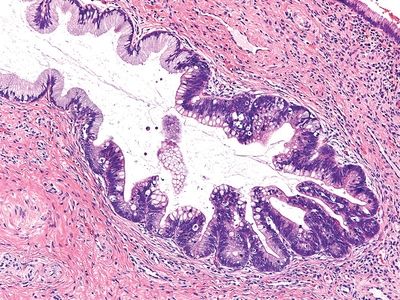 QUESTION 52.13
A. Arises from reserve cells at the squamocolumnar junction
B. Associated with HPV in the majority of cases
C. Often associated with squamous intraepithelial lesion
Full access? Get Clinical Tree