William S.M. Wold
Michael G. Ison
History
During attempts to establish tissue culture lines from tonsils and adenoidal tissue surgically removed from children, Rowe and colleagues
613
recognized that a transmissible agent was causing degeneration of the epithelial-like cells. Thus, adenoviruses (Ads) were first cultured and reported as distinct viral agents in 1953.
787
A nomenclature for Ads was adopted in 1956, and then Ads were reclassified in 1999.
743
The family name is
Adenoviridae
, and there are four accepted genera:
Mastadenovirus
, from mammals;
Aviadenovirus
, from birds; and
Atadenovirus
and
Siadenovirus
, from a broad range of hosts.
50
,
141
,
743
A fish adenovirus falls into a fifth clade.
141
Human Ads are divided into seven species, A, B, C, D, E, F, and G, based on serum neutralizing and hemagglutination epitopes, genome sequence and function, oncogenic properties in newborn hamsters, and pathology in humans. These species were previously referred to as groups or subgroups.
Historically, the human Ad isolates were designated as serotypes, based on neutralization of productive infection by homologous sera.
50
Recently, with the advent of high-throughput Ad genome sequencing and bioinformatics analysis, new insights have been obtained into Ad genome structure and taxonomy.
141
,
262
Evolution of Ads seems to have been driven by not only sequence divergence but also frequent recombination between different serotypes.
444
,
450
,
593
,
594
,
643
,
644
,
756
,
764
,
763
Researchers have taken the view that Ad isolates should be designated as
types
rather than
serotypes
, per definitions of the International Committee on Taxonomy of Viruses. Two similar but not exact proposals have been advanced to characterize Ads.
17
,
642
With one proposal, for example, human Ad serotype 1 will be designated
type HuAdV-1
, with the "1" referring to hexon (the major capsid protein) identity. The rationale is that hexon should remain the major identifier "because it contains the major neutralizing epitope, which is targeted in molecular diagnosis".
17
With the other proposal, human Ad serotype 1 will become
type HAdV-C1
, with the "C" referring to species C.
642
In the current article we will use
serotype
to indicate
type
because serotype has been used in nearly all the literature. According to current standard nomenclature, "H" should precede the serotype number, for example, HAdV-5 for human serotype 5. For brevity, we will use "Ad5."
There are 57 serotypes in the seven species of human Ads: species A (Ad12, 18, 31), species B (Ad3, 7, 11, 14, 16, 34, 35, 50, 55), species C (Ad1, 2, 5, 6), species D (Ad8 to 10, 13, 15, 17, 19, 20, 22 to 30, 32, 33, 36 to 39, 42 to 49, 51, 53, 54, 56), species E (Ad4), species F (Ad40 and 41), and species G (Ad52) (
Table 56.1
). Species B can be further divided into species B1 (Ad3, 7, 11, 16, 21, 50) and B2 (Ad11, 14, 34, 35). Ad52 to 57 are recent isolates. Ad52 (species G) was isolated from a patient with gastroenteritis.
343
Ad53
357
,
763
and Ad54
326
are in species D and associated with epidemic keratoconjunctivitis (EKC). Ad56, species D, which caused a rare neonatal fatality and keratoconjunctivitis, seems to be a complex recombinant
of Ad9, 15, 26, and 29.
594
Ad55, species B, isolated from a respiratory outbreak in China, is a recombinant between Ad14 (97% of genome) and Ad11.
766
An isolate from the feces of a 4-year-old patient
444
was recently proposed, based on computational analysis, to be Ad57 in species C: it has a fiber similar to Ad6 but a unique hexon.
765
The genome of many human Ad serotypes has been sequenced.
450
,
643
,
765
,
766
,
776
Also, the genome sequence of the Ad5 reference material (ARM) was published as a reference strain for Ad5-based vectors.
691
The genomes of serotypes within a species are highly related and are modestly diverged from species to species. This chapter will tend to concentrate on the relatively recent literature on Ad pathogenesis in humans. Some of the earlier literature can be found in the fourth and fifth Editions of
Fields Virology.
308
,
787
Table 56.1 Infections Associated with Adenovirus Subgroup and Serotype




Subgroup


Serotype


Major site of infection



A


12, 18, 31


Respiratory, urinary, GI



B


3, 7, 11, 14, 16, 21, 34, 35, 50, 55


Respiratory, eye, urinary, GI



C


1, 2, 5, 6, 57


Respiratory, urinary, GI



D


8–10, 13, 15, 17, 19, 20, 22–30, 32, 33, 36–39, 42–49, 51, 53, 54, 56


Eye, GI



E


4


Eye, respiratory



F


40, 41


GI



G


52


GI



GI, gastrointestinal.
Pathogenesis and Pathology
Ad infection causes inhibition of cellular DNA, mRNA, and protein synthesis. The infected cell degenerates in specific ways that help the pathologist diagnose Ad infection on biopsy or autopsy tissue.
500
The respiratory epithelial cells that are affected during Ad pneumonitis have enlarged nuclei containing amphophilic or basophilic inclusion bodies surrounded by thin rims of cytoplasm. Some of these cells are referred to as
smudge cells
and contrast with those infected cells with nuclear inclusions but intact nuclear membranes. As in tissue culture, the epithelial cells are the primary target for Ad cytopathology
in vivo.
70
One of the Ad structural proteins, the penton base, made in much larger excess than needed for the assembly of Ad, binds to the a
v
β
3
and a
v
β
5
integrins via an arginine-glycine-aspartate (RGD) motif in penton base
28
and causes cells to detach rapidly from monolayer cell culture dishes.
780
This effect can be demonstrated even in cells that are not directly infected with Ads; it has been postulated that this protein might be involved in pathogenesis. It had been thought that the penton cell-rounding effect led to cell death, but it now appears that the cells are viable upon removal of the viral protein.
508
Although the importance of penton in human disease has not been determined, it has been found in the blood of several fatal cases of Ad pneumonia.
400
Ad-induced changes at the level of single cells result in considerable organ toxicity during serious tissue invasion by Ads. Necrotizing bronchitis, bronchiolitis, and interstitial pneumonia, as well as fibrin and hyaline membranes within the alveoli, characterize Ad pulmonary syndromes.
168
Comparable lesions occur within the conjunctiva, in which exudative and mononuclear infiltrates are found. However, the lesions occur beneath the epithelium, so that ulceration or neovascularization of the cornea usually does not occur.
335
,
478
Proliferative responses similar to transformation have not been recognized in acute Ad infections in humans. However, lymphatic tissue is often hypertrophied, and active germinal centers are found. For example, the appendices of children undergoing surgery to correct bowel obstruction found in intussusception may be associated with enlarged mesenteric lymph nodes and Ad isolation from stool specimens.
807
These lymphocyte changes are often in close proximity to areas of desquamated epithelial cells in which typical viral inclusions may be found. The inclusions contain viral particles in crystalline arrays that are visualized by electron microscopy (EM). Some of the lymphocytes are probably CD8+ CTLs that recognize proteolytic peptide products of viral proteins.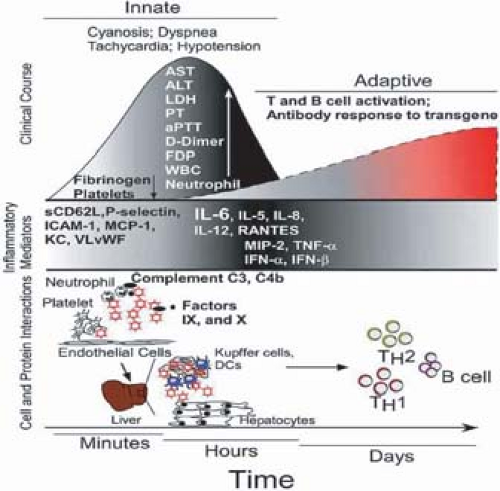 Figure 56.5.
Some of the receptors used by human adenoviruses (Ads).
CAR, sialic acid, CD86/CD80, CD46, and MHC-1 are membrane proteins. Other ligands are present in a soluble form, such as lactoferrin and coagulation factor X, which are used as a bridge between the virus and the cell to target the liver. The receptor used depends on the Ad type and the targeted tissue. CAR, coxsackievirus B and adenovirus receptor; HSPG, heparan sulfate proteoglycans. (From Enaff D, Salinas S, Kremer EJ. An adenovirus traffic update: from receptor engagement to the nuclear pore.
Future Microbiol
2011;6:179–192, with permission.)
Site of Primary Replication
It is clear from the original findings of Ads in tonsils and adenoids that these tissues of the oropharynx are a major initial site of replication for the entering Ads. For serotypes causing
respiratory disease, the initial replication most likely occurs in the nonciliated respiratory epithelium, although some limited replication and persistence can also occur within lymphocytes (reviewed in
445
). These conclusions are based not on careful observations of cells
in situ
but on the cells in which Ad replicates in tissue culture. Ciliated respiratory epithelium of the lower airway is difficult to infect with Ads through the apical surfaces, which do not contain the CAR receptor; however, disruption of the integrity of cell–cell contact allows basolateral infection of such polarized epithelial cells using CAR.
565
,
768
Spread of Virus and Tissue Tropism in the Host
Most of the manifestations of Ad infection are locally in the eyes and pharynx, but contiguous extension into the lungs results in some cases. One possible molecular mechanism facilitating the spread of the virus over respiratory epithelia is that the fiber protein, which is synthesized in great excess in the infected cell and is released when the cell is lysed, binds CAR on the basolateral surface. This binding disrupts the CAR homodimers in tight junctions, thus increasing paracellular permeability. This in turn allows the virus to escape onto the apical surface of the respiratory epithelium, thereby making it possible for the virus to infect other areas of the respiratory tract.
767
Likewise, for the species B viruses that bind to desmoglein 2, binding to desmoglein 2 resulting in dissociation of the intercellular junctions may facilitate spread of the virus locally and into deeper tissue layers, allowing access to the bloodstream.
770
Even in the nonreplicating mouse model of human Ad infection, the virus can cause inflammation in the lungs, which is strong evidence for direct extension into these target organs.
228
,
676
Ads have been cultured from the blood during fatal Ad respiratory disease, suggesting viremic spread in some situations (see the section later on immunocompromised patients). As CAR is present on endothelial cells, viremia might be promoted by the fiber protein through the mechanism described earlier. The successful use of oral, live, microencapsulated Ad vaccines by the military to prevent ARD suggests that if the respiratory tract can be physically bypassed by Ad4 and Ad7, intestinal replication of the virus causes an immunizing rather than a virulent infection.
129
Although most Ads replicate in the intestine without causing gastroenteritis, Ad40 and 41 are responsible for intestinal disease. Ad disease in the urinary bladder, primarily by species B Ads in immunocompetent hosts, suggests that the virus probably is viremic at some stage in order to reach this organ. There is no evidence for ascending infection for these species B serotypes, which are less commonly found in the intestine and are more common in young males than in females. The route of infection of the liver, especially in immunosuppressed liver transplant recipients, is unknown, but some patients might be infected by latent Ads that are present in cells such as lymphocytes in the transplant.
Virulence
It is not known why certain serotypes characteristically cause disease in some organs and not in others. Tissue culture experiments and the existing animal models do not explain the mechanisms of such tissue tropism or organ-specific pathogenicity. There is nothing obvious about the bioinformatics analysis of multiple Ad genomes that explains differences in pathogenicity, although most differences among species are in the E3 region.
141
Because most Ads can attach to the CAR receptor, it is unlikely that this receptor can explain differences in the
in vivo
tropism of the various serotypes. Even the oral vaccine strains used to prevent respiratory disease in military personnel seem to depend more on physical formulation (i.e., enteric coating of a live virus so that it bypasses the oropharynx and first exposes the intestinal epithelium) than on mutation of virulence genes.
446
Epidemiology
The epidemiology of pharyngoconjunctival fever and keratoconjunctivitis, both of which may occur in epidemic proportions, is described later with the individual disease entities. Infection resulting in several of the Ad syndromes can be acquired in hospitals and can be spread as nosocomial infections.
Clinical Features
Ads can commonly infect and replicate at various sites of the respiratory tract as well as in the eye and gastrointestinal tract. Less frequently, Ads can infect the urinary bladder and liver. On occasion, these viruses may also cause disease in other organs, such as the pancreas,
524
myocardium, or central nervous system, which may be involved in meningoencephalitis. Although there are at least 57 distinct human Ad serotypes, most human disease is associated with only one-third of these types.
595
Many Ad infections are subclinical and result in antibody formation that probably is protective against exogenous reintroduction of the same Ad serotype. However, the virus itself may be grown, especially from the gastrointestinal tract
205
and respiratory tract,
189
for months after the initial infection and immune response. The more common illnesses associated with various Ads are described in
Table 56.1
and in the following paragraphs. The association of Ad with the disease in question is often attributed to the detection of the virus or antibodies to the virus in the blood, or to the detection of the virus in specific tissue. Often very sensitive techniques are used such as nested PCR. It is important to bear in mind that the presence of the virus or viral DNA in clinical specimens does not necessarily imply a cause-and-effect relationship between the virus and the disease, especially when PCR or nested PCR has been used. We do not understand whether and how Ad persists at very low levels in humans, so it is possible that the detection of Ad is merely a coincidence. On the other hand, the detection of the virus should not be disregarded.
Acute Hemorrhagic Cystitis
Acute hemorrhagic cystitis, an illness occurring almost exclusively in boys and associated with Ad11, is characterized by gross hematuria.
530
Its significance lies in the potential confusion with other, more serious diseases of the kidney (such as glomerulonephritis). This self-limited disease is usually not accompanied by fever or hypertension, and tests of renal excretory and concentrating functions have been essentially normal. Ad21, like Ad11, is a species B HA type I and can also cause hemorrhagic cystitis.
493
In Japan, when acute hemorrhagic cystitis occurs in a boy between the ages of 6 and 15 years, an Ad isolation from urine or a rise in neutralizing antibody occurs in about 70% of patients.
530
In comparable studies of hemorrhagic cystitis in the United States, only 20% of cases can be linked to an acute Ad infection, and for 60% of the total, the etiology remains unexplained.
493
The other population that develops hemorrhagic cystitis is immunosuppressed transplant recipients. According to one study, Ad infections account for 3.9% of hemorrhagic cystitis among pediatric hematopoietic stem cell transplant (HSCT) recipients.
235
Another study of mostly adult HSCT recipients found that Ad was associated with 9.8% of cases of hemorrhagic cystitis.
486
Ad hemorrhagic cystitis in HSCT patients is more frequently associated with T-cell purging and was less common in patients with acute GVHD than other causes of hemorrhagic cystitis.
486
In the kidney transplant population, Ad can also cause hemorrhagic cystitis with or without concomitant nephritis; such patients typically present with fever and often feel poorly.
12
,
261
,
282
,
380
,
544
In some patients, it appears that the infection was introduced with the transplanted kidney.
389
,
746
In addition to Ad11, two other species B serotypes, Ad34 and Ad35, were isolated first from renal transplant recipients. Ad34 was isolated from urine, whereas type 35 was isolated from kidney and lung tissue at autopsy.
283
,
500
Although neither was accompanied by the symptoms of hemorrhagic cystitis, the Ad35 clearly contributed to the patient's demise from pneumonia. Ad34, 2, and 31 were isolated from allogeneic bone marrow, hematopoietic stem cell, and liver transplant recipients with hemorrhagic cystitis, respectively.
485
,
632
Meningoencephalitis
It is rare to isolate any of the Ads from either the cerebrospinal fluid (CSF) or the brain. However, several reports have directly demonstrated Ads in CSF (Ad3, 5, 6, 7, 7A, 12, and 26).
113
,
166
,
364
One patient with malignant lymphoma, immunosuppressed by chemotherapy, had an Ad32 isolated from the brain at autopsy.
606
A patient with large B-cell lymphoma developed meningoencephalitis due to Ad7.
200
Ad5 was cultivated from CSF in two immunocompetent patients, one with meningoencephalitis and the other with meningitis.
674
A bone marrow transplant developed fatal subacute Ad meningoencephalitis.
140
A 12-year-old immunocompetent girl developed tubulointerstitial nephritis with acute renal failure, hepatitis, and meningoencephalitis following systemic Ad infection; she recovered with supportive care.
186
There are other cases of meningoencephalitis in which viral isolation from extraneural sites or antibody titer increases have been used to make a diagnosis, especially associated with epidemic Ad7 pneumonia in children.
664
A case of sudden unilateral deafness was associated with an Ad3 infection of the nasopharynx.
330
Gastrointestinal Diseases
Gastroenteritis, or inflammation of the stomach and small and large intestines, is characterized by fever, vomiting, and diarrhea. It is frequently caused by viruses, bacteria, or parasites. Viruses that cause gastroenteritis include rotaviruses, Ads, noroviruses, calciviruses, astroviruses, and Norwalk virus. Rotaviruses are the leading cause of diarrhea in the world, and calciviruses cause the most gastroenteritis outbreaks in industrial nations.
229
The role of Ads is discussed in the next few sections.
Diarrhea
The relationship between Ads and diarrhea has had a long and complicated history but has now been clarified.
308
,
787
Because many Ads replicate efficiently in the intestine and are excreted in the stool, it was assumed that they would be strong candidates for causing diarrhea. However, most earlier epidemiologic studies generally found as many Ad isolates in the stools of controls as in those with diarrhea.
578
The failure to correlate Ad growth from stool with clinical illness was a good example that Ads should not be designated as the cause of a whole spectrum of medical illnesses just because they can be cultured from the stool of an individual with a disease. Asymptomatic children can clearly shed Ads in stool and often develop antibodies to the particular type grown.
205
,
290
These subclinical infections probably result in lifelong immunity.
The whole issue of Ads as a cause of infantile gastroenteritis was re-examined based on the observation that initially "noncultivatable" Ads were seen on EM examination of stool smears of affected children.
201
Serologic detection methods such as ELISA and alternate tissue culture host–cell systems, such as the HEK 293 line, have identified several of these "noncultivatable" viruses.
147
,
781
Two different enteric Ads, Ad40 and 41, have been associated with diarrhea.
147
,
226
,
781
Epidemiologic studies to assess the importance of these agents have been completed for several population groups. A report of 14 enteric Ad–related cases of diarrhea in 27 hospitalized patients studied during a 12-week period suggested that these viruses may be an important cause of acute gastrointestinal disease in hospitalized young children and may be nosocomially transmitted; this report also suggested that respiratory symptoms may be a prominent part of the clinical manifestations.
802
The incidence of Ad-related gastroenteritis differs considerably in the various studies and locations reported by many authors. In general, it is not as prevalent as rotavirus diarrhea, occurs most often in children younger than 4 years of age, and is not easily distinguished on clinical grounds from rotavirus
infection.
587
In Bangladesh, it was responsible for 2.8% of the cases of diarrhea but reached 12.3% in some months as diagnosed by a monoclonal antibody specific for Ad40 and Ad41.
333
In day care centers in Houston, 38% of 249 children present during 10 separate outbreaks had diarrhea associated with enteric Ads. Of these patients, 46% were asymptomatic, demonstrating that even during epidemics of enteric Ads, many infected children do not develop gastroenteritis.
745
In another study, the prevalence of all Ads in stool was 8%, and Ad40 and Ad41 were 2% in both 565 patients with diarrhea and 129 controls.
420
In a recent study of 44 infants in a day care center in Tokyo, Japan, Ad was found in 12.5% of fecal specimens from symptomatic and 11.5% from asymptomatic infants; one outbreak of acute gastroenteritis in these infants was linked to Ad12.
6
In another recent study using ELISA analysis of 3,577 fecal specimens from infants and children with acute gastroenteritis in Japan, Korea, and Vietnam during 1998 and 2001, 4.4% were positive for Ad.
424
More than half of these were Ad41, but Ad40, 2, 3, 8, and 31 were also detected. Enteric Ads were detected in a fraction of stool samples of children with gastroenteritis in a number of countries, as follows: 6.9% in the United States
72
; 8.0% in Sweden
735
; 8.3% in Germany
538
; 7.9% in the East Anglia, United Kingdom
665
; 9% in Belfast, United Kingdom
534
; 1.4% in Blantyre, Malawi
135
; 1.5% in Brazil
673
; 6.7% in Iran
619
; 4% in Jakarta, Indonesia
690
; 10.8% in Shenzhen, China
274
; and 4% in Jakarta, Indonesia.
690
In many of these studies, nonenteric Ads were also detected but at lower frequencies. In Japan and Iran, antibodies to enteric Ad were detected in sera from about half of healthy children analyzed.
618
,
659
Thus, it is clear that the role of enteric Ads as a cause of diarrhea is roughly the same in different areas of the world.
Intussusception
Another intestinal syndrome, intussusception, has been linked in some patients to Ad infection.
45
,
687
The telescoping bowel characteristic of intussusception may be caused by mesenteric adenitis acting as a lead point to the mechanical obstruction. Ads (species C, HA group III, Ad1, 2, 5, and 6) have been isolated from both stool cultures and the involved lymph nodes removed at surgery.
122
,
571
The percentage of children with intussusception showing evidence of Ad is high as evidenced by shedding into stool, detection in throat swabs, anti-Ad antibodies, Ad inclusion bodies in tissue samples, and identification of Ad by election microscopy. The percentages found in a number of studies range from 22% to 61% (see references in
308
). Most of the studies examined control patients, and in all cases the presence of Ad was statistically more significant than in the controls. These studies were from several parts of the world (United States, United Kingdom, Spain, France, Taiwan, Nigeria). In an analysis using immunohistochemistry and PCR of formalin-fixed intestinal specimens from 12 Mexican pediatric patients, 4 patients (33%) were positive for species C Ad.
251
There is no evidence that Ad40 and Ad41 are involved in this syndrome.
59
A proposed alternative explanation is that some hyperirritability of the small intestine might be caused by Ad infection and lead to the intussusception.
808
However, many patients with intussusception have no evidence of Ad infection, and the disease is probably multifactorial. Ad inclusions have been seen in about one-third to one-half of appendices removed at surgery.
308
Celiac Disease
Celiac disease is a common autoimmune disease thought to be caused by ingesting the proteins of the gliadin, hordein, and secalin classes found in wheat, barley, and rye. Structural homology between the Ad12 E1B-55K protein and A-gliadin, a major component of gluten proteins known to activate celiac disease, was noted. In addition, most patients with celiac disease had evidence of prior Ad12 infection, in contrast to matched controls. These observations raise the possibility that the E1B-55K protein from an Ad found in the intestine may play a role in the pathogenesis of celiac disease, perhaps by inducing cross-reacting antibodies to A-gliadin.
346
In support of this possibility, T lymphocytes from celiac patients recognize a synthetic dodecapeptide shared by the Ad12 E1B-55K protein and A-gliadin.
456
On the other hand, in three studies using PCR to determine whether there was persistent Ad12 infection in the intestinal mucosa of patients with celiac disease, 4 of 18 patients had detectable Ad12 DNA, as did 2 of 24 controls, leading the authors to conclude that Ad12 persistence is not a major element in celiac disease.
451
Similar conclusions were reached by others but do not preclude that prior Ad12 infection might have been involved in the evolution of celiac disease.
407
,
753