Tumors of the Urinary Tract in Urine and Brushings*
TUMORS OF THE UROTHELIUM (TRANSITIONAL EPITHELIUM) OF THE BLADDER
Terminology
The
unique features of the epithelium lining the lower urinary tract
were discussed at length in
Chapter 22
and need not be repeated here. Many of these features, such as the
presence of the asymmetric unit membrane and umbrella cells,
are observed in tumors derived from this epithelium. Further, the presence of
uroplakins, proteins uniquely characterizing this epithelium
(
summaries in Wu et al, 1994
and
Sun et al, 1999
), have been shown to be an important diagnostic and experimental tool, as discussed elsewhere in this chapter. For all these reasons, the term
urothelial tumors or carcinomas has been used in the previous additions of this book and in other writing, replacing the old term transitional cell tumors or
carcinomas
(
Koss, 1974
,
1985
,
1995
). The term
urothelial tumors
has now been accepted by consensus of urologic pathologists (
Epstein et al, 1998
).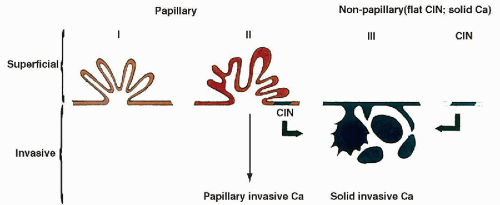 Figure 23-1 Schematic representation of two families of bladder tumors and the sequence of events in the development of tumors of the bladder.
The drawing assumes that carcinoma in situ and related lesions are the cardinal step in the development of invasive cancer. (Diagram by Dr. Bogdan Czerniak.)
Full access? Get Clinical Tree