The Kidneys, Adrenals, and Retroperitoneum
THE KIDNEYS
It must be stressed at the outset that FNA
does not replace renal core biopsies in the diagnosis of diffuse medical diseases of the kidney; however, it does play a role in the assessment of renal transplant rejection
(see below).
INDICATIONS
FNA is used for the
pretreatment diagnosis of space-occupying lesions of the renal parenchyma.
Although renal cell carcinoma (RCC) is as common as pancreatic carcinoma, only 5% of all transcutaneous abdominal aspirations performed at the Westchester Medical Center are directed toward renal lesions, as compared to 12% for the pancreas. This is because a reliable diagnosis of renal neoplasms can be established in most patients by renal imaging studies consisting of
intravenous pyelography, ultrasonography (US), computed tomography (CT), and arteriography,
obviating the need for a preoperative biopsy. Each of these imaging techniques has a low, but significant, diagnostic error rate (Sherwood and Trott, 1975;
Richter et al, 2000
). We know of cases of nephrectomy performed for a benign neoplasm, cyst, or benign adrenal tumor mimicking renal masses.
FNA biopsy of renal abnormalities can provide a
definitive diagnosis
and considerably reduce surgical exploration of patients with
nonneoplastic lesions, such as cysts, and may clarify the nature of solid lesions that are not clearly defined by imaging procedures
(
Zornoza et al, 1977a
;
Meier et al, 1979
; Barbaric et al, 1981;
Murphy et al, 1985
;
Nadel et al, 1986
;
Pilotti et al, 1988
;
Leiman, 1990
;
Cristallini et al, 1991
).
The indications for FNA biopsy of
space-occupying lesions
of the kidney are as follows:





Cystic lesions (as a diagnostic and therapeutic procedure)






Lesions with equivocal radiologic findings






Confirmation of diagnosis in advanced malignant lesions prior to nonsurgical treatment






Confirmation of local recurrence at the site of a prior tumor or a direct extension from neighboring site (e.g., colon or adrenal)






Confirmation of metastatic cancer
Aspiration cytology has been used in Scandinavian countries to
grade renal carcinomas,
in order to select patients with high-grade (poorly differentiated) tumors for preoperative radiotherapy (
Zajicek, 1979
). This issue is discussed below.
TECHNIQUE OF ASPIRATION BIOPSY
The FNA technique is patterned after that used for renal core biopsies.
Söderström (1966)
approached this type of biopsy on
purely anatomic grounds,
without roentgenologic or US guidance. Others have used biplane
fluoroscopic guidance,
usually with intravenous pyelography (IVP). Developments in
US and CT
have significantly improved the guidance system in adults and children (
Kristensen et al, 1974
;
Zeis et al, 1976
;
Juul et al, 1985
; Nguyen, 1987;
Thornburg and Weiss, 1987
; Li Puma, 1988;
Pilotti et al, 1988
). These techniques do not depend on renal function, as does IVP, and they are helpful in separating solid from cystic lesions and cystic neoplasms from benign cysts (
Pollack et al, 1982
).
The principles of the aspiration procedure are discussed in
Chapter 28
.
The special requirements for renal FNA
are as follows: Regardless of the guidance modality used to target the renal lesion, the aspiration is usually undertaken with the
patient in either a prone or decubitus position,
which allows for the shortest possible skin-to-lesion distance. When a 22- or 23-gauge needle is used, it may be difficult to penetrate the tough renal fascia. Thus,
Zajicek (1979)
advocated the use of a larger-caliber needle with an obturator as a guide for the thinner needle. In our experience, this is rarely required.
CYTOLOGY OF NORMAL KIDNEY
In material aspirated from renal cysts and sometimes from relatively small renal tumors,
benign renal tubular cells
are often observed. However, unless a large-bore needle is used,
intact glomeruli
are rarely encountered (
Fig. 40-1C,D
).
An
intact glomerulus
is large enough to occupy nearly the entire 40× microscopic field. It is a
sharply circumscribed, lobulated, round or oval, thick, multilayered structure composed of small cells.
Because the glomeruli are squashed on the slide, their internal structure cannot be seen.
Bowman's capsule
may be seen on rare occasions as a balloon-like transparent membrane.
The
normal tubular cells
are sometimes aspirated as intact tubules (
Fig. 40-2A
) or as epithelial cells, either dispersed or forming small clusters (
Fig. 40-2B-D
). The cells of proximal tubules, which have eosinophilic cytoplasm, are not easy to identify as such, and in fact may mimic cells derived from normal adrenal cortex and sometimes well-differentiated small malignant cells derived from papillaryor low-grade conventional RCC (see below). The normal tubular cells are generally
cuboidal in shape
and
vary in size
from small cells derived from the loop of Henle to the much more common larger cells derived from the proximal and distal tubules. Most of the larger tubular cells display a relatively abundant
finely granular, transparent, pale or pink cytoplasm,
depending on the stain used,
and small, spherical nuclei with transparent chromatin pattern, containing tiny nucleoli.
BENIGN LESIONS
Renal Cysts
Cystic diseases of the kidney are a heterogenous group of lesions that include
hereditary, congenital but nonhereditary, and acquired disorders.
Renal cysts may be
tiny or very large
(measuring 10 cm or more in diameter),
single, or multiple.
In the hereditary
polycystic kidney,
nearly all of the adult kidney can be replaced by cysts of various sizes (which, incidentally,
should not be aspirated unless there is a suspicion of a coexisting renal carcinoma).
Acquired cysts
are the most common renal lesions. They are usually
small and unilocular,
and are formed by shrinkage of the renal parenchyma secondary to vascular insufficiency in elderly patients. They are rarely a cause for alarm.
Dialysis-associated cystic disease
affects patients with chronic renal failure and prolonged dialysis. End-stage kidneys are often shrunken and multicystic, and have been reported to carry an up to 50-fold increased risk
of RCC
(
Truong et al, 1995
).
Cystic nephroma, or multilocular cyst of the kidney,
is a rare benign neoplasm that occurs in children or young adults (usually female). The cysts are unilateral and encapsulated. The compartments of the cyst, or
locules,
are lined by a single layer of epithelium with or without atypia (
Eble and Bonsib, 1998
).
Except for the adult form of polycystic kidney, most renal cystic lesions are
asymptomatic and incidental.
Sometimes, however, renal cysts may present a diagnostic dilemma and may be confused with renal carcinomas undergoing cystic degeneration (
Pollack et al, 1982
).
Cysts have been the most commonly aspirated renal lesions since the first report by
Dean (1939)
was published. If the preaspiration diagnosis of a cyst is secure, a
large 18-gauge needle
may be used to evacuate the cyst fluid. In less secure cases, it is preferable to use smaller-caliber needles.
The amount of fluid aspirated from renal cysts varies according to cyst size. In exceptional cases, 40-50 ml of fluid may be aspirated. In most instances, the fluid is clear, straw-colored, and occasionally cloudy or blood-tinged, or, rarely, chocolate brown, suggestive of a prior hemorrhage.
Zajicek (1979)
and
Pilotti et al (1988)
suggested that
clear, straw-colored fluid does not require cytologic study because
the fluid in cystic RCCs is usually cloudy and discolored (
Rehm, 1961
;
Khordand, 1965
;
Holm, 1975
;
Anderson, 1977
). Our policy is to study the cytologic make-up of all aspirated fluids.
Clear cyst fluid
from the diverse group of renal cysts described above may be
acellular
or may show a variable number of
mononucleated and, rarely, multinucleated macrophages
(
Fig. 40-3
). Rare clusters of benign epithelial cells from cyst lining or
benign tubular cells
from the surrounding normal renal parenchyma may be encountered.
Reactive fibroblasts
from the capsule of the cyst may also be seen. Occasionally, the macrophages may show
significant nuclear abnormalities
that at a first glance may be thought to represent cancer cells. The correct diagnosis is best established by searching for some
evidence of phagocytosis
in the cytoplasm of these cells.
Liesegang rings,
approximately spherical concentric structures, have been reported in renal cyst fluid (
Sneige et al, 1988
;
Katz and Ehya, 1990
;
Raso et al, 1998
) (see
Chap. 25
).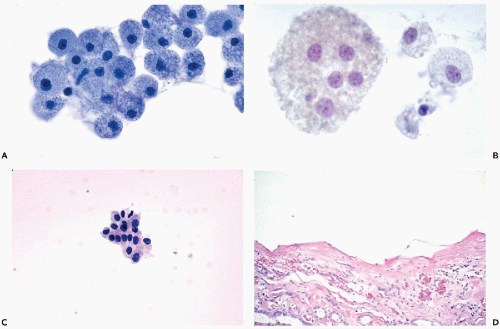 Figure 40-3 Renal cyst aspirates.
A.
Large mononucleated macrophages with finely vacuolated cytoplasm are the cells typically seen in clear, straw-colored cyst fluid.
B.
Multinucleated macrophage in cyst fluid.
C.
A small, tight cluster of benign epithelial cells, corresponding to the excised renal cyst shown in
D.
Cloudy fluid
is generally derived from
an inflamed cyst
and contains numerous polymorphonuclear leukocytes (see below). The cytology of
cystic RCC
is described under neoplasms of the kidney.
Ancillary Studies of Renal Cyst Fluids
In our experience, additional information may be obtained by determining the
fat, protein, and lactic dehydrogenase (LDH) content
of the renal cyst fluid. Clear fluid from acquired cysts is low in fat, protein, and LDH. Cloudy or turbid fluid is generally inflammatory and therefore high in protein and very high in LDH. A malignant cystic tumor
yields bloody fluid with high fat and protein but low LDH levels.
Renal Abscess
Patients with renal abscess are febrile and usually experience severe costovertebral angle pain, tenderness, and often pyuria.
Pyelonephritis,
whether of hematogenous origin or caused by an ascending infection, may result in a renal abscess. Commonly, an abscess is the
result of obstruction of the ureter
by calculi or tumor, leading to hydronephrosis and secondary infection in neglected patients. The abscess may be limited to the renal pelvis or may involve the entire kidney and perinephric region, in which case the collection of pus may be quite large and may
mimic a cystic or a solid tumor.
The
aspirate yields purulent exudate
that should be submitted for microbiologic study. In endemic areas,
tuberculosis
must be considered as a cause of renal abscess.
NONCYSTIC BENIGN RENAL DISORDERS
Get Clinical Tree app for offline access