Extent of defect
Aetiology
Superficial and perianal defects
AIN/Paget's disease/melanoma and non-melanoma skin cancers
Condyloma
Hidradenitis suppurativa
Pilonidal disease
Post-debridement for trauma/infection
Partial anal defects
Local tumour excision
Repair post-stenosis
Inflammatory bowel disease
Total anal defects
APE
Pelvic exenteration
In addition to providing soft tissue cover, larger-volume loco-regional flaps or microvascular free flaps are required to close the wound and cover neurovascular structures and viscera. In addition, flaps will obliterate dead space and introduce well-vascularised tissue that can be particularly helpful in achieving healing in previously irradiated fields [
1
].
Patients are best managed in a multidisciplinary setting requiring discussion between the colorectal and plastic surgeon. Planning will also involve the expertise of other specialties, including the radiation oncologist, dietician and stoma nurse. Preoperatively patients may have had chemoradiotherapy or previous surgery, and it is therefore essential to take a careful history and examine the patient in order to avoid any potential complications due to previous scars or radiation injury.
Preoperative planning will include location of incisions and stomas to optimise tumour clearance and reconstructive options. Prior or intraoperative radiation and brachytherapy may also have implications for wound healing [
2
]. Involvement of the medical oncologist is also critical to optimise timing of surgery and minimise the deleterious effects of chemotherapy on wound healing. Several studies have shown this to occur maximally at 7–10 days after administration of chemotherapy [
3
,
4
]. Finally, expert nursing and wound care, along with rehabilitation, will facilitate patient recovery and return to normal activities.
Anatomy
The anus can be divided into the mucosa-lined anal canal and the more distal epidermis-covered anal margin. Most of the anal canal is lined by squamous mucosa, which is present between the anal verge and the dentate (or pectinate) line. The dentate line indicates the junction of the superior part of the anal canal (derived from the embryonic hindgut) and the inferior part (derived from the embryonic anal pit or proctodeum). Proximal to this line, the anal canal is lined with columnar mucosa.
It is feasible to reconstruct the perianal area and anal canal to the level of the dentate line with cutaneous tissue (Fig.
22.1
), and several options will be described in more detail below. This chapter will also review the techniques available to repair defects following proctectomy.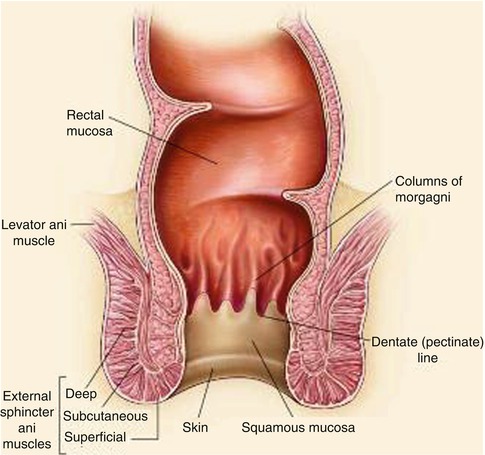 Fig. 22.1
Anatomy of the anus
The perineum has a rich blood supply with multiple perforating vessels. Anatomically, there are encircling anastomoses around any orifice or joint. The perineum has two outlets: the urogenital and the anal. The arterial network of this region is supplied by vessels of the lower abdomen, medial thigh and gluteal region [
5
]. Knowledge of the rich blood supply can be applied to the design and elevation of several flaps valuable in perianal reconstruction.
Reconstructive Principles
In the first instance it is essential to gain a clear understanding of the extent of the defect and its composition. This will allow decisions to be made with regard to what is likely to be required to restore both structure and function. For an anal defect, the wound needs to be assessed in terms of loss of cover, support and lining. Reconstruction of each component requires careful consideration in order to select the appropriate tissue replacement and, ideally, to replace 'like with like'. In this way an optimal functional (and aesthetic) result can be achieved. As a general rule, perianal defects can be repaired using simple local or fasciocutaneous flaps to provide thin pliable skin to resurface the area required and contour. Flaps will also need to be robust and able to contour into the dentate line.
Surgical planning will also help to achieve tension-free closure, control dead space and minimise patient and donor-site morbidity. The latter is of course important, as a poorly healing perineal wound will prove to be very upsetting to any patient, as well as limit mobilisation and independence. As noted above, the ability to achieve uncomplicated wound healing will be particularly challenging in previously irradiated areas. However, care in planning and execution can reduce the risk of fistulae and sinus formation and minimise downtime. In addition, thought should also be given to potential 'backup' methods in the event of failure and the need for salvage reconstruction.
Preoperative Planning
Routine Flaps for Anal and Perianal Reconstruction
As noted above, flaps usually provide the best method of reconstructing anal and perianal defects as they are composed of robust, well-vascularised tissue. The flaps listed below represent a partial, though not exhaustive, list of those that should be considered preoperatively.
Local Flaps
The extensive vascular supply of the perineal, gluteal, infragluteal and upper thigh regions allows for many regional fasciocutaneous flaps to be raised. Most of these flaps may be applied as either V-Y flaps, pedicled transposition flaps, subcutaneously pedicled flaps or true island flaps. Because the vascular systems of the perineal and gluteal regions anastomose with each other, these flaps may be raised as extended flaps or as reversed flaps depending on retrograde blood flow.
Random Pattern Flaps
The
V
–
Y flap
(Fig.
22.5
) is a type of local advancement flap that moves forward from donor to recipient site without rotation or lateral movement. This flap is based upon subcutaneous vessels that usually perforate from small intramuscular vessels emanating from below. The laxity in the subcutaneous tissues permits advancement and lateral elasticity in the skin permits closure of the tail (secondary defect). These flaps have proven to be particularly effective in reconstructing defects following superficial anal malignancies and perianal cutaneous cancers [
10
].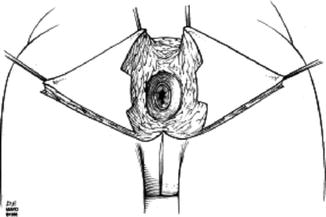 Fig. 22.5
V-Y flap
Full access? Get Clinical Tree
Get Clinical Tree app for offline access