Extra-adrenal paraganglia make up part of the dispersed neuroendocrine system (DNS) having a centripetal and roughly symmetrical distribution with extension from the base of the skull down to the pelvic floor. There is brief reference to the presence of a structure reminiscent of paraganglia within soft tissues surrounding large femoral vessels, but it is not well documented (
1
). These paraganglia can be divided into two groups—paraganglia in the head and neck region (including aorticopulmonary paraganglia), which have a close alignment with the parasympathetic nervous system, and the paraganglia of the sympathoadrenal neuroendocrine system.
The amine precursor uptake and decarboxylation (APUD) cell concept was proposed by Pearse (
2
,
3
) in an attempt to unify a broad array of endocrine cells that were presumed to have a common embryologic derivation from neural crest. Although no longer widely accepted, this concept accelerated scientific investigation, particularly in the areas of immunology and molecular pathology (
4
,
5
). The term
neuroendocrine
has now come into vogue because it emphasizes the close relationship between the nervous system (e.g., neurons) and endocrine cells (
6
,
7
and
8
). A wide variety of hormones and regulatory neuropeptides have been identified in normal paraganglia and the tumors arising from them. Some of these substances have an endocrine function through interaction with receptors at distant sites, whereas others mediate a regulatory effect on neighboring cells (paracrine function) or perhaps even an autoregulatory effect on the same cell (autocrine function).
The terminology of paragangliomas is based on the anatomic site of origin rather than the chromaffin or nonchromaffin status of the tumor. The term
pheochromocytoma
has been arbitrarily restricted to an adrenal medullary paraganglioma, although there are extra-adrenal tumors that are functionally and morphologically very similar. Because extra-adrenal paragangliomas can arise at such a variety of anatomic sites, one must be aware of other tumors that enter into the differential diagnosis. Accurate recognition of these tumors can be particularly difficult when one is dealing with limited biopsy material or tumor that is partially crushed. Stromal alterations can also cause diagnostic difficulties.
PARAGANGLIA OF THE HEAD AND NECK REGION
EMBRYOLOGY AND PHYSIOLOGY
Paraganglia in the head and neck region are closely aligned with the parasympathetic nervous system and often have a close spatial relationship with neural or vascular structures (
Fig. 15.1
). Using a cytochemical marker system, glomus type I or chief cells have been shown in the avian carotid body to have embryologic origin from neural crest (
9
), and presumably, chief cells in humans at various other locations in the head and neck region have this same embryogenesis. Carotid body and aorticopulmonary paraganglia have been shown in experimental physiologic studies in animals to have a chemoreceptor role, with modulation of respiratory and cardiovascular function in response to changes in arterial partial pressure of oxygen (PO
2
), partial pressure of carbon dioxide (PCO
2
), pH, and other chemical alterations (
10
,
11
). de Castro (
12
) was the first to propose a chemosensory role for carotid bodies based on morphologic observations in animals. The physiologic function of other paraganglia in the head and neck region is not known, but their histologic appearance is very similar, thus suggesting a similar role in chemosensation.
Changes in oxygen (O
2
) tension are detected by O
2
-sensitive K
+
and Ca
2+
channels, and a suprathreshold increase of cytosolic Ca
2+
triggers neurotransmitter (i.e., dopamine) release, which activates afferent nerve terminals (
13
). Despite the immense amount of experimental research on carotid bodies in animals, the precise mechanism(s) of O
2
sensing and the
basic chemosensor(s) or transducer(s) is still not entirely clear. Numerous proposals have been put forth. Proposed candidates include reactive oxygen species, mitochondria, AMP-activated kinase, hemoxygenase-2, and succinate dehydrogenase (SDH). No single mechanism has been shown to explain the multitude of accumulated data, and it may be that a cascade involving several mechanisms is required to accomplish the necessary homeostatic response to arterial hypoxemia (
14
,
15
and
16
). It has been possible to study dissociated chemoreceptor cells or intact carotid body in culture, and in a recent study, chemoreceptor cells were not sensitive to hypoglycemia (
17
).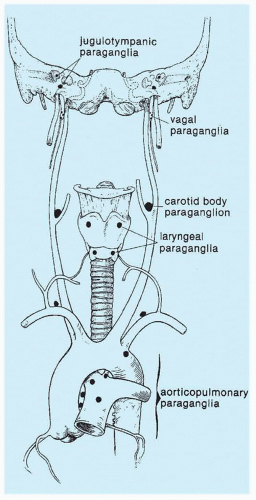 FIGURE 15.1
Anatomic distribution of paraganglia in the head and neck region, including the base of the heart. Carotid bodies are the largest compact collection of paraganglia; these, along with aorticopulmonary paraganglia, have been shown experimentally to have a physiologic role in chemosensation.
MORPHOLOGY AND ANATOMIC DISTRIBUTION
Carotid bodies are the largest compact collection of paraganglia in the head and neck region; they appear as a small ovoid structure on the medial aspect of the carotid bifurcation on each side of the neck (
Fig. 15.2
). The average combined weight of carotid bodies in adults without chronic hypoxia or systemic hypertension is approximately 12 mg (
18
,
19
). Paraganglia located elsewhere in the head and neck region have a nearly identical histomorphologic picture, but they are smaller and usually lack the compact lobular architecture of the carotid bodies (
Fig. 15.3A
). The basic anatomic unit of the carotid body is the lobule, which contains clusters ("zellballen") or cords of chief cells (
Fig. 15.3B
). Within the lobule, a variety of different cells are present, including chief cells and sustentacular or glomus type II cells, as well as pericytes, endothelial cells, and Schwann cells. Chief cells can be vividly depicted by staining for cytoplasmic argyrophilia (
Fig. 15.3C
) or chromogranin A (
Fig. 15.3D
), and this organoid arrangement of chief cells is vaguely recapitulated in the neoplasms derived from them. Sustentacular cells are located at the periphery of clusters of chief cells and can be demonstrated by immunostain for S-100 protein (
Fig. 15.3E
); this immunostain will also highlight the Schwann cells in the normal carotid body and other paraganglia. Sustentacular cells are typically present in paragangliomas at all anatomic sites in the head and neck region and the sympathoadrenal neuroendocrine system. The rich component of neuritic processes (dendritic and/or axonal) can be nicely demonstrated with immunostain for neurofilament protein (
Fig. 15.3F
).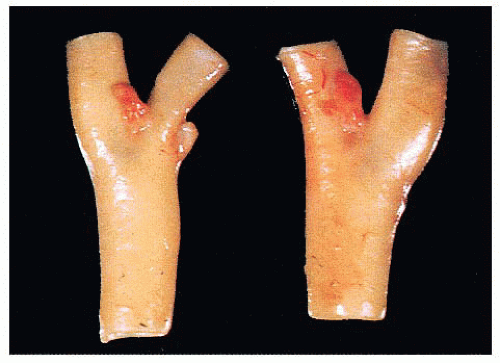 FIGURE 15.2
Normal carotid body paraganglia are ovoid pink structures on the medial aspect of the carotid bifurcation on both sides. The external carotid artery branches are directed medially, whereas the internal carotid artery and carotid sinus are lateral. The patient was a 12-year-old boy who died of metastatic malignant melanoma. The combined weight of the carotid bodies was 13 mg.
Carotid body and other paraganglia contain catecholamines, and chief cells have been shown to have enzymes involved in catecholamine synthesis. The immunophenotype of these endocrine cells and tumors derived from them, however, are remarkably diverse. Paraganglia in the head and neck region are located at a variety of sites, including the middle ear, adventitia of the jugular bulb, ganglion nodosum of the vagus nerve, larynx, and base of the heart (
Fig. 15.1
). This anatomic distribution in some areas parallels the branchial arch derivatives that in aquatic species correspond to gill arches. In some cases, paragangliomas have been reported at sites where normal paraganglionic tissue has not yet been described in humans. Examples include paragangliomas primary in liver (
20
), ovary (
21
), bone (
22
), and parathyroid (
23
).
HYPERPLASIA OF CHEMORECEPTOR PARAGANGLIA
Carotid body enlargement was reported by Arias-Stella (
24
) in natives born and living in the Peruvian Andes 14,350 feet above sea level. This was confirmed in other studies (
25
) and also by Saldana et al. (
26
), who reported a 10-fold increase in incidence of "chemodectomas" at high altitude. An increased incidence of carotid body paragangliomas (CBPs) has been reported in other locations at high altitude (
27
,
28
). Carotid body hypertrophy and hyperplasia have also been observed in humans under normobaric conditions, for example, in patients with chronic obstructive pulmonary disease (
18
,
29
), systemic hypertension (
18
), and some cases of cystic fibrosis (
Fig. 15.4A,B
) and cyanotic congenital heart disease (
19
,
30
). Chronic hypoxia leads to hypersensitivity of the carotid bodies with subsequent morphologic and neurochemical changes in the carotid body, including carotid body enlargement, hyperplasia of glomus cells, and neovascularization (
31
,
32
). Hyperplasia of vagal paraganglia (
33
) and aorticopulmonary paraganglia (
34
) suggests a similar role in chemosensation. Chemoreceptor hyperplasia in most cases is presumably a compensatory response to prolonged and severe hypoxemia (
24
). Although on rare occasion paragangliomas associated with hypoxemia related to conditions other than high altitude have been reported (
35
,
36
and
37
), the increased risk of developing a paraganglioma appears to be negligible in patients at sea level, with or without hypoxemia.
PARAGANGLIOMAS OF THE HEAD AND NECK REGION
SYMPATHOADRENAL NEUROENDOCRINE SYSTEM
The prototype tissues are the adrenal medullae, which synthesize and secrete catecholamines, causing rapid physiologic changes that are dissipated rather quickly. The distribution of extra-adrenal paraganglia (
Fig. 15.21
) parallels that of the sympathetic nervous system within the abdomen and urinary bladder, thorax, and neck (
98
), and some paraganglia are located within viscera such as the gallbladder and urinary bladder (
Fig. 15.22
). During fetal life, the chromaffin cells of the adrenal gland are usually inconspicuous, but postnatally, they develop rapidly, becoming structurally similar to medullary cells of the adult gland by the end of the first year of life. Epinephrine is the predominant catecholamine in the normal adrenal medulla in a ratio of approximately 4:1 relative to norepinephrine (
34
).
Most of the chromaffin tissue in the fetus is extra-adrenal in location, with the most prominent collections residing on either side of the aorta near the origin of the inferior mesenteric or renal arteries, down to the aortic bifurcation. These paraganglia were described by Zuckerkandl (
99
,
100
) in 1901 and referred to as the "aortic bodies" (
Fig. 15.23A,B
); on macroscopic
examination, they may be difficult to distinguish from small lymph nodes or sympathetic ganglia (
101
). The organs of Zuckerkandl involute after birth; by the age of 6 or 7 years, only microscopic collections of chromaffin cells can be detected (
Fig. 15.24
) (
102
). The function of fetal chromaffin tissue in utero is not fully known, but it may have some role in maintenance of vascular tone and blood pressure. Norepinephrine predominates in extra-adrenal chromaffin tissue, such as the organs of Zuckerkandl, and catecholamine content is reported to decline with structural involution (
103
). The microanatomy of sympathetic paraganglia elsewhere in the abdomen, chest, and other locations is less well defined.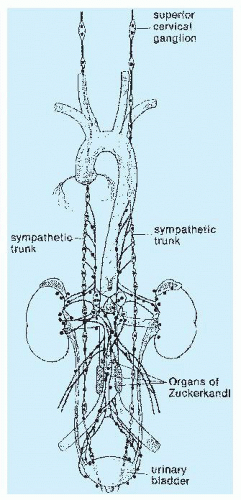 FIGURE 15.21
Anatomic distribution of the sympathoadrenal neuroendocrine system, with adrenal medullae representing the largest compact collections of paraganglia in adults. Note the multiple separate extra-adrenal paraganglia along the lower part of the aorta, which represent the organs of Zuckerkandl.
EXTRA-ADRENAL PARAGANGLIOMAS
These tumors arise predominantly in the retroperitoneum anywhere from the upper abdomen to the pelvic floor. One of the more common sites is the anatomic region corresponding to the
organs of Zuckerkandl. It has been estimated that 5% to 10% of pheochromocytomas are extra-adrenal in location, mainly in the retroperitoneum but also in the posterior thorax and neck (
34
,
40
,
104
). A higher incidence of extra-adrenal tumors has been reported in childhood (20% to 25%) (
105
), with the most common locations being the retroperitoneum and head and neck region (
106
). In the literature review of extra-adrenal paragangliomas (mainly sympathoadrenal neuroendocrine system) by Fries and Chamberlin (
107
), 71% of tumors were located in the superior or inferior para-aortic area, 9.8% arose in the urinary bladder, 12% were intrathoracic, and 1.2% were cervical.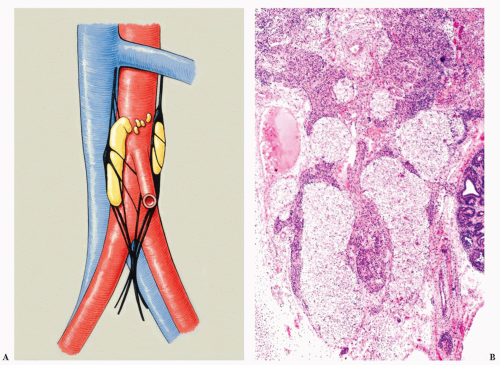 FIGURE 15.23 (A)
Artist reproduction of one of two illustrations in the work by Zuckerkandl in 1901 (
99
). There are multiple discrete collections of paraganglia which was the most common configuration noted. In about 15% of cases, paraganglia (or "aortic bodies") appeared to be continuous or united just above the inferior mesenteric artery.
(B)
Coronal section through a human fetus of about 11 weeks gestational age (by dates) shows paraganglia appear as multiple pale-staining structures with largest collections present as elongated structures on either side of the aorta.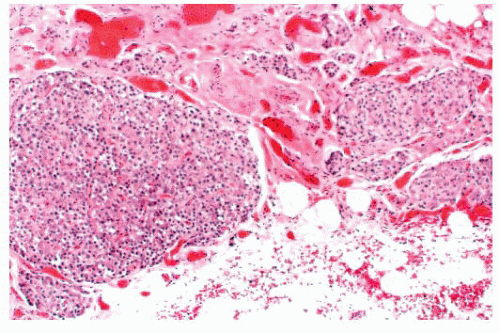 FIGURE 15.24
Small extra-adrenal paraganglionic tissue was discovered incidentally on histologic study of tissue from the retroperitoneum of an adult patient. Multiple dispersed collections of endocrine cells are present and have a delicate lobulated architecture with prominent microvasculature.
Premium Wordpress Themes by UFO Themes
WordPress theme by UFO themes