If there will be no exposure to a substance, no matter how hazardous it may be, there is no risk of harm. Substances which pose only a small hazard but to which there is frequent or excessive exposure may pose as much risk as substances which have a high degree of hazard but to which only limited exposure occurs.



The terms hazard and risk are often used interchangeably, however these are two very distinct terms. Basically, a hazard is anything that can cause harm or adverse effects. A hazard poses no risk if there is no exposure to that hazard.




Health risk assessment

is the process of examining and evaluating the risk to the health and safety of workers while at work arising from the circumstances of the occurrence of a hazard at the workplace [

1

]. A risk assessment is a careful examination of what, at the workplace, could cause harm to people, so that the employer can decide whether he has taken enough precautions or should do more to prevent harm. Workers and others have a right to be protected from harm caused by a failure to take reasonable control measures. Accidents and ill health can ruin lives and affect the business too if for example output is lost, machinery is damaged, insurance costs increase or the employer even have to go to court.




As a rule risk levels are treated for setting priorities: to decide about the risks that have to be mitigated in the first place.




If a manufacturer will be reproached or even sued by any competent body, it will be based on a societal decision about the level of risks that is not (any more) accepted by a group or nation: 'society'.



26.2.1

Categorisation

The risk of each work situation with exposure to substances is unique: it depends on the hazards of the substances, on the exposure of the worker to these substances and on the physical condition and constitution of the worker. However, it is practically impossible to investigate the risk for any individual in any situation. Therefore categorisation is applied to exposure as well as to hazards of substances and even individuals. With categorised hazards and exposures, also the risks (= hazard × exposure) are categorised. Because several uncertainties will affect the 'accounting' of the risk, the risk is not an exact characteristic, level or value, although qualifications as: 'high', 'medium' and 'low' can be given.
26.2.2

Containment

Containment is an engineering control measure, the second risk mitigation principle (see Sect.

26.7.1

). It may be defined as a process or device to contain product, dust or contaminants in one zone, preventing it from escaping to another zone [

2

] or, to put it differently, the prevention of the escape of a substance.
26.3

Hazard of Pharmaceutical Substances
26.4

Exposure Routes and Protection

Different routes may lead to exposure to hazardous substances at the workplace:





Inhalation






Eye contact






Skin contact; primarily with the substance or secondarily via contaminated surfaces






Ingestion






Injection
26.4.1

Inhalation

When an individual breathes in polluted air, any substance may enter the respiratory tract causing direct harm to the respiratory system and indirect harm due to uptake via ingestion. Especially sensitising substances may require attention. As airways and the lung cannot be closed off, only ventilation (exhaustion) and filtration of inhaled air remain as protective measures, such as working in safety cabinets and wearing masks with air filters (respirators).

Ventilation, at which the air that is contaminated with the substance is carried away from the operator, reduces the exposure. Filtration may be necessary to prevent the withdrawn air from contaminating people elsewhere. Ventilation or exhaust can be achieved with the following measures of increasing effectiveness; also increasing containment is attained:





Ventilation of the work space






Use of powder exhaust unit or a fume cupboard






Use of safety cabinet






Use of isolator
Powder and vapour (fume) exhaustion is the first measure to protect the respiratory system of the operator against the hazards of substances. See Sect.
28.​3
for a discussion about the equipment and its effectiveness. Section
27.​5.​1
goes into the air handling (HVAC) of premises when the product should be protected from the operator (with aseptic processes) as well as the operator from the product.
For protection of the airways to inhalation of substances, respirators can be used. Effective respirators however are not pleasant to wear, as the worker never breathes freely and they may be rather heavy as well. Many mouth masks are provided with an in- or exhalation valve or both which eases breathing, see Fig.
26.3
.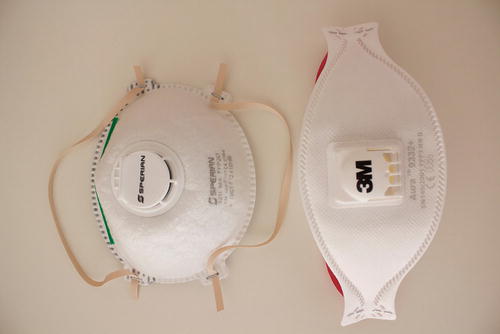 Fig. 26.3
Examples of FFP2 disposable respirators
Respiratory protection products or respirators are classified on the basis of the achieved applied protection factor (APF). This is the factor by which the exposure by inhalation is reduced as the protection equipment is used in the required manner. Dust filters are positioned in three classes: FFP1, FFP2 and FFP3, usually called P1, P2 and P3 respectively. They provide protection against powders or aerosols or both.
Respirators should comply with national or European standards such as EN 143 for Particulate filters and EN 149 for Filtering half masks to protect against particles. Distinction has to be made between suitability for solid or liquid particle filtration.
FFP1-filters have an APF of 4 for solids, FFP2-filters have an APF of 10 and FFP3-filters have an APF of 20. Quarter masks (which cover a quarter of the face), half-face masks and full-face masks can be discerned. The half- and full-face masks can, if provided with a combined filter for both gas and dust, attain an APF of 40. In addition, quarter or half-face masks if provided with filters for both gas and dust have an APF of 10 for liquids. Full-face masks have an APF of 20 for liquids.
In pharmacy practice employers sometimes choose to provide respirators instead of buying safety cabinets or isolators. This is against the general principles of risk mitigation (see Sect.
26.7.1
) and may only be accepted if preparation scarcely takes place. Some specific situations however rely on personal respiratory protection by respirators:





As an additional measure to working in a safety cabinet with solid (powdered) substances of the highest hazard category (which is 4 or 5 depending on the model) for example with the preparation of capsules






Processing heavily corrosive substances






In case of calamities
It is not necessary to wear a respirator when working in an isolator except when the containment is breached for example during the maintenance operations.
26.4.2

Eyes

With regard to eyes corrosive substances are most feared. The wearing of safety glasses can protect eyes rather well. The glasses should fit well and protect the eyes completely. Wearing safety glasses is in any case necessary when:





Operating the ampoules machine






Working with glass equipment under pressure






Filling out corrosive substances






Cleaning up spilt corrosive substances
Wearing of safety glasses is minimally indicated when the substance bears specific H-statements, see Table
26.4
, row 'Acute toxicity': H314, H318 and H319.
26.4.3

Skin

Corrosive substances are most feared because of their direct harmful effect on the skin. Antineoplastics are most feared with regard to absorption via the skin. The skin of operators may be primarily contaminated by the substance, but also secondarily via contaminated surfaces. Contamination of surfaces is very difficult to avoid, so potentially also contamination of skin of operators, cleaners and even staff who are working in adjoining areas (see further Sect.

26.5.4

).

The wearing of the appropriate clothing and gloves can protect the skin rather well. Proper cleaning should diminish the surface contamination and thus the secondary exposure of the skin.
26.4.3.1

Protective Clothing

Clothing may protect the body from hazardous substances. The risk for dermal exposure depending on personal clothing was investigated [

31

], and can be summarised as Table

26.6

; a low score is aimed at.

Table 26.6

Hierarchy in dermal exposure risk with clothing
| Personal cloth protection | Score |
| --- | --- |
| No clothing | 1 |
| Woven clothing | 0.3 |
| Non-woven clothing-permeable | 0.1 |
| Non-woven clothing impermeable | 0.03 |
Corporate clothing that covers the clothes should always be worn during preparation processes, and should be changed according to a fixed regime: for example, daily and immediately after spillage. Long hair should be bound together in order to avoid contaminating the product and causing an accident with rotating equipment. Wearing hair and possibly beard caps is part of the clothing regime.
In aseptic processes in pharmacy specific clothing is required to protect the product against micro-organisms from the operator (see Sect.
31.​3.​3
). This may include the wearing of non-shedding suits or coats (depending on the classification of the environment), hair cover, shoe covers or dedicated clean room shoes, gloves, and a respirator covering the nose and mouth.
If also protection from substances is required it is recommended to wear suits or coats made of polyethylene-coated polypropylene (which is nonlinting and non-absorbent). This material is recognised to offer better protection than polypropylene against many antineoplastic substances. The suits must have closed fronts, long sleeves, and elastic or knit closed cuffs. They must be disposed after each use. Moreover, disposable sleeve covers are recommended to protect the wrist area and be removed after the task is complete.
26.4.3.2

Gloves

Wearing gloves for protection of the skin is increasingly common practice with pharmacy preparation. In the risk assessment model of Sect.

26.7.3

it even replaces any effort of estimation of skin exposure. Gloves are minimally indicated when the substance bears specific H statements, see Table

26.4

, rows Irritation (skin, respiratory tract and/or eyes) and Sensibilisation (skin and or respiratory tract).

Gloves are available made from different material and having different thickness. They must comply with European standards (for instance [

32

]). The choice for a particular type depends on:





The mechanical properties of the glove (abrasion resistance, flexibility)






The chemical properties (resistance to the substance from which protection is required)






The permeability of the material for the substance from which protection is required
Substances potentially penetrate gloves, thereby exposing the skin. Specific studies assessed dermal exposure to antineoplastics with regard to the use of gloves [
33
–
38
]. The permeability of the gloves is expressed as breakthrough time, the time that a substance needs to pass through the polymer layer. Permeation is related to a variety of factors, such as glove composition, glove thickness, exposure period, and the physical characteristics of the substance [
39
–
41
]. Due to the large number of substances and kinds of gloves, only limited data on permeation of specific substances are available.
In practice, for pharmacy preparations the required gloves are of natural rubber (see Sect.
24.​2.​4
) or thick plastic (polyvinyl chloride or polyethylene, see Sect.
24.​2.​3
) if working with corrosive substances. Gloves of thinner material (latex, nitrile rubber, polyvinyl chloride) may be suitable for working with other substances. People who are allergic to natural rubber (latex) can try gloves of nitrile butadiene rubber, vinyl or neoprene.
Gloves are expected to be more permeable as they come into contact with alcohols, for example during disinfection of the workplace. However some authors investigated permeation of antineoplastics when using alcohol and did not find increased permeation with the investigated gloves. Permeability of gloves to selected antineoplastics after treatment with ethanol or isopropyl alcohol is given in [
42
].
A gloving procedure should take into account:





Glove material and thickness; suppliers of gloves with a CE label supply on suitability for types of substances, protection time (if no other damage has occurred).






Change time, this is the time that gloves will be changed even if no damage has occurred; 30 min is often taken for this.






Inspection; the worker has to be aware of and actively search for any damage that may occur; any damage should lead to changing the gloves.






Single or double gloving; double gloving increases barriers but diminishes precise feeling.
The outcome of these considerations may differ. For handling antineoplastics in many countries in Europe single gloving is the standard in practice, which has to be warranted by frequent change and frequent inspection. The European Society of Oncology Pharmacy [
43
] seems to prefer double gloving, however without being explicit about the other variables (changing time, thickness, frequency of inspection). NIOSH recommends [
44
] double gloving when working with NIOSH 'hazardous substances' (see Sect.
26.3.4
: this represents a high toxicity class) as well as a changing time of 30 min.