Mechanisms of Nutrient Sensing1
Douglas G. Burrin
Teresa A. Davis
1
Abbreviations: AMP
, adenosine monophosphate;
AMPK
, adenosine monophosphate-activated protein kinase;
ATF4
, activating transcription factor 4;
ATP
, adenosine triphosphate;
CCK
, cholecystokinin;
ChREBP
, carbohydrate-response element-binding protein;
4EBP1
, eukaryotic initiation factor 4E-binding protein 1;
EE
, enteroendocrine;
eEF2
, eukaryotic elongation factor 2;
eIF
, eukaryotic initiation factor;
GβL
, G-protein β-like protein;
GCN2
, general control non-derepressible 2;
GI
, gastrointestinal;
GLP
, glucagon-like peptides;
GPCR
, G-protein-coupled receptor;
IGF
, insulinlike growth factors;
IRS-1/2
, insulin receptor substrate-1/2;
LC-PUFA
, long-chain polyunsaturated fatty acid;
LXR
, liver X receptor;
met-tRNAi
, initiator methionyl-transfer RNA;
mTOR
, mammalian target of rapamycin;
mTORC
, mammalian target of rapamycin complex;
MuRF1
, muscle-specific ring finger protein 1;
PGC-1α
, peroxisome proliferator-activated receptor-γ coactivator-1α;
PI3K
, phosphoinositide 3-kinase;
PKB
, protein kinase B;
PPAR
, peroxisome proliferator-activated receptor;
PPRE
, peroxisome proliferator response element;
PepT1
, peptide transporter 1;
S6K1
, 70-kDa ribosomal protein S6 kinase;
SGLT1
, sodium/glucose cotransporter 1;
SIRT1
, silent information regulator T1;
SNAT2
, system A sodiumdependent neutral amino acid transporter 2;
TSC1/2
, tuberous sclerosis complex 1/2;
X5P
, xylulose 5-phosphate.
The term
nutrient sensing
has emerged to describe the molecular mechanisms by which nutrients and their metabolites interact with various cell surface receptors, intracellular signaling proteins, and nuclear receptors and modulate the activity of a complex network of signaling pathways that regulate the growth and function of cells. Nutrients also trigger the release of hormones and neurotransmitters that act on neighboring or distant cells through paracrine or endocrine mechanisms to regulate cellular growth and function. This chapter discusses some of the key nutrient-sensing mechanisms in different tissues within the body.
NUTRIENT SENSING BY THE GUT
INTRACELLULAR NUTRIENT SENSORS
Glucose, Amino Acid, and Fatty Acid Sensing
Once nutrients are absorbed from the intestine into the bloodstream, they are sensed by somatic cells through various cellular mechanisms. Several intracellular or nuclear receptors are regulated by changes in the cellular availability of nutrients such as glucose, amino acids, and fatty acids.
Mechanisms Related to Carbohydrate-Responsive Element-Binding Protein and Liver X Receptor
An important cellular glucose sensing mechanism involves the transcription factor carbohydrate-response elementbinding protein (ChREBP), which is activated in response to increased cellular glucose concentrations (see
Fig. 47.1
) (
14
,
15
). ChREBP is mainly expressed not only in the liver but also in other glucose-responsive tissues such as adipose, brain, and pancreas. In fasting conditions of low glucose concentrations, ChREBP is located in the cytosol in its phosphorylated form associated with the 14-3-3 protein. After a meal, however, the increased cellular influx of glucose results in increased production of xylulose 5-phosphate (X5P) through the pentose phosphate pathway. Increased cellular X5P concentration leads to activation of protein phosphatase 2A, which dephosphorylates ChREBP and enables its translocation in the nucleus.
Once in the nucleus, ChREBP interacts with a binding partner, Max-like protein X, which then binds to the carbohydrate-response element of multiple target genes and this increases their transcription. Many of the target genes activated by ChREBP are enzymes involved in lipogenesis and glucose metabolism. Another transcription factor reported to bind glucose is the nuclear receptor liver X receptor (LXR), whose primary ligands are oxysterols such as cholesterol (
16
). Ligand activation of LXR by oxysterols induces heterodimerization with retinoid X receptor and binding of target gene promoter sequences, processes that lead to activation of lipogenesis in liver and adipose tissue. The relative importance of ChREBP compared with LXR in glucose sensing has not been identified (
17
).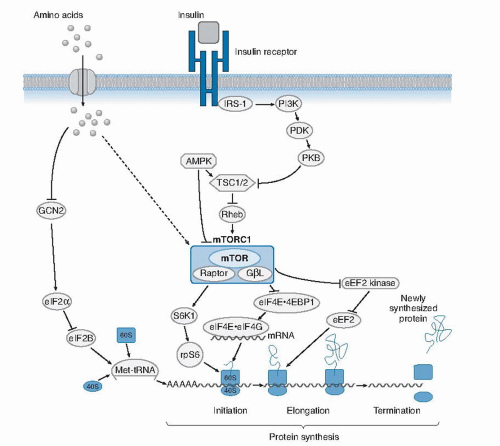 Fig. 47.2.
Nutrient sensing by mammalian target of rapamycin (mTOR). Insulin (or insulinlike growth factor [IGF]) activates the insulin (or IGF-I) receptor and insulin receptor substrate-1 (IRS-1), followed by activation of phosphoinositide-3 kinase (PI3K), phosphoinositide-dependent kinase (PDK), and protein kinase B (PKB). Activation of PKB inactivates tuberous sclerosis complex 1 and 2 (TSC1/2), inducing the activation of ras homolog enriched in brain (Rheb) and mammalian target of rapamycin (mTOR). Adenosine monophosphate-activated protein kinase (AMPK) activation increases TSC1/2 activation and decreases mTOR activation. Both amino acids and insulin activate mTOR, which exists in a complex (mTORC1) with raptor and G-protein β-like protein (GβL). Activated mTOR phosphorylates ribosomal protein S6 kinase 1 (S6K1) and eukaryotic initiation factor 4E (eIF4E)-binding protein-1 (4EBP1). Phosphorylation of S6K1 activates ribosomal subunit S6 (rpS6). Phosphorylated 4EBP1 releases eIF4E from an inactive complex with 4EBP1 and thus enables the formation of the active eIF4E-eIF4G complex that mediates mRNA binding to the ribosome. The binding of initiator methionyl-tRNA (met-tRNA
i
) to the 40S ribosomal subunit to form the 43S preinitiation complex is mediated by eIF2B, which can be inhibited by phosphorylation of the α subunit of eIF2 in response to amino acid deprivation sensing by general control non-derepressible 2 (GCN2). Eukaryotic elongation factor 2 (eEF2) is regulated by eEF2 kinase.
Mechanisms Related to Activating Transcription Factor 4
A key cellular mechanism for sensing amino acids, especially in conditions of amino acid deficiency or imbalance, involves stimulation of activating transcription factor 4 (ATF4) (see
Fig. 47.1
) (
18
). In conditions of food deprivation or dietary protein restriction, the level of activated or charged transfer RNA (tRNA) bound to amino acids decreases. This results in an increase in uncharged tRNAs, which bind to the general control non-derepressible 2 (GCN2) kinase and, in turn, increase the phosphorylation of the eukaryotic initiation factor 2α (eIF2α) (
Fig. 47.2
). The phosphorylated form of eIF2α suppresses general protein synthesis by inhibiting translation initiation factor, eIF2B, which is critical for ribosomal assembly.
Paradoxically, the amino acid-limiting conditions alter ribosomal processing and result in increased translation of ATF4, which then binds to a conserved promoter region in many genes involved in amino acid transport (cationic amino acid transporter [CAT-1] and system A sodiumdependent neutral amino acid transporter [SNAT2]), metabolism (asparagine synthetase [ASNS]), and cell death (C/EBP homologous protein [CHOP] and tribbles homolog 3 [TRB3]). The ATF4 signaling pathway senses amino acid stress and functions as a counterpart to the mammalian target of rapamycin (mTOR) pathway (discussed later) that responds to amino acid sufficiency to promote cell anabolism and growth.
Full access? Get Clinical Tree
Get Clinical Tree app for offline access