Ductal Hyperplasia and Intraductal Carcinoma
DUCTAL HYPERPLASIA—USUAL AND ATYPICAL
The distinction between intraductal hyperplasia and intraductal carcinoma is important for patient management (
1
). In most instances, intraductal proliferations are readily classified by pathologists, on the basis of generally accepted histopathologic features, as either hyperplasia or in situ carcinoma (
2
). There exists a small subset for which assignment to either of these categories is less certain. The existence of these "borderline" lesions, which may be diagnosed as atypical hyperplasia or in situ carcinoma, depending upon which criteria are used, is not a compelling reason for abandoning the existing practice of distinguishing pathologically and clinically between ductal hyperplasia and in situ duct carcinoma. Studies of interobserver differences in the diagnosis of highly selected examples of these lesions have focused attention on this troublesome diagnostic problem that applies to a small percentage of proliferative breast changes (
3
,
4
,
5
).
No clinical features are specifically associated with ductal hyperplasia. The alterations caused by epithelial proliferation in individual ducts or in groups of ducts are microscopic in dimension and, consequently, often not palpable. Ductal hyperplasia in various forms is a frequent constituent of "fibrocystic changes" that may be detected by mammography or as a palpable tumor. The lesion complex can also include sclerosing adenosis, cystic and papillary apocrine metaplasia, duct stasis, fibrosis or pseudoangiomatous stromal hyperplasia, and lobular hyperplasia. An important corollary to the lack of clinical indicators of ductal hyperplasia is an inability to determine the duration of these lesions. The date of a ductal hyperplasia biopsy is customarily used as if it were the date of "onset." This practice, which is a consequence of inability to determine the preclinical duration of hyperplastic ductal lesions, could be a source of bias in assessing the precancerous significance of proliferative lesions in individual patients.
The mammographic manifestations of duct hyperplasia include altered duct patterns, parenchymal distortion, nonpalpable mass lesions, calcification, and asymmetry when both breasts are compared. Calcifications are the most frequent mammographic indication of atypical ductal hyperplasia in the absence of a palpable abnormality (
6
,
7
,
8
). Lesions described on mammography as radial scars often have a component of ductal hyperplasia. Some, but not all, radial scar lesions contain microcalcifications. In the era that preceded the widespread use of mammography, when the indication for biopsy was a palpable abnormality, ductal hyperplasia was found in 25% or fewer of specimens obtained (
9
,
10
). No more than 5% of these biopsies had atypical ductal hyperplasia. The frequency of these atypical abnormalities is higher among mammographically directed biopsies, including surgical excisions and stereotactic needle core biopsies (
11
,
12
).
Ductal hyperplasia can be found in female patients at virtually any age. After age 60, ductal hyperplasia becomes less frequent, and, when present, the growth pattern is usually less florid than in younger women. However, an occasional woman older than age 60 may be found to have extensive proliferative changes with florid ductal hyperplasia.
Ductal hyperplasia describes a proliferative condition that is manifested histologically as an increase in the cellularity of epithelium in ducts. Because the normal resting epithelium consists of a continuous monolayer of cuboidal-to-columnar epithelial cells supported by a
discontinuous layer of myoepithelial cells, an increase in the cellularity of this two-layer configuration constitutes hyperplasia. The increased thickness of the epithelial layer results in partial or complete obstruction of the duct lumen at the site of the proliferative abnormality. If intraductal hyperplasia is traced in serial sections, it is often possible to observe the discontinuous and multifocal nature of the condition. Various distortions of the basic ductal architecture occur when hyperplastic ducts become more sinuous or are incorporated into complex proliferative lesions, such as papillomas or "radial scars."
The histologic criteria for the diagnosis of duct hyperplasia are the same for needle core biopsy samples and surgical excision specimens. However, needle core biopsy sections present disconnected portions of the lesional area and therefore lack the helpful contextual information provided by intact samples from a surgical biopsy. This situation can lead to overinterpretation of individual ducts seen in isolation.
Pathology of Atypical Ductal Hyperplasia
Several technical issues hamper the application of quantitative criteria, especially in the diagnosis of needle core biopsy findings. What appear to be two contiguous cross sections may prove in serial sections to be part of a single duct, or deeper sections of what appears to be a single duct lesion may uncover additional involved duct cross sections. How close must two duct cross sections be to be considered contiguous? Is stroma between duct cross sections included in the measurement? Quantitative criteria assume that the ducts in question have been sectioned transversely. How to assess ducts cut longitudinally has not been adequately addressed. If the longitudinal dimension of a duct in a section exceeds 2 mm but the transverse diameter is 1 mm, should this focus be considered intraductal carcinoma when using the 2-mm criterion?
Columnar Cell Lesions
Proliferative alterations of the duct-lobular complex have become the subject of closer scrutiny as a result of the widespread use of needle core biopsy to sample mammographically
detected lesions. Lubelsky et al. (
23
) reported that 21% of needle core biopsy specimens obtained for calcifications in mammographically screened women had columnar cell lesions. These abnormalities are now recognized as being part of a spectrum of lesions described by the terms
columnar cell change
and
columnar cell hyperplasia
(CCH) (
24
,
25
). Other more cumbersome names that have been offered include
atypical cystic lobules
(
26
),
cancerization of lobules
and
atypical ductal hyperplasia
adjacent to
ductal carcinoma in situ
(
27
) and
columnar alteration with prominent apical snouts and secretions,
or CAPSS (
28
).

Figure 8.24 Atypical ductal hyperplasia, borderline. A, B.
The ducts in this needle core biopsy specimen have a solid central population of small, monomorphic cells. Microlumina outlined by cells oriented around the rounded fenestrations are present at the periphery of some ducts.

Figure 8.25 Atypical ductal hyperplasia, borderline. A, B.
The needle core biopsy that yielded the specimen containing this lesion was performed for clustered microcalcifications. Calcifications are present in cysts and the stroma. The proliferation has a micropapillary structure and is composed of cells with hyperchromatic nuclei. The nonpapillary peripheral epithelium consists of regular cuboidal cells that are indistinguishable from cells lining the adjacent nonproliferative cysts. The micropapillary abnormality was limited to this site.
Columnar cell hyperplasia is a multifocal process that may also be bilateral. It is most often encountered in women ages 35 to 50, but CCH can be present after the menopause. CCH rarely produces a palpable abnormality, and it is usually detected mammographically because calcifications are frequently formed, becoming the target of needle core biopsy sampling. The fundamental lesion is localized in terminal duct-lobular units that become enlarged as a result of cystic dilatation.

Figure 8.26 Columnar cell change. A.
Cystic dilatation of lobular ductules lined by cuboidal and columnar cells with closely approximated, basally oriented nuclei and luminal cytoplasmic tufts ("snouts"). The dilated structures are embedded in loose, vascularized intralobular stroma.
B.
A magnified view showing the crowded epithelial cells, myoepithelium, and stroma. (From Rosen PP. Ductal hyperplasia. Ordinary and atypical. In: Rosen's Breast Pathology. 2nd Ed. Philadelphia: Lippincott Williams & Wilkins, 2001. By permission).
The simplest form of this process features a thin, flat epithelial layer composed of cuboidal to tall columnar cells distributed in a relatively uniform pattern. The cells appear crowded and dark. The apical cell surface usually has an apocrine-type cytoplasmic protrusion ("snout") and, in some cases, this is a prominent feature. In the most banal columnar cell lesion, which is best termed
columnar cell change,
the epithelium is one to two cells deep and there is little nuclear pleomorphism. Nucleoli and mitotic figures are very rarely found or absent (
Fig. 8.26
). When present, calcifications appear in the form of amorphous granular material or discrete basophilic deposits (
Fig. 8.27
).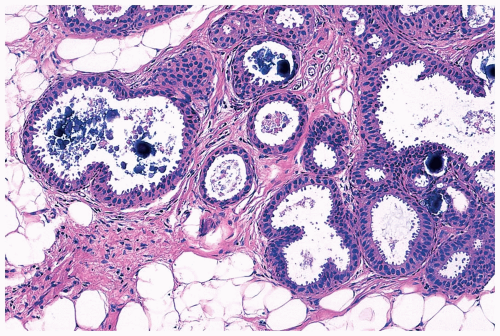 Figure 8.27 Columnar cell change with calcifications.
Granular and punctate basophilic calcifications are shown. (From Rosen PP. Ductal hyperplasia. Ordinary and atypical. In: Rosen's Breast Pathology. 2nd Ed. Philadelphia: Lippincott Williams & Wilkins, 2001. By permission).
The cytologic features of columnar cell lesions suggest apocrine differentiation. The cells express gross cystic disease fluid protein-15, an apocrine marker. Ki67 immunoreactivity is low or absent, even in hyperplastic foci (
29
). The epithelium is also immunoreactive for bcl-2 and estrogen receptor protein, which are typically absent in benign apocrine change (
29
).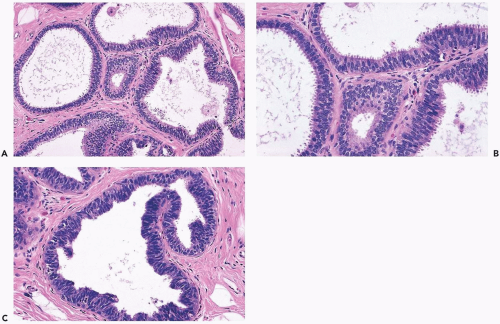 Figure 8.28 Columnar cell hyperplasia. A, B.
The thickened epithelium is composed of crowded, columnar cells with overlapping nuclei.
C.
Small mounds are formed in the epithelium. (From Rosen PP. Ductal hyperplasia. Ordinary and atypical. In: Rosen's Breast Pathology. 2nd Ed. Philadelphia: Lippincott Williams & Wilkins, 2001. By permission).
Columnar cell hyperplasia is present when the epithelium is more than two-cells thick. This is most readily apparent when cellular crowding becomes pronounced and nuclei are not distributed in a single plane relative to the basement membrane. This tendency to "stacking" of nuclei is usually accompanied by increased nuclear chromasia, and small mounds may be formed in the most cellular regions (
Fig. 8.28
).
More complex columnar cell proliferative foci compromise lesions described as columnar cell hyperplasia with atypia. Mild atypia is usually manifested by the presence of small and often isolated foci of micropapillary growth in a background of otherwise usual CCH (
Fig. 8.29
). The presence of more elaborate growth patterns as well as cytologic atypia characterize columnar cell hyperplasia with moderate to marked atypia, which in its most severe form approaches the appearance of intraductal carcinoma (
Figs. 8.30
,
8.31
). In some instances, cytologic atypia is more pronounced than the structural abnormalities (
Fig. 8.32
). When carcinoma arises in columnar cell hyperplasia, the growth pattern is usually one of the characteristic forms of intraductal carcinoma (
Figs. 8.33
,
8.34
), but rarely so-called "flat micropapillary" intraductal carcinoma with relatively little structural complexity is encountered (
Fig. 8.35
). Atypical lobular hyperplasia and lobular carcinoma in situ frequently accompany columnar cell abnormalities, and tubular carcinoma may also be
present (
Fig. 8.36
). Hence, columnar cell lesions are part of a triad that includes lobular neoplasia and tubular carcinoma. All components of this triad are not present in every case.

Figure 8.29 Columnar cell hyperplasia, mild atypia. A, B.
Focal blunt micropapillary proliferation of the hyperplastic columnar cell epithelium. Histiocytes are present in the lumens. (From Rosen PP. Ductal hyperplasia. Ordinary and atypical. In: Rosen's Breast Pathology. 2nd Ed. Philadelphia: Lippincott Williams & Wilkins, 2001. By permission).
Columnar cell lesions develop calcifications that are formed in multiple glands in many of the proliferative sites. Two types of calcifications are encountered: crystalline and ossifying. The crystalline type, usually associated with lesions with less atypia, is deeply basophilic, opaque, round or angular, and prone to fragmentation in the process of histologic sectioning (
Figs. 8.27
,
8.30
,
8.31
,
8.33
). An ossifying type of calcification usually has a rounded, well-defined contour, and an internal structure that resembles an ossifying nodule in which basophilic granular calcific deposits are embedded in lacunar-like spaces with an orangophilic or eosinophilic matrix (
Figs. 8.33
,
8.37
). Ossifying type calcifications occur throughout the range of columnar cell hyperplasias, and they appear to develop in the proliferative epithelium, whereas basophilic crystalline deposits are predominantly intraluminal. Both types of calcification can be found in one specimen, and they may occur together in a single proliferative focus.

Figure 8.30 Columnar cell hyperplasia moderate atypia. A.
Micropapillary hyperplasia with calcifications.
B.
Fenestrated (cribriform) atypical hyperplasia. (From Rosen PP. Ductal hyperplasia. Ordinary and atypical. In: Rosen's Breast Pathology. 2nd Ed. Philadelphia: Lippincott Williams & Wilkins, 2001. By permission).
Excisional biopsy is recommended when a needle core biopsy contains columnar cell hyperplasia with atypia, or if a columnar cell lesion is associated with lobular carcinoma in situ or atypical lobular hyperplasia. Guerra-Wallace et al. (
30
) evaluated patients who underwent surgical excision after a columnar cell lesion was found in a needle core biopsy specimen. They reported finding carcinoma in 10 of 135 (7.4%) of women with columnar cell hyperplasia without atypia and in 11 of 60 (18.3%) with coexisting atypical hyperplasia. No studies exist that specifically have investigated the long-term follow-up of women with columnar cell hyperplasia with atypia (
31
).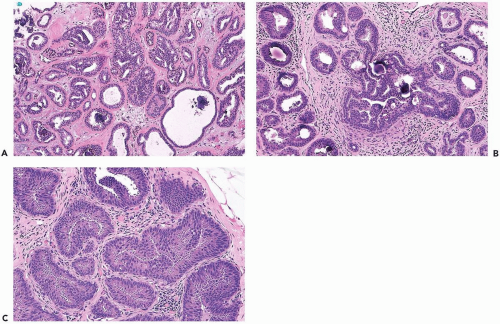 Full access? Get Clinical Tree
Get Clinical Tree app for offline access