3

Chapter Objectives
---
1. Recognize the importance of a sound business plan.
2. Discuss the process for developing a business plan for a new ambulatory service.
3. Apply the concepts of business plan development to a desired ambulatory clinical service area.
4. Prepare a business plan document to present to administrators.
Introduction
Creation or expansion of ambulatory clinical pharmacy services requires planning and the dedication of resources, equipment, and facilities. Whether it is for a new service, additional space, equipment, personnel, or a renovation, developing a written business plan will help you communicate the proposal, secure funding, guide the initiative, and keep it on track.
You may find it useful to use a standardized approach to allocating resources, similar to a process practiced by larger health care organizations. In such organizations, there is an annual planning process during which the organization receives requests for major new programs, projects, and equipment. These requests are categorized by type and size of the investment and then reviewed by the organization's budget review committees and leadership.
A key to success in acquiring new resources is the ability to clearly communicate the value of the proposal to the organization. This is accomplished through the development of a business plan. The business plan is a document with a standard format and structure that clearly explains the what, why, when, who, and how of the project. It is a comprehensive explanation of the opportunity the plan presents, the people involved in it, the money required to implement it, where the money will come from, and the plan's value, financial or otherwise, to the organization.1
| | |
| --- | --- |
| | Clearly communicating the value of the proposal is key to acquiring the new resources you will need. |
This chapter describes the process you will need to follow to develop, write, and present a business plan.
The Business Plan Process
There are six basic steps to the business plan process:
1. Conceptualizing the initiative
2. Researching the feasibility and details of the concept
3. Evaluating and refining the concept based on data obtained
4. Outlining the business plan
5. Preparing the business plan document
6. Presenting the plan
Step 1: Conceptualizing the Initiative
Health care and the profession of pharmacy continue to evolve in the pursuit of improving the public's health. The many unmet health care needs and extremely high cost of disease, linked with the important role medications play in improving patient outcomes, results in many opportunities for the ambulatory clinical pharmacist to develop new programs and services.
For example, ambulatory pharmacists can play a vital role in the safe transition of patients from inpatient hospitalization to the outpatient setting by implementing services that improve continuity of care. Acute and chronic conditions requiring complicated drug therapy are associated with high rates of readmission if medications are not optimally prescribed or taken appropriately. Pharmacist-managed anticoagulation services, heart failure clinics, and diabetes management services all have been shown to reduce costs, to improve clinical outcomes, and to be associated with high levels of patient satisfaction. Regardless of the ambulatory setting or proposed service, creation of a well-thought-out business plan will enhance the likelihood of achieving success.
Developing a business plan for a new ambulatory pharmacy service begins with a thorough understanding of your organization's current services and its ability to meet the needs of your patients. Your proposal for new or expanded services should fill the gaps in existing services and improve access or add new services. The needs assessment of your organization, conducted during the planning process (as discussed in Chapter 2), should result in identifying and prioritizing opportunities for clinical ambulatory pharmacy services. Examples of the types of opportunities you may identify include adding pharmacist staff to participate in the medication reconciliation process, establishing an ambulatory patient care practice such as anticoagulation or medication therapy management, or opening a new ambulatory pharmacy providing innovative services. Each of these proposals begins as a concept that, after you conduct your analysis, may result in a business plan and eventually a new service.
| | |
| --- | --- |
| | Your proposal for new or expanded services should fill the gaps in existing services. |
Step 2: Researching the Feasibility and Details of the Concept
You will find developing a business plan is more a business project than a writing assignment.2 A successful business plan will contain extensive background information and a clear and comprehensive description of the program or service you wish to create or expand. Background information is obtained by a thorough review of published literature describing similar programs or services, as discussed in Chapter 1. In many cases, new and more innovative programs may not be well-documented in the literature, so communication among pharmacy leaders and colleagues, site visits to learn about similar programs, and attendance at professional meetings are great alternatives. Another source of information on programs and services and their value are white papers or "best practice" guidelines published by national health care organizations, such as the American Society of Health-System Pharmacists, American Pharmacists Association, American College of Clinical Pharmacy, the Joint Commission, etc.
CASE
Continuing with the case introduced in Chapter 2 regarding Dr. Busybee, your next step is to create the business plan for your services. You research the published literature on ambulatory pharmacists providing services for diabetes and warfarin management for atrial fibrillation and find a number of excellent citations supporting this type of service (see Table 1-9 in Chapter 1). The background section of your business plan will be a summary of the published literature. You also speak with a colleague practicing in your state who has successfully been providing a similar service in a physician's office for approximately 1 year. You include a summary of your colleagues' services in the background material as well.
Step 3: Evaluating and Refining the Concept Based on Data Obtained
Once the research and data collection process is underway, the information gained should be used as a basis for evaluating the feasibility of the concept in your setting. Here you reassess the concept and modify it to ensure both a good fit for your organization and its success. Conducting a thorough evaluation at this stage is time and effort well invested because you may defer or eliminate concepts with no future and pursue only the initiatives you believe are viable. The key steps in performing a thorough evaluation are provided to you in Chapter 2.
Step 4: Outlining the Business Plan
The business plan is composed of several sections addressing the specifics of your proposed service. The main goal of this chapter is to allow you to use the basic components of the business plan outlined and to apply them to your particular ambulatory service proposal. Not all business plans may need to contain all components discussed here nor have the depth of detail included in the plan described below. Before writing your business plan, meet with the decision makers in your organizations to best understand what key elements they desire in your proposal. You will want to tailor your particular business plan to those elements and your organization's unique mission and vision. The plan for a new pharmacy service should include the following sections. (See the web site for a checklist of these sections and complete business plan.)



Cover page

Table of contents

Executive summary

Description of the proposed program or service

Consistency with the organization's mission

Market analysis

Marketing plan

Facility and equipment

Management and organization

Financial summary

Evaluation
Step 5: Preparing the Business Plan Document
Cover Page
The first page of the business plan is the cover page. This page should include the following information: name of the plan, month and year the plan was prepared, and the name and contact information of the preparers. Figure 3-1 is an example of a cover sheet.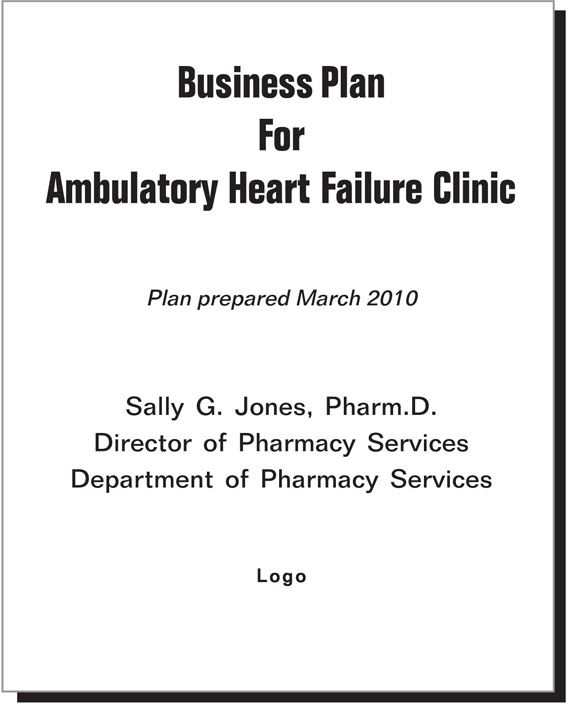 Table of Contents
Although this section of the business plan is self-explanatory, remember this is the guide readers will use to reference your document, so it is very important that the page numbers align with the headers. It seems simplistic, but this small aspect can set the tone for your business plan and show your attention to detail.
Executive Summary
The executive summary is the most important section of your business plan. It must be clear and succinct and be written with adequate enthusiasm to compel readers to review the entire document. It is brief, one to three pages in length, and written in narrative style, drawing information from each section of the business plan. The summary should be written after the entire plan is complete. It should demonstrate that your initiative makes sense, is thoroughly planned, can be accomplished by your team, meets an organization need, and is financially viable. An example of an executive summary is included in the sample business plan. (Sample Business Plan for an Ambulatory Heart Failure Clinic)

The first major section of the plan provides an overview of the program or service you are proposing. For example, if you propose to open a new ambulatory clinic, you would describe the location, scope of services provided, benefits, staff involved, how the clinic fulfills a need not currently provided, rationale, and reference to other organizations that may provide similar clinical ambulatory pharmacy services. Completing the planning process as described in Chapters 1 and 2 should aid you in this section. If this is the first ambulatory clinic for your organization, information describing the prevalence of ambulatory pharmacy services in other similar organizations and rationale for your organization to provide this service should be included.
In this section of the plan, you should include the following information:
1. The anticipated start date and rationale for the needed time frame
2. Anticipated financial trends
3. Anticipated volume trends
4. Previous program history, if applicable
CASE
For Dr. Busybee's clinic, you do the following:
Full access? Get Clinical Tree