Cystic Hypersecretory Carcinoma and Cystic Hypersecretory Hyperplasia
This variant of duct carcinoma first described in 1984 by Rosen and Scott
1
,
2
deserves separate discussion because of its unusual pathologic features. The majority of cases have been intraductal carcinomas. A benign proliferative lesion that resembles cystic hypersecretory carcinoma has been termed "cystic hypersecretory hyperplasia" (
CHH
).
2
At present, no study has evaluated the genetics and molecular alterations of cystic hypersecretory lesions.
CLINICAL PRESENTATION
Incidence, Age, and Imaging
Information about the incidence of cystic hypersecretory carcinoma is very limited because of its rarity and possible underreporting and/or misclassification as a benign lesion or ductal carcinoma
in situ
(
DCIS
) of no special type. The age distribution of cystic hypersecretory carcinoma is similar to that of breast carcinoma in general
3
with the youngest patient being 34 years old and the oldest thus far reported at 79 years.
2
The mean age in the largest series was 56 years.
2
All patients have been women, including a 40-year-old African American.
4
There are no reported familial genetic alterations or syndromes associated with cystic hypersecretory carcinoma, and no association with oral contraceptives or hormone replacement therapy has been described.
The presenting symptom has usually been a mass or other palpable abnormality. Nipple discharge is uncommon, but can be hemorrhagic.
5
A 48-year-old woman with a history of serous nipple discharge and a cystic mass was found to have cystic hypersecretory
DCIS
and Paget disease of the nipple.
6
In cases of cystic hypersecretory carcinoma, mammography has yielded different findings. In one case with associated invasive carcinoma, it revealed "no discrete mass, but a 10-cm area of increased density with trabecular thickening that corresponded to the area of palpable concern."
4
Another lesion with associated invasive carcinoma appeared as a spiculated mass with multiple amorphous, rounded, or lucentcentered calcifications of variable size.
7
Similar calcifications were also noted in a 2.5-cm high-density mass that consisted mainly of cystic hypersecretory
DCIS
.
7
A "large tumor filling the upper outer quadrant" in a 50-year-old woman had "massive calcification" on mammography.
8
The mammography in a patient with cystic hypersecretory
DCIS
revealed "heterogeneous dense breast tissue with no definite abnormally increased density or microcalcifications" and sonography revealed "multiple small aggregated, anechoic cysts with good through transmission."
9
In one case, sonographic examination detected a decrease in the size of the cystic component of a complex cystic mass in the breast of a woman with cystic hypersecretory
DCIS
, but the lesion later grew in size, prompting excision.
10
The sonographic findings can be deceivingly benign appearing and simulate fibrocystic changes or intraductal papilloma.
9
Two patients with invasive cystic hypersecretory carcinoma were reported to have spiculated masses with calcifications on mammography.
11
No information on the magnetic resonance imaging (
MRI
) findings is available.
GROSS PATHOLOGY
The tumors have measured from 1 to 10 cm in diameter. Usually the lesion is firm, but not hard. It is visibly distinct from the surrounding breast parenchyma, but not sharply demarcated. The distinctive gross feature of cystic hypersecretory carcinoma is the presence of numerous cysts within the lesion (
Fig. 24.1
). Many of these tumors are a shade of brown or gray-brown that reflects the cyst contents. The cysts vary considerably in size, with the largest measuring up to 1.5 cm. Secretion within cysts has been described as sticky, mucinous, gelatinous, or as resembling thyroid colloid.
Although cystic hypersecretory lesions have a distinctive gross appearance, it is usually not possible to distinguish intraductal cystic hypersecretory carcinoma from
CHH
on gross inspection. An invasive component associated with cystic hypersecretory carcinoma typically produces a distinct, solid mass.
MICROSCOPIC PATHOLOGY
Microscopically, all cystic hypersecretory lesions have cysts containing eosinophilic secretion that bears a striking resemblance to thyroid colloid (
Fig. 24.2
). The secretion is homogeneous and usually virtually acellular. It often retracts from the surrounding epithelium to create a smooth or scalloped margin that reflects the extent of epithelial proliferation. Defects in the secretion sometimes consist of folds, linear cracks, or small punched-out holes (
Fig. 24.3
). Necrosis and calcifications are not seen, but histiocytes are occasionally present in the secretion (
Fig. 24.4
). There are no appreciable differences in the character of the secretion between cystic hypersecretory carcinoma and
CHH
. Disruption of cysts results in spillage of cyst contents, eliciting an intense inflammatory reaction consisting of lymphocytes and histiocytes.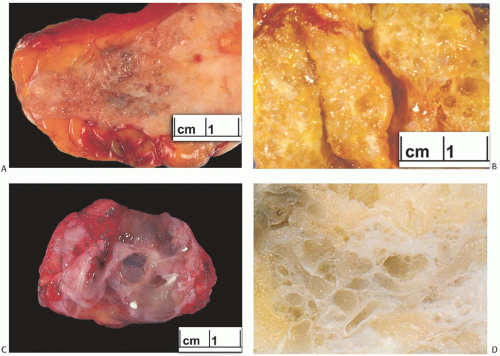 FIG. 24.1.
Cystic hypersecretory carcinoma.
A:
The lesion is a discrete but not circumscribed mass with many cysts.
B:
Cysts filled with tan secretion that resembles thyroid colloid.
C:
Some of the cysts are larger than 1.0 cm.
D:
A fixed specimen that has been dissected to reveal numerous cysts.

FIG. 24.2.
Cystic hypersecretory carcinoma in a background of cystic hypersecretory change.
A:
Most of the lesion in this photograph is composed of cysts lined by flat epithelium characteristic of cystic hypersecretory change. The secretion closely resembles thyroid colloid. A few ducts with micropapillary
DCIS
are present (
arrows
).
B:
Micropapillary
DCIS
is present on the
left.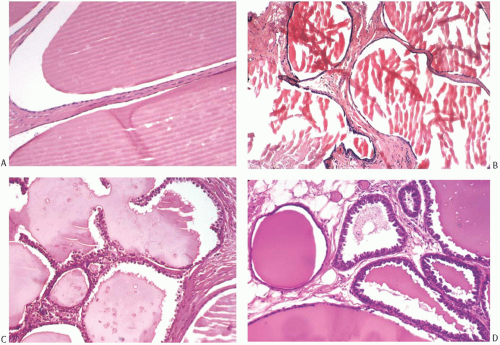 FIG. 24.3.
Secretion in cystic hypersecretory lesions.
A:
These cysts are lined by flat epithelium. Note the wavy appearance and retraction of the secretion.
B:
This secretion displays exaggerated cracks as a result of fragmentation during histologic preparation.
C:
The hyperplastic epithelium has a hobnail appearance. Note the scalloped edges of the retracted and pockmarked secretion.
D:
Hyperplastic columnar epithelium lines a few cysts. The colloid-like secretion is homogeneous and densely eosinophilic.
Cystic Hypersecretory Intraductal Carcinoma
In cystic hypersecretory
DCIS
, the epithelium of involved cysts and ducts grows as micropapillary intraductal carcinoma (
Fig. 24.5
). In any one case, a spectrum of epithelial patterns is encountered, ranging from short, knobby epithelial tufts to complex branching fronds that may extend across the duct lumen (
Fig. 24.6
). However, the so-called Roman arch, or bridging pattern, frequently seen in other forms of micropapillary
DCIS
, is uncommon in these lesions.
DCIS
with a solid pattern can also occur (
Fig. 24.6
). Ducts with
DCIS
may not contain the characteristic colloid-like secretion.
Cytologically, the cells that comprise this type of
DCIS
usually have crowded and overlapping hyperchromatic
nuclei and scant cytoplasm. In a series of 10 cases,
12
the nuclear grade was intermediate in half and high in the other half, and the microscopic tumor size ranged from 0.2 to 2.7 cm. Intranuclear inclusions and nuclear grooves may be observed. High-grade lesions exhibit more pronounced mitotic activity. There is no secretion within the cytoplasm, but frayed, irregular cell borders and apical cytoplasmic blebs are consistent with some degree of secretory activity in most foci of cystic hypersecretory
DCIS
. Calcifications were present in 7/10 (70%) cases in one series.
12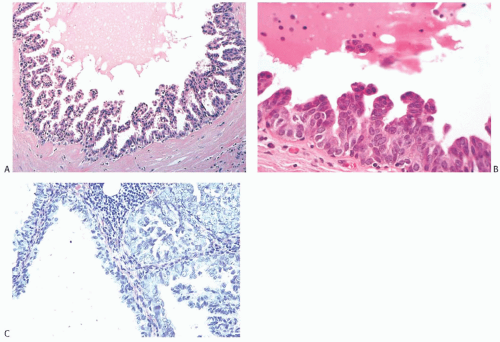 FIG. 24.5.
Cystic hypersecretory ductal carcinoma in situ.
A,B:
Cystic hypersecretory
DCIS
, micropapillary.
C:
Cystic hypersecretory micropapillary carcinoma with vesicular nuclei.

FIG. 24.6.
Cystic hypersecretory intraductal carcinoma.
A,B:
Tall micropapillary fronds with intermediate nuclear grade.
C:
Micropapillary
DCIS
with high nuclear grade.
D,E:
Clear cell lesions with cystic hypersecretory secretion.
F,G:
Two examples of solid
DCIS
with cystic hypersecretory secretion.
Cystic Hypersecretory Change and Hyperplasia
Many of the cysts in cystic hypersecretory lesions are lined by inconspicuous flat cells or a single layer of cuboidal to columnar cells (
Figs. 24.3
and
24.4
). When this is the only
epithelial pattern, the lesion is referred to as "cystic hypersecretory change." Generally, the cells in such lesions have uniform cytologically bland nuclei and inconspicuous cytoplasm. In
CHH
, the cells are columnar, often with apical blebs, but no atypia.
CHH
and cystic hypersecretory change are usually intimately admixed
2
(
Fig. 24.3
). Atypical features in this setting include epithelial crowding, hyperchromasia, rare mitotic figures, and enlarged nuclei with few nucleoli. Crowding of epithelial cells in
CHH
is an indication of atypical hyperplasia (
Fig. 24.7
).
Full access? Get Clinical Tree