Figure 13-7

The molecular treatment of inherited disease. Each molecular therapy is discussed in the text. ADA, Adenosine deaminase; ASO, antisense oligonucleotide; ERT, enzyme replacement therapy; Hb F, fetal hemoglobin; mRNA, messenger RNA; MSD, membrane-spanning domain; NBD, nucleotide-binding domain; PEG, polyethylene glycol; SCID, severe combined immunodeficiency; siRNA, small interfering RNA.



Treatment at the Level of the Protein
Enhancement of Mutant Protein Function with Small Molecule Therapy
Small molecules are compounds with molecular weights in the few hundreds to thousands. They include vitamins, nonpeptide hormones, and indeed most drugs, whether synthesized by organic chemists or isolated from nature. A new strategy for identifying potential drugs is to use high-throughput screening of chemical compound libraries, often containing tens of thousands of known chemicals, against a drug target, such as the protein whose function is disrupted by a mutation. As we will discuss, two drugs that are now FDA approved for the treatment of some patients with CF, and another that is investigational, were discovered using such high-throughput screens. Progress in the development of these drugs represents a new frontier with great potential for the treatment of genetic disease.
Protein Augmentation
The principal types of protein augmentation are summarized in Table 13-3. Protein augmentation is a routine therapeutic approach in only a few diseases, all involving proteins whose principal site of action is in the plasma or extracellular fluid. The prime example is the prevention or arrest of bleeding episodes in patients with hemophilia (Case 21) by the infusion of plasma fractions enriched for the appropriate factor. The decades of experience with this disease illustrate the problems that can be anticipated as new strategies for replacing other, particularly intracellular, polypeptides are attempted. These problems include the difficulty and cost of procuring sufficient amounts of the protein to treat all patients at the optimal frequency, the need to administer the protein at a frequency consistent with its half-life (only 8 to 10 hours for factor VIII), and the formation of neutralizing antibodies in some patients (5% of classic hemophiliacs).
Enzyme Replacement Therapy: Extracellular Administration of an Intracellular Enzyme
Adenosine Deaminase Deficiency.
Adenosine deaminase (ADA) is a critical enzyme of purine metabolism that catalyzes the deamination of adenosine to inosine and of deoxyadenosine to deoxyinosine (Fig. 13-10). The pathology of ADA deficiency, an autosomal recessive disease, results entirely from the accumulation of toxic purines, particularly deoxyadenosine, in lymphocytes. A profound failure of both cell-mediated (T-cell) and humoral (B-cell) immunity results, making ADA deficiency one cause of severe combined immunodeficiency (SCID). Untreated patients die of infection within the first 2 years of life. The long-term treatment of ADA deficiency is rapidly evolving, with gene therapy (see later section) now a strong alternative to bone marrow transplantation from a fully human leukocyte antigen (HLA) compatible donor. The administration of a modified form of the bovine ADA enzyme, described in the next section, is no longer a first choice for long-term management, but it is an effective stabilizing measure in the short term until these other treatments can be used.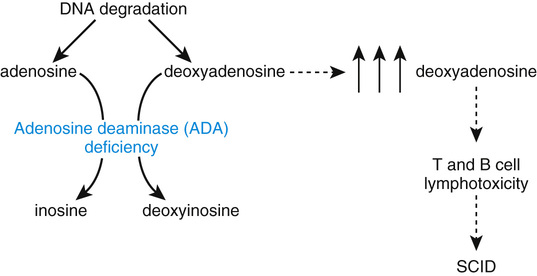 Get Clinical Tree app for offline access