Surgical Management of Aortic Graft Infection
Prosthetic graft infections have been reported since abdominal aortic prosthetic grafting was first performed in the early 1950s. Aortofemoral grafts have a higher incidence of infection (2%) compared to aortoiliac grafts (<0.5%), since the groin area is frequently contaminated and prone to wound complications.
Pathogenesis
The vast majority of prosthetic graft infections occur as a result of bacterial contamination of the perigraft space around the time of original graft placement. During the early postoperative period, the fluid-filled (blood, serum, and lymph) perigraft environment is poorly perfused and relatively isolated from natural host defenses. These poorly vascularized, perigraft fluid collections serve as a receptive medium or "safe haven" for bacteria, enabling their survival and proliferation. Any early contamination of the perigraft space, even with relatively low numbers of bacteria, can lead to eventual prosthetic
graft infection. Without early contamination, however, the prosthetic material becomes incorporated into the surrounding, vascularized tissues, which functionally obliterates the perigraft space and after several months appears to render the graft more resistant to infection.

Clinical Presentation
Patients with aortic prosthetic graft infection may present early (weeks to months) or late (years) following original graft placement. In a recent series of patients with aortic graft infection, the mean interval from graft implantation to presentation with infection was 56 months. Patient presentation is variable with an array of potential signs and symptoms including back and/or abdominal pain, anastomotic pseudoaneurysm, graft limb occlusion with ischemia, late wound infection, wound drainage from a sinus tract, fever, leukocytosis, or bacteremia. In addition, the rare patient with a prosthetic graft-enteric fistula typically presents with either sepsis or gastrointestinal bleeding.
CT scanning in patients with abdominal aortic prosthetic graft infection may demonstrate perigraft fluid and/or inflammation, which confirms the diagnosis and also helps determine the extent of graft infection. In addition, perigraft or intraluminal gas may be noted in patients with graft-enteric fistulae or patients with graft infection caused by gas-forming bacteria. During the early postoperative period, however, accurate CT scanning is problematic since perigraft fluid and, to a lesser extent, air are often present immediately following surgery. Postoperative, perigraft air should persist for only 7 to 10 days and retroperitoneal fluid collections normally are completely resolved after 6 or 7 weeks.
Bacteriology
Without exception,
Staphylococcus
is identified as the most common causative organism for aortic prosthetic graft infection. This fact is consistent with our understanding that the pathogenesis of prosthetic graft infection is related to bacterial contamination at the time of graft placement.
Staphylococcus epidermidis
is the slow-growing, slim-producing organism classically causing late, indolent graft infection. The more virulent
S. aureus
typically causes early graft infection and frequently is associated with overt signs of sepsis including fever and leukocytosis. Unfortunately, methicillin-resistant
S. aureus
is becoming more prevalent as a causative organism for prosthetic graft infection. Other bacteria not infrequently identified as causing prosthetic aortic graft infection include
Escherichia coli
,
Pseudomonas
, and
Streptococcus
species. In contrast to primary aortic infection,
Salmonella
is almost never considered the causative organism for prosthetic graft infection.

Surgical Technique
The surgical management of patients with an infected abdominal aortic tube or aortoiliac prosthetic graft is similar to that of patients with primary aortic infection. However, the surgeon managing a patient with an infected aortofemoral prosthetic graft is specifically challenged to perform lower extremity revascularization while contending with infection in the femoral region. Preliminary axillofemoral bypass in a patient with an infected aortofemoral prosthetic graft involves constructing the new femoral anastomosis to the profunda femoral artery (or superficial femoral artery) beyond the inguinal region through a lateral incision distal to the original femoral anastomosis (
Fig. 1
). In these cases, the polytetrafluoroethylene (PTFE) axillofemoral graft is routed lateral to the anterior superior iliac spine circumventing the infected, original femoral incision. In cases of minimal groin sepsis, a prosthetic femorofemoral graft may be routed in a subcutaneous tunnel medial to the original femoral incisions, avoiding the areas of infection. In selected cases with extensive femoral abscess/infection or extreme obesity, bilateral axillofemoral prosthetic grafts are utilized.
Recently, the autogenous femoral vein has become a popular conduit for use in infected fields. Indeed, the modern-day preferred method of revascularization for many patients with infected aortofemoral grafts is to construct the femoral-femoral component of the extra-anatomic bypass within the infected field using autogenous femoral vein (
Fig. 2
). This approach is utilized in patients with large femoral anastomotic aneurysm or abscess, or in any other aortic graft infection patient with significant groin sepsis. In these patients, avoiding the area of infection is problematic. Typically, a preliminary, unilateral axillofemoral PTFE graft is routed, as previously described, outside the area of infection. The autogenous femorofemoral graft is constructed at the time the infected femoral anastomoses are exposed. Following detachment of the infected prosthetic limbs, the femoral arteriotomies are debrided and, if feasible, used as the anastomotic sites for the autogenous femorofemoral graft (
Fig. 3
). Frequently, however, in order to avoid localized inflammation or to prevent vein graft kinking, new sites for the femoral anastomoses are selected. The femoral vein is harvested from just distal to the profunda femoral vein to the above-knee popliteal vein. The technique for harvesting and utilizing the femoral vein as an arterial bypass conduit is detailed in Chapter ___.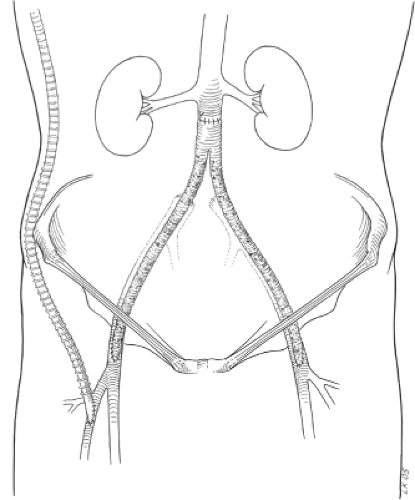 Fig. 1. Preliminary right axillofemoral prosthetic bypass routed lateral to the anterior superior iliac spine with distal anastomosis at the midprofunda femoral artery.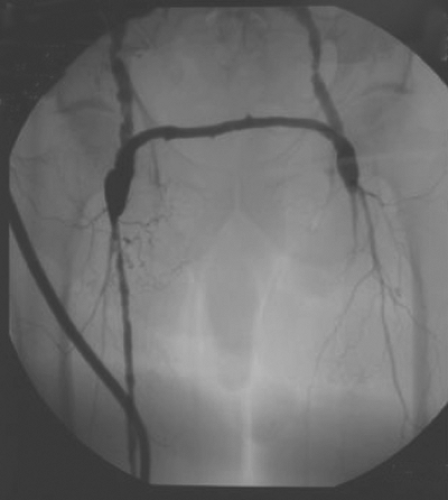 Fig. 2. Angiogram demonstrating right axillofemoral prosthetic bypass with the distal anastomosis to the superficial femoral artery and femoral-femoral bypass with autogenous femoral vein.
Full access? Get Clinical Tree
Get Clinical Tree app for offline access