Squamous carcinoma (
SQC
) of the breast is a form of metaplastic carcinoma. Because of its distinctive pathologic and clinical features,
SQC
is discussed here separately from all other metaplastic mammary carcinomas, including those with spindle cell and squamous differentiation, which are described in
Chapter 16
. The diagnosis of
SQC
is used for tumors in which 90% or more of the lesion consists of keratinizing
SQC
. By definition, a primary
SQC
of the breast has to be centered in the breast parenchyma. It may involve the skin only peripherally, thus excluding any primary cutaneous neoplasm that extends into the breast secondarily. Metastasis of
SQC
from an extramammary site should be ruled out clinically when carcinoma with squamous differentiation is encountered in the breast. The earliest examples of
SQC
were reported nearly a century ago.
13
GROSS PATHOLOGY
SQC
tend to be somewhat larger than other types of breast carcinoma. Reported sizes vary from 1 to 12.5 cm, with about 20%
39
to 40%
48
of the tumors measuring 5 cm or greater in
diameter. In one series, 61% of 31 pure
SQC
had T2 size at presentation, and 12% had T3 size.
37
It is not unusual for the lesions to undergo cystic degeneration centrally (
Fig. 17.6
). This alteration is especially common in tumors larger than 2 cm, the cavity being filled with necrotic squamous and inflammatory debris.
49
,
50
The tumor tends to be softer and more granular when the lesion is composed largely of keratinizing epithelium, whereas spindle cell metaplasia produces a firmer lesion.
MICROSCOPIC PATHOLOGY
Before establishing a diagnosis of primary
SQC
of the breast, it is necessary to exclude a metastasis from an extramammary primary carcinoma.
40
,
50
,
51
The most common sources of metastatic
SQC
in the breast are the lung, uterine cervix, urinary bladder, and carcinomas of the head and neck regions.
52
Although clinically the patient may be known to have an extramammary primary malignancy, this information is sometimes not communicated to the pathologist, especially if the other lesion was not treated recently and no active tumor is apparent at the primary site. Cystic degeneration is not unusual in foci of
SQC
metastatic from extramammary sites.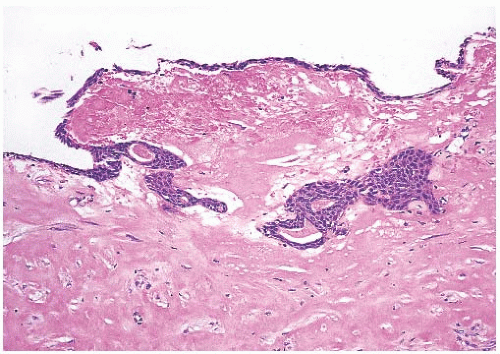 FIG. 17.4.
Squamous metaplasia in biopsy cavity
. A thin layer of squamous epithelium lines the surface of this partially healed biopsy cavity and a duct in the underlying tissue.
Mammary
SQC
are distinguished from the diverse group of metaplastic carcinomas by origin from
in situ
SQC
in a cyst, ducts, or both, and by predominant squamous differentiation. Microscopically, they resemble
SQC
that arise in other sites (
Fig. 17.7
). Cytoplasmic clearing is present in some tumors (
Fig. 17.8
). Focal conversion of the squamous epithelial pattern to spindle cell pseudosarcomatous and acantholytic growth may occur
53
,
54
Full access? Get Clinical Tree